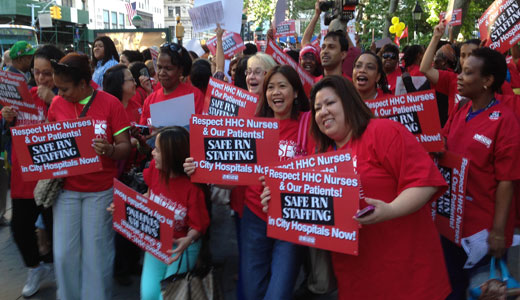 Thousands of union public workers and their supporters turned out on Wednesday at New York's City Hall park under the slogan "Workers Count, Workers Vote!"
Some 300,000 city workers represented by over 300 unions, have been without contracts for four years. In spite of an improving economy, the Bloomberg administration continues to blame teachers, transit workers, and social services workers for the collapse of the economy and the city's deficits.
New York City's unemployment rate fell in April to 8.4 percent while bank, and Wall Street profits have hit historic highs.
Harry Nespoli, president of the Uniformed Sanitationmen's Association Local 831 and head of the Municipal Labor Committee, was at the march and said, "While the city continues to benefit from our hard work, today, we are here to say the days of ignoring. disrespecting, and undermining hard working city employees comes to an end when Bloomberg's term is over. Are you counting the days?"
James Pomper marching with the New York State Nurses Association, told the People's World, "We are here with all the other unions. We haven't had a raise since 2010. We are also demanding that we have safe staffing for our hospitals. We are fighting in Albany, and in New York City. We work for the city hospitals which is part of the safety net, but that safety net is being stretched to the limit."
Many of the speakers expressed their determination to elect a mayor who is pro labor – a mayor for the 99 percent.
Arthur Cheliotes president of CWA local 1180 speaking at the rally questioned Bloomberg's self-proclaimed legacy as "education mayor." Cheliotes said, "His legacy is expanding more than ever the gap between the one percent and the 99 percent. His legacy is increased child poverty."
Mary, a UFT member, when asked about the possibilities of a new mayor taking a pro union stance, responded, "I'm hopeful but under this corporate structure we live under I'm very worried about it. We can't push hard enough."
As the workers marched, a lead story appeared in the New York Times on a $20 billion plan to shore up the city's coastline as the climate shifts. Over half the money will come from the federal government, $5 billion from money already advanced due to Hurricane Sandy and the rest from the city. Public sector unions are sure to ask why the mayor continues to say that the city is broke, yet is able to invest billions in new projects.
TWU, Local 1100 member Anthony Jones summed up the feelings of the crowd: "We are here to support all city workers…We are here to say, we are not going to take this nonsense any longer; we need a fair, decent package for ourselves and our families."
Photo: Gabe Falsetta/PW