LOS ANGELES—In its most ambitious production to date, the daring and cheeky Pacific Opera Project (POP) offered the first-ever true-to-story bilingual Madama Butterfly to three audiences here (April 6, 13, 14—seen April 13), with four more performances set for Houston later this month and in early May. With a new libretto written by POP Artistic Director Josh Shaw and Houston's Opera in the Heights Artistic Director Eiki Isomura, the production presents the Madame Butterfly story as if it actually occurred in Nagasaki sometime around the turn of the 20th century, when Japan was first opening up to Western influence.
The 1904 opera was written to an Italian-language libretto by Giuseppe Giacosa and Luigi Illica, premiered at Milan's La Scala opera house in 1904, and soon became one of the world's most beloved operas of all time. Artists everywhere are free to choose any subject they wish and to use their own language as their means of expression. Of Puccini's mature operas, only three (Tosca and the two one-acts Suor Angelica and Gianni Schicchi) take place in Italy. Four are set in Paris, one in ancient China, Butterfly in Japan, and one, La Fanciulla del West, or The Girl of the Golden West, in Gold Rush California. They were all composed and performed in Italian, except that historically in many countries audiences preferred translations into their own vernacular—German, French, Russian, English, etc.
It has long been accepted as artistic convention that Puccini's characters would all be singing in Italian, yet in some cases the characters actually did not even all speak the same language, much less Italian. In his last opera, Turandot, set in China, characters from great distances away from Beijing presumably spoke other dialects than Mandarin; in Fanciulla there are Spanish-named characters whose first language was unquestionably not English; and Madama Butterfly, of course, depicts the clash of Americans making their early forays into Japan with the native Japanese people. The imaginative leaders of POP are certainly not the first people ever to have asked just how would the soprano Butterfly and the tenor U.S. Navy Lieut. F.B. Pinkerton have communicated—verbally, that is.
POP and Opera in the Heights' original contribution to operatic history is to have the Americans sing in English and the Japanese sing in Japanese. What a concept! But apparently, one never tried before.
The opera has subsidiary characters who play a critical role toward mutual understanding. The Japanese marriage broker Goro, who has set up convenience marriages with foreigners many times in the past and who will continue to perform such a function, sings in English as Pinkerton's interpreter. He is often seen as though whispering his translations into the ear of both the Japanese bride and the American groom. And the American consul Sharpless, who puts a rather more sympathetic face on his country's image than the caddish, lusty pedophile Pinkerton, learns enough Japanese so that by the third act, when he reappears on the scene after the passage of three years, he can communicate in comprehensible Japanese.
The three L.A. performances took place at the Aratani Theatre in the downtown area's Little Tokyo. Several operagoers were attired in lovely authentic kimonos. The last time I visited this theatre was a year ago for the production of Allegiance with George Takei. There the question was what loyalty did Japanese Americans owe to a nation that had placed them all indiscriminately in concentration camps during World War II. In Butterfly, one could ask what allegiance did Pinkerton show toward Butterfly in a marriage that she took utterly seriously (and which produced a son), and he saw as entirely a sham until such time as he would marry a respectable American lady back home.
I recall other Butterfly performances I have seen—one two summers ago in St. Louis sung entirely in English (which again, like the Italian, obliterates the Japanese-ness of the Japanese), and a couple, in Italian, in successive years in Havana, one with orchestra and one with piano accompaniment. For a time I thought maybe that's the only opera they ever staged there on account of its powerful anti-imperialist message. And another one 50-odd years ago in New Orleans of which I remember the famous Flower Duet between Butterfly and her servant Suzuki, where from the second balcony I could hear the inelegant thud of plastic bouquets hitting the stage.
Company director Josh Shaw impressed from the outset when he took to the stage before the first act to welcome the audience—and to tell them to shut off their electronic devices—in Japanese! Once the opera began, all the surtitles were provided in both English and Japanese. The printed program is bilingual.
The issue of representational casting has roiled the arts world for at least a generation—and far longer if you go back to 1825, when African-American actor Ira Aldridge was Shakespeare's first Black Othello in London. Opera presents its own unique demands. Their stories take place in many different lands, and it's unrealistic to think companies can find performers of every one of those nationalities with the requisite training and voice types to perform their demanding roles. And it's not just about color. The distinguished actor/singer/activist Paul Robeson was a magnificent Othello on the theatrical stage, but as a bass-baritone he could not possibly have sung Verdi's Otello, a stentorian tenor role.
In a city with a sizable Japanese-American population such as Los Angeles, it was still likely not a snap to find enough trained singers for the main roles and the large chorus who could learn their parts in Japanese. Most of the chorus is composed of the South Bay Singers, lead by Naoko Suga, who served as chorus master. In an effort to only use Japanese-American singers for the Japanese roles, POP conducted a multi-year process with auditions in Houston, Los Angeles, and New York, in addition to online submissions from singers in the States and Japan. Unlike other POP singable translations, which liberally introduce anachronisms and wry humor, this libretto remains as faithful to the Italian word-for-word meaning as possible.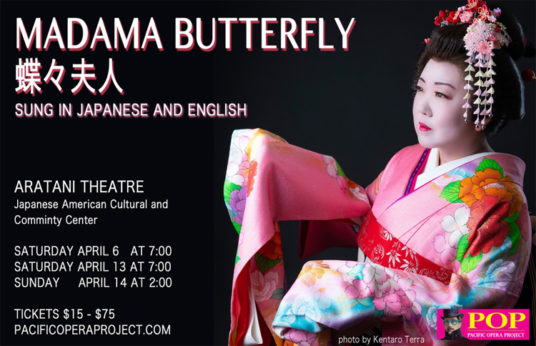 POP also assembled an advisory committee to consult on cultural sensitivity and performance practice. The L.A. members of that committee included Snehal Desai (artistic director of East West Players), Shigemi Matsumoto (voice teacher/soprano), Padraic Costello (ethnomusicologist), and Doug Cooney (professor of diversity in American theater).
Sueko Oshimoto of Kimono SK costumed the production, which was nothing short of stunning. As soon as the curtain rose, the audience applauded the lushly appointed set, designed by Mr. Shaw, who also directed.
The production's principal cast—all of whom will travel to Houston—features Tokyo native Keiko Clark as the 15-year-old Cho-Cho-San (Madame Butterfly). At first my brain balked at the spelling of the character's name, as it sounded so Western, even Latino, until I realized that that sound in Italian is spelled Cio-cio—one more way POP adopted to sideline the Italian. She portrayed the title role with remarkable affect. It's a coveted role for lyric sopranos, who eke all the pathos they can muster out of the young bride's sad predicament. Seeing and hearing the role in Japanese gave a whole new dimension of authenticity to the opera, especially when she sings about her new American religion, "to obey the will of my husband as God," or recalls her father's self-sacrifice.
Peter Lake sang Lieut. Pinkerton with sneering political incorrectness. In his ode to the stalwart U.S. Navy man, he sings, "He drops his anchor in any port he pleases," giving an appropriately sexualized overtone to imperialist adventurism. He has a fine lyric tenor voice, and I'm sure he was carefully directed to make his r's as un-Italianate and as all-Amurican as possible. The audience booed the role (not the singer!) at the curtain call: He shrugged his shoulders and splayed out his hands as if to say, "Don't blame me, folks, just doin' my job the best I can." The program note states, "Pinkerton's tragic failure to embrace the emotional insight and courage required to connect fully with Cho-Cho-san is a lesson not a condemnation for our time."
Their ecstatic end of Act 1 love duet, the longest in any Puccini opera, was more powerful here than I have seen given that not understanding each other's language, they added a degree of pantomime to their longing for one another. The staging of their final encounter made a stronger impact than I have ever seen before.
Sharpless is one of the most sorrowful roles in opera: He's the U.S. consul with a sincere interest in Japanese culture who tries to warn Pinkerton to take this marriage seriously, but to no avail. Baritone Kenneth Stavert sang warmly, switching to Japanese in Act 3. Finally fed up with Pinkerton's callousness, he curses him, "God damn you, B.F. Pinkerton," which probably is not a direct translation from the Italian.
Mezzo-soprano Kimberly Sogioka portrayed Butterfly's aide Suzuki with great respect for Japanese tradition—the way she moved, bowed, invoked the gods in prayer, and, of course, sang. Eiji Miura sang Goro, Hisato Masuyama was Bonze the defender of Japanese religion, Steve Moritsugu played the suitor Yamadori, Norge Yip was the Imperial Commissioner, and Chelsea Obermeier had the small role of Kate Pinkerton in the last act.
By Act 2, three years have passed, but the set has not changed much—the same flowers, the same blossoming trees—even though Butterfly's financial situation has severely worsened. When a shoji screen is swept open, an American flag is revealed to be hanging now in Butterfly's house—but it's a modern flag with 50 stars, not the flag from ca. 1900. Was that a subtle way of implying that a story like this could happen today?
POP's first co-production, Madama Butterfly is presented with Houston's Opera in the Heights, led by Eiki Isomura. Isomura conducts a 23-piece orchestra. The production is sponsored in part by an Innovations Grant from Opera America.
Puccini incorporated a number of Japanese melodies into his score. Now, even a reduction of the orchestra to 23 players is a modification of Puccini's much larger forces, and over time there have been many other arrangements, even down to one piano. I wonder if in the future some other enterprising company might breathe more fresh life into the opera by incorporating some original Japanese instruments into the orchestra, particularly in those Japanese passages—or maybe even totally reorchestrating the score with Japanese instrumentation. That would take the process yet another step further.
Unusual as POP's approach is for this work, I suspect it may prompt imitation. A bilingual Lakmé or The Last Savage, L'Italiana in Algeri or L'Africaine?—all operas that similarly entail the meeting of East and West.
In this year's Metropolitan Opera production of Gaetano Donizetti's comic La Fille du Régiment, or Daughter of the Regiment, the soprano lead was sung by the stellar South African performer Pretty Yende. In one scene where she is ironing the regiment's longjohns, she slips into some musings in her native Zulu, which the director okayed. That became the subject of much conversation in the opera world, but with bemused approval that we have come this far. Ms. Yende's hair also was done up in African style, signaling a new spirit in the opera house without taking anything away from the original.
POP's 2019 productions also include a remount of its highly acclaimed 2013 production of Gilbert and Sullivan's The Mikado (again a Japanese theme, and one that has been censured in some quarters for its caricatures of the mysterious Orient) for eight flashy, over-the-top performances in late August (I have been told by G&S aficionados it's the best Mikado they've ever seen), and POP's signature modern take on Puccini's La Bohème a/k/a "The Hipsters" set in East L.A. in December.
Madama Butterfly in Houston will receive four performances, April 26 at 7:30 pm, April 28 at 2:00 pm, and May 2 and 4 at 7:30 pm. More on Houston's Opera in the Heights can be found here.