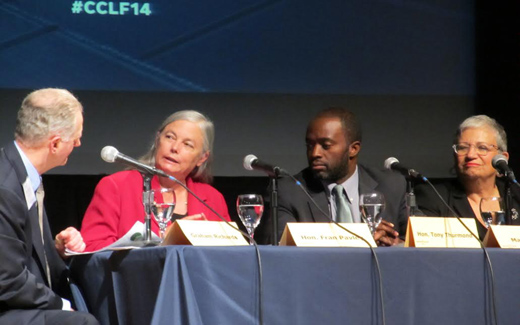 OAKLAND, Calif. – As leaders in the state's efforts to curb greenhouse gas emissions gathered here Dec. 15 for the California Climate Leadership Forum, a theme running through the proceedings was the urgent need to make sure workers, working-class communities and people of color participate fully in planning and decision-making, and share fully in the benefits.
Participating were state and local elected officials and leaders of labor, faith, consumer, health, green business and environmental organizations. The gathering was organized by NextGen Climate, the political advocacy group led by billionaire environmental activist Tom Steyer.
Discussion focused on two laws at the heart of California's environmental program. One, the state's landmark cap-and-trade law, the Global Warming Solutions Act of 2006 (AB 32) introduced by state Sen. Fran Pavley, D-Agoura Hills, is now being fully implemented despite continuing attacks from oil and other corporate interests. The more recent SB 535, introduced by state Senator and now Senate president pro tem Kevin de León, D-Los Angeles, requires that a quarter of revenue from corporate purchases of extra credits under cap-and-trade benefit disadvantaged communities that suffer the most from air and other pollution.
In his keynote to the conference, de León noted that green jobs are growing at a faster rate than any other industry in the state, with "advanced energy" jobs now numbering nearly 430,000 – a five percent increase over the previous year.
"It's about creating jobs that are very real and tangible, that are labor intensive, that have to be done onsite," he said. "You can't outsource these jobs and off-shore them."
Speaking during a panel on Benefits of Climate Leadership for California's People and Communities, Pastor Bryson White, a Fresno-area organizer with faith-based PICO (People Improving Communities through Organizing), pointed to the 20-year difference in life expectancies between residents of southwest Fresno – home mostly to people of color – and northeast Fresno, inhabited largely by "affluent whites."
It's essential to understand how racism affects public policy in California and around the country, he said, and to connect the fight around climate change to people's lived experiences.
"In West Fresno the fight continues, to create equity around environmental justice," White said. "In fact, one of our city council members, in response to the critique about how all these factories and other things are in West Fresno, said, 'Well, that's what it's zoned for.' This is a white male speaking about a community that's black and Latino."
Vien Truong, environmental equity director at the Greenlining Institute, cited studies showing communities of color "care overwhelmingly about climate change, because we have seen it in our communities and families, our hospital and utility bills, and in the lack of jobs. But we want the movement to reflect us as well. We have not crossed the barrier about how to communicate, and how to develop solutions that are real and meaningful."
She defined real collaboration as bringing the most affected people into the discussion, asking them how their communities are affected, and creating a strategy together.
With people of color making up 61 percent of the state's population, and 75 percent of those under 18, Vien Truong said, "to really change the game and win in the legislature, we need to appeal to the people on the ground, and when we do that, we win."
As examples, she cited SB 535, and SB 1275, the Charge Ahead California Initiative just signed by Governor Jerry Brown to put one million electric vehicles on California's roads in the next decade, fund rebates so lower income communities can purchase them, and expand funding for forms of public transportation.
California Labor Federation head Art Pulaski called on the state to provide training programs to create new occupational jobs for the future, not just short-term skills.
"We cannot let the new green economy be a low-wage economy," Pulaski said, "because a sustainable environment needs a sustainable economy. We need to engage green jobs companies early on, to assure that those jobs are good paying jobs."
In an earlier panel, Assemblyman Tony Thurmond, D-Richmond, told the audience, "We've got to include true economic development opportunities for all people in our communities, and in communities that have high poverty and unemployment and serve people of color."
In other developments at the conference, de León said he will introduce legislation next year requiring California's public pension funds to divest from the coal industry.
Gov. Brown warned that "very powerful people" will continue their strong opposition to California's continuing leadership on environmental issues, and cautioned the audience to be consistent in a long-term struggle across many issues.
Among other participants were Assembly Speaker Toni Atkins, D-San Diego; state Sen. Pavley; California Air Resources Board chair Mary Nichols; and Jamie Court, president of Consumer Watchdog.
Photo: Assemblyman Tony Thurmond (center) and Calif. Air Resources Board chair Mary Nichols (right) listen as state Sen. Fran Pavley addresses the audience. | Marilyn Bechtel/PW