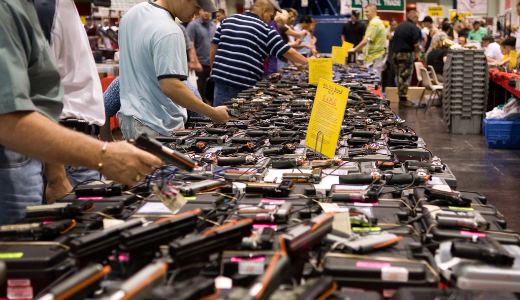 NEW YORK – Daniel Hernandez, the intern who rushed to aid Rep. Gabriel Giffords, D-Ariz., after during the Jan. 8 Arizona shootings, traveled here today to offer his assistance to Mayors Against Illegal Guns, which has ramped up activities aimed at keeping weapons out of the hands of criminals and the mentally imbalanced.
Hernandez said the he hopes "President Obama and Congress will work together right away to reform our gun background check system so that all records of dangerous people are in the system and all gun buyers will have to pass a thorough background check."
After the assassinations of Rev. Dr. Martin Luther King, Jr. and Robert F. Kennedy in 1968, Congress passed laws banning handgun ownership by criminals, drug addicts and the mentally ill. A national system of background checks was enacted in 1983 with the passage of the Brady Bill, named for the presidential press secretary who was shot when the President Regan was nearly assassinated in the early 1980s.
Still, gun violence has persisted, as was tragically shown in the Tucson shootings. Gun control advocates argue that the background check system is not up to par, and are urging Congress and President Obama to work to close loopholes.
"The time has clearly come to finally fulfill the intent of the common sense gun law passed after the 1968 assassinations of Martin Luther King, Jr. and Bobby Kennedy by creating a loophole-free background check system for the sale of firearms," New York Mayor Michael Bloomberg, who founded the mayoral anti-illegal gun coalition, yesterday," adding that, each day, 34 Americans are murdered with guns, the vast majority of which were obtained illegally.
Some of the those involved with the push by the mayoral group and its allies made clear that they are not against the ownership of guns by average Americans and have no intention of stripping that right.
"As Governor of Vermont, I received an A-rating from the [National Rifle Association], and I strongly support the right of law-abiding Americans to own a gun," said former presidential candidate and founder of Democracy for America Howard Dean. "I also believe with equal strength that felons, drug abusers, and the mentally ill have no right to guns. In fact, that's been the law in our country for 43 years since the assassinations of Martin Luther King and Robert F. Kennedy."
Hernandez agreed, saying that he wants the tightening up of background checks made in a way "that does not infringe on Second Amendment rights, so that responsible citizens may exercise their right to bear arms."
The problem, the anti-violence advocates say, is that the background check system is not working. As evidence, they point to the most recent extremely-high profile shootings: the killer students of Columbine bought guns at a gun show from an unlicensed seller; the Virginia Tech murderer was able to buy a gun because his mental health records were never reported to the FBI's check system; and the Tucson shooter also was able to buy a gun because his records weren't in the database, and because "lax federal regulations frustrated the intent of the law."
The bipartisan coalition advocates two simple fixes: they want to ensure that all mental health and other pertinent records are part of the FBI's gun database and, secondly, they argue for closing loopholes that allow the mentally ill to go around regulations by purchasing guns at gun shows and other unregulated markets.
To accomplish the first goal, the mayors say, the FBI database "should contain all the records of felony convictions, domestic violence incidents, drug history, and determinations of mental illness that would prevent those categories of troubled people from buying guns. The new Congress should set a goal of getting this job finished within three years."
The second suggestion could be fulfilled by requiring that all gun sellers check backgrounds. Right now, regular sellers must do background checks, but "occasional" sellers – people who sell only at gun shows, or through classified ads, for example – do not.
"The 34 Americans whose lives are cut short by a gun each day may not be presidents or senators, but each life is a future cut short, a life of accomplishments left undone, and a family torn apart," said Kathleen Kennedy Townsend, daughter of Robert F. Kennedy. "We owe a duty to each victim to make their life, and their sacrifice, a part of the national movement to fix our gun background check system so it is thorough, complete and comprehensive."
Martin Luther King III added, "We must enforce our public safety laws to keep the angry and dangerous few from destroying the peace and harmony of the many."
The group released an open letter to Obama and the Congress, and has also asked that people sign on to their petition.
Photo: "Occasional" sellers, like those at the Houston gun show, are not required to perform background checks. Photo by M Glasgow // CC BY 2.0