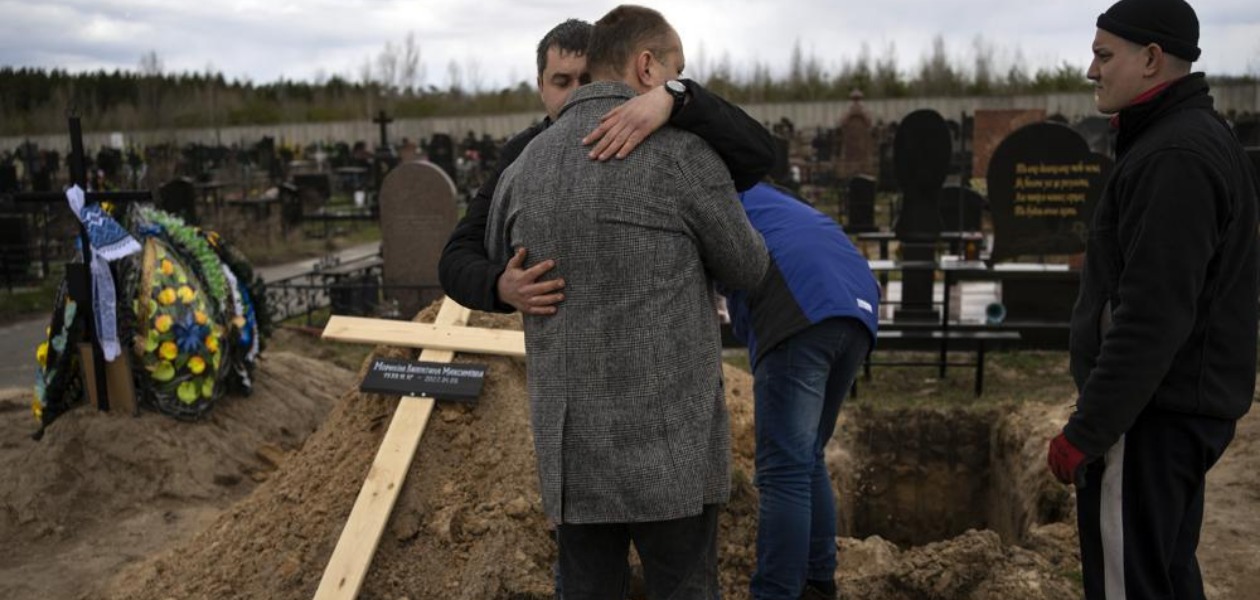 Russian President Vladimir Putin announced Tuesday that peace talks with Ukraine had reached a "dead end" after his country was accused of using chemical weapons against Ukrainian troops.
Almost simultaneously with Putin's remarks, President Joe Biden publicly labeled Russia's war "genocide," a term he had been unwilling to use up until Tuesday, preferring instead the designation "war crimes." Biden made the accusation at an event in Iowa. Talking to reporters afterward, he said, "It's become clearer and clearer that Putin is just trying to wipe out the idea of even being a Ukrainian."
Despite the rhetorical sparring, a Ukrainian presidential spokesman denied that the talks had stalled, however, saying they are "ongoing."
The speeches of the two presidents lend credence to an analysis that the war in Ukraine is part of an underlying and ongoing conflict between the U.S. and Russia, with Ukrainians doing the fighting and dying.
Putin spoke at a Cosmonauts Day event at a space base in Russia's far east on Tuesday, only a day after the neo-Nazi Azov Battalion, fighting in the besieged city of Mariupol, claimed its troops had been hit by a Russian chemical weapons attack.
A "poisonous substance of unknown origin" had affected three of its fighters, causing breathing difficulties and headaches, the former paramilitary unit, now part of the Ukrainian National Guard said.
The Ukrainian government, while it did not say definitively that this is what happened, accused Russian forces of "firing on nitric acid tanks" in the Donetsk region, based on information they got from local police there.
"Locals are urged to prepare protective face masks soaked in soda solution," it announced to people in the region.
Putin, once more, said that accusations concerning atrocities committed by Russian forces were "fake" and that such claims were what led to the dead end in peace negotiations.
The issue of possible chemical weapons use is yet another factor increasing the danger of a wider war involving more countries in Europe engaging in direct confrontation with Russia.
British armed forces minister James Heappey said yesterday that "all possible options are on the table" if Russia had used chemical weapons.
Pentagon spokesman John Kirby, on television Tuesday, described the reports as "deeply concerning," while Ukrainian President Volodymyr Zelensky answered questions from journalists about the reports of the chemical weapons by pushing for an oil embargo on Russia.
In Washington, there seemed to be no one willing to go on record definitively stating Russia had launched a chemical attack. "We cannot confirm the use of chemical agents at this time," a senior U.S. defense official, speaking on the condition of anonymity, told reporters.
The official stated that, so far, the U.S. had no information to support the deployment of chemical agents by Russia in or near Ukraine. Russia denied involvement in a chemical attack, saying the accusation could be a pretext to draw other countries into the war.
The British newspaper Morning Star quoted Dan Kaszeta, a person described as a chemical weapons expert who is a former soldier in the U.S. Chemical Corps, as saying "there remains a paucity of information" about what took place in Mariupol.
The Chemical Corps is the branch of the United States Army tasked with defending against chemical, biological, radiological, and nuclear weapons.
Kaszeta said that the symptoms described by the Azov Battalion could be explained by the inhalation of industrial fumes from what he described as "one big toxic burn pit" in the battle zone.
At his news conference, Putin said the war on Ukraine, which he continued to call a "military operation," will continue until its "full completion." He outlined, however, a more limited goal than what was believed to be the original Russian aim of conquering all of Ukraine, saying the goal now was only to control the Donbass in eastern Ukraine.
"Our goal," Putin said, "is to help the people of the Donbass," who according to him, "feel their unbreakable bond with Russia."
The fall of Mariupol, one of the largest cities in the Donbass region, to the Russians appeared to be coming soon. The fears of this happening were raised Tuesday when over 1,000 Ukrainian marines surrendered to the Russians after weeks of doing battle with them.
The Morning Star said Aiden Aslin, a former care worker from Nottinghamshire, U.K., who moved to Ukraine in 2018 after previously fighting alongside the People's Protection Units (YPG) against ISIS in northern Syria, was one of those surrendering to the Russians.
His family and friends denied claims he was a mercenary, saying he signed up for the Ukrainian military and holds dual Ukrainian and British citizenship.
In a Twitter post, which Morning Star says was confirmed as genuine, Aslin said: "It's been 48 days, we tried our best to defend Mariupol, but we have no choice but to surrender to Russian forces. We have no food and no ammunition. It's been a pleasure everyone, I hope this war ends soon."
In a voice recording, he said that there was no way out of the besieged city.
Meanwhile, over the weekend, Russia and Ukraine continued to blame each other for a missile strike that killed 50 or more people at a railway station in the city of Kramatorsk. The strike saw a missile, thought to be a Tochka-U, fired on men, women, and children as they prepared to evacuate.
Ukrainian intelligence said that Moscow was to blame. Italian journalists claim a serial number on the missile links it to the Ukrainian armed forces. Though Russia claims it stopped using the Tochka-U system in 2019, the militaries of both countries are known to possess the Soviet-era weapon.
Media outlets in the U.S. said last week that the Kremlin keeps changing its explanation of events. Newsweek quoted a correspondent for the ANNA news agency as saying that Russian military initially claimed to have destroyed a Ukrainian ammunition train, but after news of civilian casualties broke, it then blamed Ukraine for the train strike.
Meanwhile, killing continues in other areas, with reports of missiles striking major cities in the east of the country.
Russian media has reported that the leader of the Ukrainian ultra-nationalist Right Sector has been killed by military commandos.
Taras Bobanich was said by the Russians to have been shot dead a few miles south of the city of Izium in Ukraine's Kharkov region.
Bobanich was accused of responsibility for the killing of hundreds of civilians in eastern Ukraine in 2014.
His death has also been confirmed by the Right Sector, which described him as a "legendary nationalist."