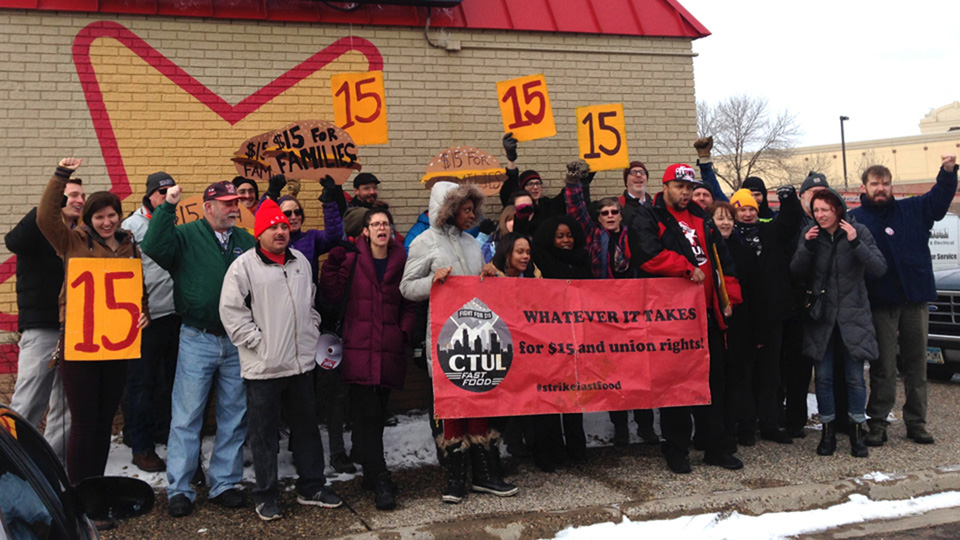 Those who know him best, his employees, say: "Andrew Puzder for Secretary of Labor? No way!"
This past Thursday, hundreds of his employees and their allies hit the streets in 31 cities to urge that Puzder's nomination for Labor Secretary be rejected and that the national minimum wage be raised to $15 an hour.
The same day, Puzder employees filed charges against his company for breaking labor and anti-discrimination laws and for sexual harassment.
Puzder is CEO of CKE restaurants, a fast food empire that includes Hardee's, Carl Jr.'s, Red Burrito and Green Burrito.
He pays most of his employees rock bottom wages and has repeatedly denounced plans to raise the national minimum wage. The Associated Press quotes him as saying he will replace workers with robots if the minimum wage is hiked.
The protests Thursday are a continuation of demonstrations coordinated by Fight for 15, a nationwide movement of low wage workers that includes many fast food workers. The organization has announced plans for more anti-Puzder protests on Februay 1, the day before the Senate Health, Education, Labor and Pensions Committee's scheduled hearing on his nomination.
While the demonstrations were taking place Thursday, 33 CKE employees filed complaints against the company.
Their suits include four allegations of sexual harassment, which were filed with the Equal Employment Opportunity Commission; 22 complaints of wage and hour violations, which were filed with state departments of labor; and seven unfair labor practices charges, filed with the National Labor Relations Board. They were filed across ten states, including Alabama, California, Florida, Illinois, Michigan, Nevada, North Carolina, South Carolina, Texas, and Virginia.
ThinkProgress newsletter quotes complainant Ceatana Cardona, a Hardee's employee in Tampa, Florida, as saying "Several months ago my shift-manager asked me for a kiss, and when I said 'no' he told me that unless I started giving him what he wanted, he was going to start taking it."
When Cardona complained, the company did nother.
ThinkProgress also reports that a homosexual male Carl's Jr. worker in Oakland, California described being harassed by his manager, who told his coworkers and customers that he "likes boys" and used a feminized version of his name.
In the complaints, workers also described being denied their full pay.
"Recently the restaurant I worked at went an entire month without paying me a dime, and they only agreed to pay me after I stopped coming to work in protest," said Angel Gallegos, a Carl's Jr. employee in Los Angeles, California.
"If Andy Puzder can't be trusted to pay his workers what they've earned, why should we expect him to enforce laws meant to protect working Americans?" Gallegos asked in a statement.