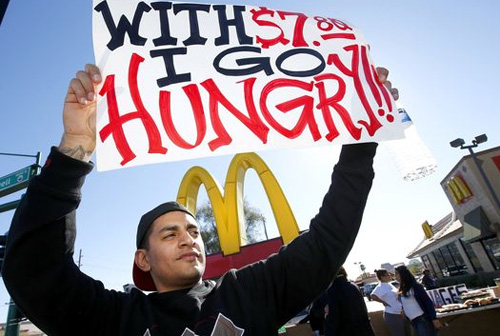 The #FightFor15 movement had a national day of action on Nov.10, calling for supporters and workers from across the country to mobilize and demand a raise in the minimum wage and the right to unionize on the job. The debate over raising the wage has been making the rounds in the news, with politicians weighing in.
Recently, Republican and presidential hopeful, Ben Carson, said that raising the minimum wage would actually lead to more joblessness. Donald Trump went on record saying he would not be in favor of raising the wage.
Although their answers aren't surprising, the two candidates popularity with certain sections of the population demonstrates that maybe everyone isn't on the same page in seeing the importance of all workers have a livable wage and the right to unionize. Although the movement has had some victories in various cities over the past year, there's still a long way to go.
People's World took it to the streets, asking the question, "Do fast food workers deserve $15 an hour and the right to unionize?" Check out the video below to see what people had to say!
Video: Chauncey K. Robinson, Rossana Cambron, & Earchiel Johnson.
Photo: AP