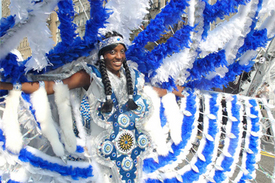 BROOKLYN, N.Y. — Millions of people lined the streets here on Labor Day for the annual West Indian American Day Parade, billed as the largest parade in the United States. And, of course, the People's Weekly World was there.
For most of the day, Brooklyn's Eastern Parkway and all of the side streets branching off of it were a rainbow of color. The traditional costumes of the Caribbean nations were there, as well as thousands upon thousands of flags: those of Jamaica, Trinidad and Tobago, the Virgin Islands, Barbados, Antigua and a host of other nations. This year, the parade's 40th, saw the first-ever delegation representing Guadalupe.
A large part of any culture is its food, and there was plenty of food on display and for sale. Dozens of vendors sold everything from oxtail to roasted corn-on-the-cob to jerk chicken.
Organizers said the parade was about unity. Among the various forms of music —reggae, calypso and others — the recorded music of Black Stalin, the popular soca (a mix of soul and calypso) musician, echoed this sentiment, in songs such as his "Caribbean Unity."
The People's Weekly World was distributed and received well. A small group of distributors worked through the crowd, giving out hundreds of papers to parade-goers.
People expressed appreciation for the New York stories in that issue, which included an article on preparations by city taxi drivers to strike and the fight by the Transport Workers Union for better safety on the track. Particularly well received was a story about the police beating of a civil rights lawyer — and the community fightback — that occurred in Crown Heights, the heavily Afro-Caribbean neighborhood where the parade took place.
"People were very friendly," said Linda Feldman, who helped distribute the paper. "Usually people don't want to carry things at parades, but they wanted the paper. I spoke to one guy who said he used to subscribe. He said that he hadn't seen the paper for a while, but now he is going to renew his subscription."
"This is one of the reasons we need to fulfill our $200,000 fund drive goal," said N.Y. Communist Party leader Libero Della Piana. "Part of that money helps local Friends of the PWW groups buy papers to distribute. The more money we raise, the more papers can be distributed. I know, for example, that New York would love to have given out thousands of papers at that parade, as well as the Puerto Rican Day parade and others, and more at large labor gatherings."
Readers can give to the 2007 fund drive via credit card, check or money order: PWW, 235 W. 23rd St., New York, NY 10011, (646) 437-5363, or on our website homepage .
dmargolis @pww.org