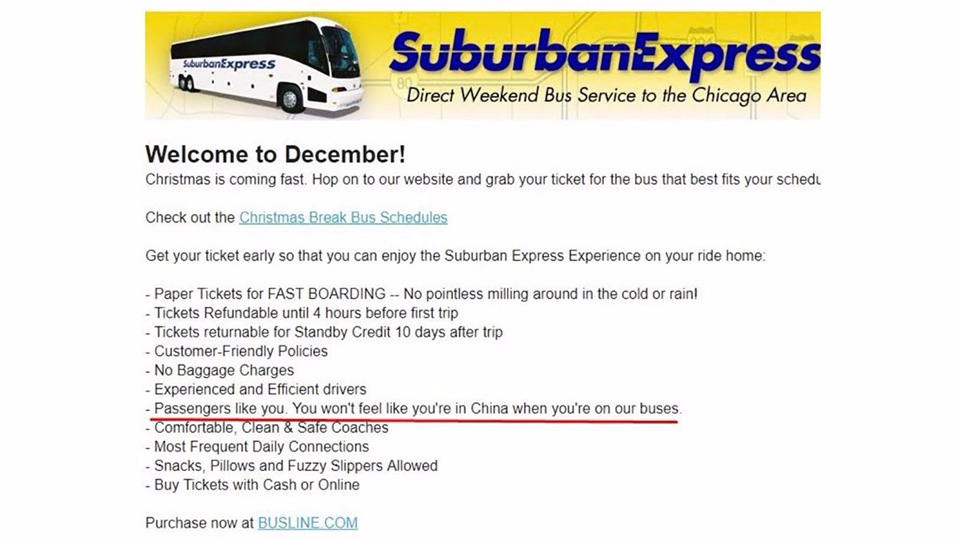 CHICAGO—A controversial charter bus company has come under fire after releasing an advertisement that features racist language toward Asian passengers. Suburban Express is a shuttle bus company that provides weekend transportation for college students from the University of Illinois campus at Urbana-Champaign to Chicagoland area destinations.
Suburban Express recently sent out an advertisement that listed out a number of reasons why buyers should chose them over competitors. In the email ad, the company utilized coded language such as "passengers like you," following up with a statement saying "you won't feel like you're in China when you're on our buses." The backlash was immediate as people from across the UI campus and beyond slammed the racially-charged flier.
In the past, the company have invited outrage over its poor customer service, and the CEO had come under media scrutiny for his erratic behavior. Despite generally low-reviews on Yelp, Suburban Express has managed to stay in business since its launch in 1983. But its latest racist advertising has brought the company national scorn and an investigation from the Illinois attorney general's office.
The Asian Pacific American Coalition put out a public statement condemning the bus company and redirecting students to alternative busing options. "Spaces like this, where white students are given the option to avoid people that 'don't look like them'," the statement said, "speaks to a much, much larger problem of racism and white supremacy in this nation."
The statement condemned the company further, going on to say, "Equating the benefits of 'allowing fuzzy slippers' and 'refundable tickets' with the ability to board a bus with 'passengers that look like you' (which apparently just means 'not-Asian') is frankly dehumanizing and disgusting to our Asian classmates and friends."
University administrators also released an official statement in response to the Suburban Express ad, stating, "The university has no business relationship with this company," and emphasized that outside commercial vehicles are not permitted to pick up or drop off passengers on university property.
After the company's racist email ad came to light, Suburban Express emailed a public response claiming that the ad was interpreted in a way not originally intended. This "apology," however, actually continued along the same xenophobic and racist line of thought found in the original ad.
"We made a remark based on the fact that our competitor mostly handles Chinese international students. The remark is being interpreted as a slap in the face of all non-caucasians for some reason," the apology began.
It then went on to further target Asian students, particularly those from China.
"Nearly 20 percent of U of I students are natives of China, and this high percentage of nonnative english [sic] speakers places a variety of burdens on domestic students," the company claimed.
It attempted to shift the spotlight off itself and onto university administrators by implying the latter were selling the university "to the highest bidder," in reference to supposedly wealthy international students from China. Suburban Express claimed the university is dealing with some of its financial burden by enrolling international students in order to compensate for the lack of state funding.
The international student population has increased at the UI campus in recent years, as it has at most major North American universities. The company's claim that "nearly 20 percent" of students are from China, however, cannot be backed up with reference to official demographics. Regardless, Suburban Express' "apology" appears to have only confirmed the nativism and xenophobia charges that their original ad prompted.
Chicago Alderman Ameya Pawar responded to the company's message, writing on Facebook: "This is not an apology. This is an unbelievably offensive and bigoted response. Shame on you. Since you serve O'Hare International Airport, I am going to call for a hearing on your business practices. In them meantime, you may want to issue a real apology."
Suburban Express has been plagued with controversy for several years. Passengers have previously claimed that the owner, Dennis Toeppen, continuously harasses people who dare to leave bad reviews online. He was arrested in 2014 for cyberstalking after continuous reports of harassment from online Reddit commenters. The official Suburban Express website even hosts a page where the company attempts to publicly shame and doxx individuals [currently offline] who criticize the company, a move that the owner claims is a way to defend "against haters."
In June 2016, Toeppen was found not guilty on two misdemeanor charges of electronic harassment, after an online dispute against then-UI student Jeremy Leval. Leval was caught in the center of a legal battle with the shuttle bus owner after he posted about an incident on Facebook where he witnessed rude behavior by a Suburban Express bus driver. After the post went viral, the company sued Leval for $500 in "liquidated damages," and has since filed more than 120 lawsuits against students for "violating" minor rules, such as boarding the bus incorrectly.
On Monday, Illinois Attorney General Lisa Madigan's office announced it had subpoenaed Suburban Express and was investigating whether its advertising violated the Illinois Human Rights Act.