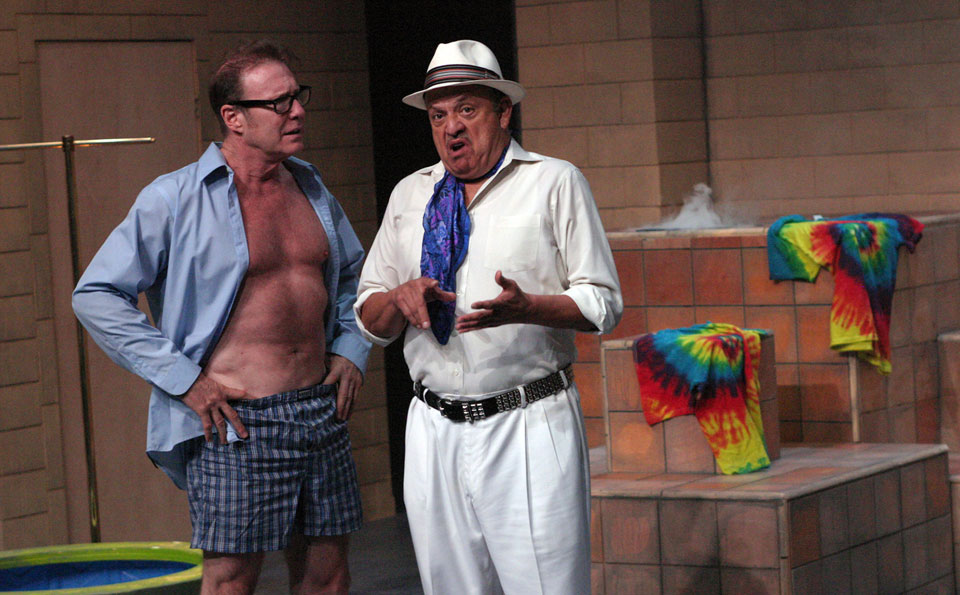 LOS ANGELES—Two plays, both at the Odyssey Theatre Ensemble, seen a day apart. One a living hell, the other a glimpse of post-mortem limbo. Both with more or less the same message: Would you kindly explain what the hell kind of life are you living?
Maybe I'm just on edge with the midterm elections approaching. Or maybe I'm just of an age when I'm far, far past the midpoint of my actuarial longevity. I simply no longer have the patience for people who are wasting their brief hold on life and being gratuitously cruel or obstructive.
OK, got that off my chest….
Bruce Jay Friedman's raunchy Steambath (seen Oct. 20) is an older play, dating from 1970. One could say older than God, but it turns out God is a character in the play, running a tiled, platformed steambath that is the anteroom to eternity. We meet the ten most recent arrivals, but only God knows how long they've been there. Some seem to know the ropes of the joint pretty well and have already developed relationships with a few of the other guests. The rest have just gotten there, and aren't at all sure where they are: Just a few minutes ago they were doing just fine. The play is in two acts and lasts a couple of hours, but what's that in God's eyes? Limbo, I am told, can last hundreds of years before you're scrubbed clean enough to move on.
The play has an urban, Jewish (read: New York) sensibility marked by the prejudices and language of its time. Women are objectified, gay men (DJ Kemp and Devan Schoelan) are frivolous twits who (according to the dominant literary canon still largely observed half a century ago) got here by their own hand, Bieberman (Robert Lesser) has gross personal hygiene habits, and Tandy (Jeff LeBeau), another fellow who imagines he still has great things ahead of him—he's started writing a cheesy historical novel about Charlemagne—cannot accept that he belongs where he finds himself.
God is the all-knowing, all-seeing, middle-aged funky Puerto Rican named Morty played to perfection by the well-known comedian/actor Paul Rodriguez, who wears a United Farm Workers button on his jacket. We see him at his keyboard merrily handing out cursory death sentences and the occasional reprieve to his creations down below. He cracks jokes—one, clearly interpolated into the new script, about Monica Lewinsky that flies above his listeners' heads until he realizes that story hasn't happened yet. All the while, the steam is flowing, the shower on stage is functioning adequately, the white towels are girding the visitors' midriffs, and God's attendant Gottlieb (Yusuf Yildiz) pops up with beer, popcorn, and milkshakes to entertain the guests.
But get past the datedness and you can easily see Friedman's point. In Jewish theology, God knew from the start (well, starting with the apple) that his human creatures were severely flawed. Maybe he purposely made them that way just for fun, to see what would happen. It's up to humanity to improve and perfect the troubled world to restore it to its original Edenic state.
Measured against that yardstick, it's no wonder some of these folks got to where we see them now. Meredith (Shelby Lauren Barry) appears reading a book, but mostly what she thinks about is the micro-miniskirt she was just buying at Bloomingdale's and now who's going to pay the bill? Not to sound too unkind, but these folks were mostly just taking up space. I mean, people have the right to take up space, but we all do know people like that, don't we?
"We have all this stuff we want to do and think we have enough time to do it," says director Ron Sossi. "We don't acknowledge death. Maybe if we eat enough health food and do enough exercise we'll never die. We're all living our lives thinking there's always tomorrow."
A 1970s New York bathhouse may seem like an odd and unanticipated environment in which to raise these issues, but so was a graveyard in Thornton Wilder's Our Town. Splintering through all the ribald joking and the atmospheric steam shines the clear light of existential questioning about life. What are we here for? What is the significance of our life, and are we doing anything of value?
Aside from the actors named above, Brian Graves, John Moskal, Shay Denison and Anthony Rutowicz also appear. Peter Pasco occasionally fills in for Rodriguez in the role of Morty. The highly effective scenic design is by Gary Guidinger, costumes by Mylette Nora, and lighting up the special effects a theatergoer would expect in a play involving God is Chu-Hsuan Chang. Sound design is by Christopher Moscatiello, props by Josh La Cour, and choreography by Dagney Kerr.
Steambath runs through Dec. 16 on Fri. and Sat. at 8 pm and Sun. at 2 pm, plus two Weds. (Nov. 28 and Dec. 5) and one Thurs. (Nov. 8), all at 8 pm. The Odyssey Theatre is located at 2055 S. Sepulveda Blvd., Los Angeles 90025. Recommended for mature audiences, with mild adult themes and partial nudity. There are three "Tix for $10" performances, on Fri., Oct. 26, Fri., Nov. 23, and Weds., Dec. 5. For tickets and other information call (310) 477-2055 ext. 2 or visit the theatre website.
Is enough ever enough?
Just in time for Halloween comes the West Coast premiere of Radiant Vermin (seen Oct. 19), a hellishly savage black comedy by acclaimed British playwright Philip Ridley (Mercury Fur, Tender Napalm), presented by a new L.A. theater company, Door Number 3 as its first production.
Here's the set-up: Ollie (Kapil Talwalkar) and Jill (Britt Harris) live in a poor crime-infested neighborhood. They are unexpectedly visited by Miss Dee (Laura Faye Smith), who introduces herself as representing a British government gentrification program whereby the couple will be given a house in a new development area for free, with free furnishings as well, as long as they conduct themselves with discretion. They will be the first settlers there, but their example will attract other similarly upwardly mobile families to create a new upscale district in which they can safely raise their children.
Ollie has his reservations, but Jill leans on him to sign the contract. Almost immediately they find that the renovations come at a certain price, but that price is borne by some of the poorest "vermin" who chance to wander through the neighborhood. When they wish to speed up the renovations on their dream house they actually have to go out looking for more "renovators."
As the home is getting completed, other families do indeed move into the area: The government program is working! But now Ollie and Jill have to keep up with their neighbors in ever greater and more addictive consumption—and find the "renovators" to pay for it. At each stage of the denouement, they find themselves capable of rationalizing gentrification even at the cost of their own sanity, inviting the audience in as collaborators. Wouldn't you do the same? they ask us. After all, it's for the children. "It's people like us who stand between civilization and chaos," Jill believes.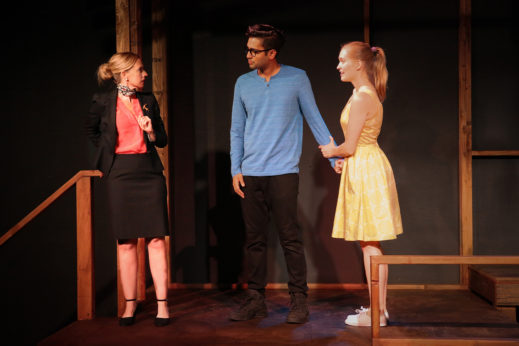 Director Tim True paces the couple, along with the occasional visits from Miss Dee—Laura Faye Smith also plays one of the "vermin" characters, named Kay—with frightening speed and split-second delivery. In the second act, the couple host a lawn party for the families in the five houses on their street—with "enough food to feed the Third World"—the two actors taking up all the roles of their neighbors with words, accents and gestures flying about with uncanny spitfire accuracy.
"Ollie and Jill keep moving the end zone," True says in an interview with Gia On The Move. "They'll take advantage of an opportunity, but every time…they find they want more. But it's never a conscious thing. Their appetite is unquenchable. Radiant Vermin is a scary commentary on civilization in general. The allegory of consumerism is a direct metaphor for relationships. If people have the opportunity to take and take and take…who's receiving and/or not receiving as a result?"
The play is enacted on a single set (Pete Hickok), the unfinished wooden platforms and beams gradually filling up in our mind's eye with the ultimate in home decor. We also envision the larger neighborhood, which features a shopping mall with numerous consumer outlets called, appropriately enough, "Never Enough."
Although set someplace in the UK, the parallels to U.S. and other Western excess need no elaboration. As the world divides ever more sharply between the haves and the have-nots, Radiant Vermin will undoubtedly become more and more relevant with each passing year, reminding us of the Faustian bargain we have agreed to when we seek our creature comfort.
It's noteworthy that Ridley specifies that this is a government program because politics is ultimately at the base of such large geopolitical development decisions. Government historically has determined class privilege by virtue of tax policy, restrictive covenants, zoning, redlining, ghettoizing, tolerating homelessness, failure to build affordable housing, placement of highways, schools, parks, commercial and industrial development. The recent tax reform that the Republican Congress passed, for example, posits the further accumulation of capital in fewer and fewer hands, and the emergence of ever more "exclusive" housing for the rich. At whose expense? Any visit to America's Skid Row or to our nation's derelict schools will easily answer that question.
Interestingly, Ridley also brings in a religious element, as if to implicate parts of the faith community in the contract on the poor. That aspect reminded me of Mr. and Mrs. Peachum in the Threepenny Opera, using Biblical verses to sanction their lordship over a mob of London beggars.
Radiant Vermin was first performed in London in 2015. Critics there found it "a darkly funny morality play that implicates the audience without hitting it over the head" and "a deeply macabre, stingingly funny modern fairy tale…clever, funny and provocative." After its U.S. premiere in 2016, the New York Times found it "nasty and energetic fun."
Tim True is joined on the production side by lighting designer Bosco Flanagan, sound designer Christopher Moscatiello and costume designer Valerie Stevens.
Performances of Radiant Vermin continue at the Odyssey through Nov. 18, on Thurs., Fri. and Sat. at 8 pm and Sun. at 2 pm. For tickets call (310) 477-2055 ext. 2, or go the Door Number 3 website.