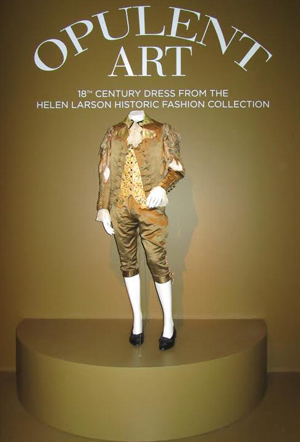 Los Angeles Opera is not generally known as a hotbed of red-hot radicalism, although back in 2010 it did produce the world premiere of an opera about the Chilean communist poet Pablo Neruda.
But during the spring season, L.A. Opera has launched "a city-wide celebration of the revolutionary spirit of Beaumarchais' Figaro in conjunction with its staging of Rossini's The Barber of Seville, Mozart's The Marriage of Figaro, and the contemporary American composer John Corigliano's opera to a libretto by William M. Hoffman, The Ghosts of Versailles. Through its connections with a number of other cultural institutions, the opera company has invited Angelenos to examine multi-disciplinary aspects of "culture, power, and revolution at play."
Who was Beaumarchais? Pierre Augustin Caron de Beaumarchais (1732-1799) was a French playwright best known for The Barber of Seville (1775), The Marriage of Figaro (1778 but not performed until 1784), and the later, but infrequently performed The Guilty Mother, his trilogy centered on the character of Figaro. Beaumarchais was an ardent democrat for his day, and actively aided the American Revolution by organizing funding, arms, supplies and ships.
Readers will remember that the French Revolution broke out in 1789, and yes, it is abundantly clear that the enormous popularity of Beaumarchais' plays and his lovable, roguish Figaro contributed to the fast-moving change in the French attitude toward their absolute monarchy.
Although set in what the French saw then as exotic, far-off Spain, the plays reflect the writer's profound belief in egalitarianism at home. It is consistent with Beaumarchais' outlook that he spent the years 1785-90 publishing the first edition of the works of the Enlightenment giant Voltaire.
Figaro represented a new presence on the French stage, which until Beaumarchais had largely been populated by figures from classical antiquity or mythology. The playwright drew from the Spanish literary and theatrical tradition, which frequently contained servants and workers as characters. One need only think of Sancho Panza in Cervantes' Don Quixote, or the servant Leporello in the Mozart opera Don Giovanni, derived from the many Don Juan representations in Spanish plays.
In those works, and in the Figaro trilogy, the authors excel at confounding the plots – and audiences – with topsy-turvy scenes of cross-dressing, servants and masters, maids and mistresses exchanging clothes and roles, and mistaken identities in dark, moonless gardens. There are also broad attacks on privilege and ridicule of aristocratic pretense. Among the most hated customs of the "old régime" in Europe was the "right of first night," according to which the seigneur reserved for himself the right to take the virginity of any maiden living within his realm. Angry criticism of this "right" comes up in the Figaro plays. The outright subversion of the established order made explicit in The Marriage of Figaro is what held up the performance of that play in the censor's office for six years.
Figaro fashionista
Figaro is, of course, the barber of Seville, who by his engaging wit and wile saves the day for true love – itself an emerging concept in the 18th century, when marriages were often arranged by families with little or no consent from the partners.
The barber is based on the idea of the Spanish "majo," a working-class dandy, smart, urbane, ambitious, a "factotum," the confident kind of guy who is adept at many skills and wise to the ways of the arrogant, malevolent aristocracy he serves. Naturally he dresses more simply, his basic style deriving from rural attire.
After the success of Beaumarchais' plays, a kind of Figaromania took hold in France, whereby aristocrats would "dress down" to imitate what they imagined as the rustic, untroubled life of the peasantry, sometimes even constructing a model agricultural plot on their estates where they would play-act as humble farmers and shepherds. Quite a novelty for people who never worked a day in their lives! Of course the fabrics they used for their costumes were not the rough, rustic cloths peasants used year-round until they wore out, with at best one slightly better-quality garment for church and special occasions. The rich adapted rural dress forms, including aprons, but had their seamstresses recreate them with embroidered satins and silks, elegant buttons, ribbons, sashes, and buckles.
Widespread doubt entered the French mind as to whether, if servant and master could exchange dress and role, they were essentially any differently deserving of being stuck in such disparate classes and fates. Democratic ideas began to take hold. Fashion changed dramatically from the Figaro effect, especially after the Revolution, when it became a social liability to display such elegant clothing obviously meant for aristocratic wear.
At a recent lecture and fashion display on the L.A. Opera Figaro series, held at the Fashion Institute of Design and Marketing (FIDM) downtown, Dr. Kimberly Chrisman-Campbell spoke about her new book, "Fashion Victims: Dress at the Court of Louis XVI and Marie-Antoinette," which contains a whole chapter on the Figaro craze. Even the adoption of the ankle-length dress comes from this period: While aristocratic women paraded around with long trains and hemlines that dusted the floor, working-class and peasant women could ill afford to be tripping over their skirts all day long as they went about their chores. Powdered wigs also went out in the Figaro era.
Dr. Chrisman-Campbell showed slides to illustrate her talk, and concluded with timely examples of the Figaro mentality still very much with us in the way movie stars, fashion models, and high-tech magnates such as Steve Jobs and Mark Zuckerberg often present themselves in torn jeans and t-shirts (remember the farmer overalls with one shoulder buckle alluringly left undone?). Even high-end businesses and law firms adopt "casual Friday" dress to emphasize their identification with the mufti masses. Peasant-chic, homeless-chic and grunge-chic are all recognizable icons in the media and on the street.
I remember back in 1980 when the documentary film From Mao to Mozart: Isaac Stern in China came out. Stern was a widely beloved violin maestro invited to give master classes in China and promote musical exchanges. Shown on camera conversing with a Chinese music professor who explains that Mozart lived at a critical juncture between feudal and emergent capitalist society, Stern looks bored and impatient, then cajoles his host to set aside this needless, intrusive ideology and simply acknowledge the composer's timeless individual genius. With a flourishing clean sweep of the mind, Stern dismisses the social context of the composer of The Marriage of Figaro, Don Giovanni, and The Magic Flute, three of the most revolutionary operas ever written. I will never forget Stern rolling his eyes in contemptuous disparagement of the Chinese professor. Well, L.A. Opera and its cooperating institutions are helping us to reset our understanding of those revolutionary times.
Figaro here, Figaro there
Los Angeles Opera performances of the Beaumarchais trilogy run from February through April. For more info: LAOpera.org or 213.972.8001.
The UCLA Opera Department is staging rare performances of I Due Figaro (The Two Figaros) by Saverio Mercadante, an early 19th-century Italian composer, on Feb. 13, 15, 20 and 22. Info: www.music.ucla.edu/Performance/Opera.
"Opulent Art: 18th-Century Dress from The Helen Larson Historic Fashion Collection" is on view now through July 4 at the FIDM Museum & Galleries, 919 S. Grand Ave., Los Angeles. Gallery hours are Tuesday-Saturday, 10 am – 5 pm. Info at FIDMMuseum.org or 213.623.5821.
LA Theatre Works stages the third Beaumarchais play, The Guilty Mother, on Feb. 13 and 14. Info: LAOpera.org or 213.972.8001.
A Noise Within, an L.A. regional theater company, stages Figaro by Charles Morey, freely adapted from The Marriage of Figaro, March 1 through May 10. Info: ANoiseWithin.org or 626.356.3100.
The Barbers of Zarzuela, a concert of popular Spanish operetta versions featuring the Figaro character, will take place at El Pueblo in downtown L.A., free and open to the public. Info: LAOpera.org/COCN or 213.972.3157.
The Museum of Contemporary Art (MOCA, both locations downtown) features "The Revolution in Art Continues" from March 21 through April 30. Show your L.A. Opera ticket or stub for free admission. Info: MOCA.org or 213.626.6222.
A young artist recital featuring Figaro arias takes place at the Los Angeles County Museum of Art (LACMA) on March 22 at 6 pm. Info: 323.857.6000 or www.lacma.org/programs/music/Sundays-live. LACMA also has self-guided tours of Visual Art in the Time of Figaro, now through April. LACMA.org/Figaro.
The Getty Center features a focus tour "Fit for a King" in February and March. Info: www.Getty.edu or 310.440.7330.
Photo: An actual surviving costume for the role of Figaro from the late 18th century, from "Opulent Art" at the FIDM Gallery. | Eric Gordon/PW