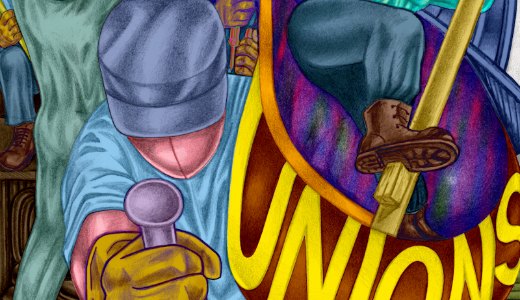 OKLAHOMA CITY – This city's Central Labor Council is following up last year's highly successful labor festival with a second "Oklahoma Laborfest" Aug. 25-27. It will feature special poster art by one of the state's most sought after artists, Carlos Tello, as well as union music, readings, poetry, workshops, cultural booths, history lessons and outstanding films such as Matewan and Salt of the Earth.
One of the most remarkable features will be a special reading at noon, Aug. 27, of Nor Iron Bars. Here is how they describe it:
From 1938 to 1940, Eli Jaffe, a young writer and activist originally from Brooklyn, N.Y., worked across the state of Oklahoma as an organizer for labor and civil rights on behalf of the Communist Party USA. On Aug. 17, 1940, he was arrested along with over a dozen others in conjunction with a police raid of the Progressive Bookstore, located in downtown Oklahoma City. Details of this raid and the subsequent "Book Trials," which gained national attention, can be read in Books on Trial: Red Scare in the Heartland (OU Press, 2007).
Because of his work as a labor and civil rights organizer and his relationship to the CPUSA, Jaffe was one of the four defendants put on trial for "criminal syndicalism," or plotting for the overthrow of the United States government through violent means. The only evidence entered into court against Jaffe was the fact that he had no middle name (which was offered as proof he was a Russian spy), a photograph of him sharing a meal with African Americans and excerpts from books gathered in the bookstore raid.
Jaffe wrote Nor Iron Bars, a one-act stage play of several scenes, in September 1941. The play is based on his experience in the Oklahoma County jail, where he spent four months over the course of the trials. The play incorporates elements of his own Oklahoma City story as well as the social realism, regionalism and agitation propaganda that was predominant in literature and the arts at the time. The play has never before been produced or publicly read.
Wilma Lewis Jaffe, native Oklahoman and Jaffe's widow, has granted exclusive rights to produce the play to Laborfest Planning Committee member Rachel Jackson. This year's public reading is being facilitated by the Lawton Improv Group under the direction of Daren Two Hatchett. Those interested in participating in the reading or in being in the audience are welcome.
For more information on the Laborfest, see the website.
Photo: A section of Carlos Tello's poster art.