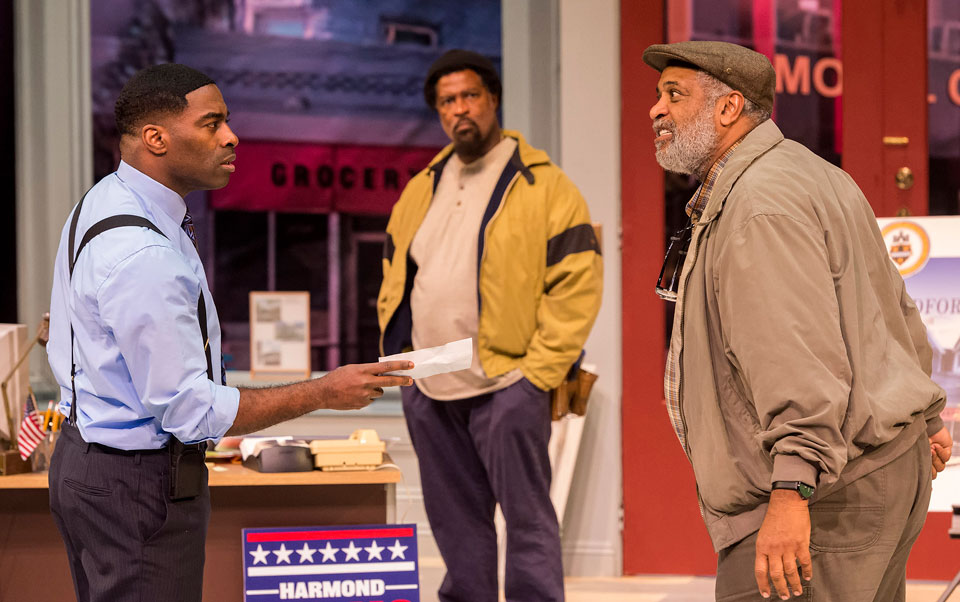 PASADENA, Calif. –– In Radio Golf, the final chapter in August Wilson's extraordinary 10-play "American Century Cycle" exploring the Black experience in 20th-century America, the playwright completes his saga of the continuing struggle between history and progress. Completed and premiered in early 2005 and, like all but one of the other plays, set in Pittsburgh's Hill District, where he grew up, Radio Golf serves as Wilson's epitaph. It was not just the last in his phenomenal decade of plays, it was his final work; he succumbed to liver cancer that same year at the age of 60.
Performances of this play take place at A Noise Within through November 13. You could not ask for any better theater than this, thanks to great acting and Gregg T. Daniel's direction, and on an elegantly creative, evocative stage set.
Filled with love for his five-member cast of characters, who all have their stories and points of view that sometimes converge and sometimes don't, Wilson visits upon them the kind of tough love only an intimate family member could deliver. No one is spared. But in the end we have no doubt where he stands: with the African-American community's knocked-down, abused and exploited working class.
The two characters who at first come across as nuisances, fools and maladroits—"Old Joe" Barlow (Alex Morris) and the self-employed contractor Sterling Johnson (Matt Orduña)—turn out to have bigger hearts and more integrity than the three highly educated and ambitious up-and-comers who represent the emerging Black entrepreneurial and professional class.
Set in 1997, the play centers on Harmond Wilks (Christian Telesmar), inheritor of a real estate firm and a Black mayoral candidate on the verge of the business breakthrough of a lifetime, and his business partner and fellow Cornell classmate Roosevelt Hicks (DeJuan Christopher). Both of them are enamored of their golf game, partly out of love for the sport and partly because the golf course provides entrée to a tonier class of people who could play critical parts in their social advancement. Wilks's wife Mame (Sydney A. Mason) is also on a rising professional career path in the governor's office and seeking to become his press representative.
By 1997, the Hill District is long past its prime. Wilks is anxiously awaiting the city's official designation of it as a "blighted" neighborhood, for he has grand plans for redevelopment. His project will tear down all the decrepit housing stock and replace it with an upscale, mixed-use property complete with Whole Foods and Starbucks. This is what gentrification looks like: Preserve a few names and symbols, but move a whole new class of people in. There's just one old house at 1839 Wylie at the edge of the prospective project that's standing in the way with conflicting property claims and a history of possible fraud over unpaid taxes. But if this project gets underway, it will be Wilks's calling card in his campaign to become the first Black mayor of Pittsburgh.
As for his pal Roosevelt, he is now the possessor of a new calling card himself—more than one, in fact, as a vice president of Mellon Bank and as a co-owner of radio station WBTZ, where he hosts a regular golf program with his suave, hip, confident vocal mannerisms. Golf, needless to say, is itself a marker of upward mobility, an expensive pastime not that accessible to large numbers of Black players. If he didn't have his business card, he says, the folks he wants to play golf with would think he was the caddy. It becomes clear soon enough, however, that Roosevelt is himself the one being played, by bigger social and financial sectors represented by the invisible white investor Bernie Smith, who will receive a federal subsidy because of his minority partnership.
Between these two pals, with their ridiculous old college rah-rah, Wilson depicts the very model of the modern ethnic sellout. Not without understanding and a certain sympathy, though. He knows this is a tough world to negotiate, and would he deny a little success to those with the pluck and smarts to seize it? It's the essential, genetic criminality of the system itself that besmirches and destroys any notion that "despised" minority members can enter it unscathed as anything more than tokens.
And therein lies Wilson's warning and last message to the world. How to bring everyone to the table—all races, classes, genders—fairly and proportionately, without favor or disfavor, is a question he leaves to his audience. And good luck to us all, I say!
"How much do we owe the past in terms of remembering where we came from?" asks the director Gregg T. Daniel. "Sure, we all want to get ahead, but what's the price we pay for assimilation when it means losing parts of our culture? What is gained, and what is lost?
"You might be wearing a suit, but how many lives were sacrificed, how much blood was shed for you to get here?"
Yet people are not fatalistically stuck in their assigned roles. Indeed, one role theater itself plays is to center individuals in conflict, sometimes with themselves, and point to hopeful resolutions. In Radio Golf, certain characters do grow into deeper understandings about themselves and the world. The key to almost all theater is to ask which characters change in the course of the play.
For a prospective theatergoer's edification, each play in the series, including this one, stands alone. You do not need to be familiar with the others to fully appreciate Radio Golf. Still, the entire series is a literary monument. "No one except perhaps Eugene O'Neill and Tennessee Williams has aimed so high and achieved so much in the American theater," wrote John Lahr in The New Yorker.
The creative team for Radio Golf includes scenic designer Sibyl Wickersheimer; lighting designer Brandon Baruch; sound designer Jeff Gardner; costume designer Mylette Nora; wig and make up designer Shelia Dorn; properties designer Shen Heckel; fight choreographer Kenneth R. Merckx, Jr.; dialect coach Andrea Odinov; and dramaturg Miranda Johnson-Haddad. The production stage manager is Taylor Anne Cullen.
Performances of Radio Golf take place through November 13 on Thurs. at 7:30 p.m.; Fri. at 8 p.m.; Sat. at 2 and 8 p.m.; and Sun. at 2 p.m. Post-performance conversations with the artists will take place on three Fridays, Oct. 28, Nov. 4, and Nov. 11, and on Sun., Oct. 30. A Noise Within is located at 3352 E. Foothill Blvd., Pasadena 91107. To purchase tickets and for more information, including up-to-date Covid-19 safety protocols on the date of each performance, call (626) 356-3100 or go to www.anoisewithin.org.