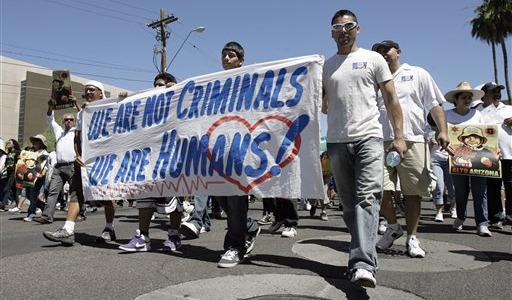 Immigrant rights groups are demanding that a talk-radio station in Columbus, Ohio, apologize for promoting a contest last week that dehumanizes immigrants.
The contest was launched in response to Mayor Michael Coleman's suspension of travel by city employees to Arizona on official business. The mayor's action was aimed at protesting Arizona's new anti-immigrant law, SB 1070.
WTVN-AM (610) and its parent company Clear Channel encouraged city employees to enter the drawing.
The station's promotional ad says:
"610 WTVN would like to send you where Americans are proud and illegals are scared, sunny Phoenix, Arizona! You'll spend a weekend chasing aliens and spending cash in the desert, just make sure you've got your green card! Win round trip airfare to Phoenix, hotel accommodations, and a few pesos in spending cash."
The National Council of La Raza (NCLR) in conjunction with other activist groups said it filed a complaint with the Federal Communications Commission noting the contest has triggered outrage in Latino communities across Ohio, Michigan, Arizona and nationwide.
"The passage of SB 1070 has provoked a lot of reprehensible anti-Latino and anti-immigrant rhetoric, but a radio station bankrolling someone to 'hunt' human beings for sport represents a new low," Janet Murguia, NCLR president and CEO, said in a statement.
"The owners and directors of WTVN might think that this is all in good fun but what is happening to Latinos – citizen, legal, and undocumented alike – in Arizona is no joke. We are asking for an immediate and unequivocal apology from the station and its parent company," she said.
Murguia concluded, "It is important to keep in mind that the American people own the airwaves over which WTVN broadcasts. As such, we will ask FCC Commissioners to ensure that threats against American citizens – such as the one encouraged and promoted by WTVN – are not taken lightly and dealt with in an appropriate manner as soon as possible."
A coalition of community leaders in central Ohio issued a joint statement saying the ad is offensive, encourages a racial bias and invites the contest winner to "spend a weekend hunting human beings." Instead of supporting more diversity in Columbus and better inter-ethnic relations, the ad singles out one ethnic group in a degrading fashion, they add. The leaders said Columbus is a diverse and inclusive community that they are proud to be a part of.
Ruben Castilla Herrera, Reform Immigration for America Ohio state director, told La Prensa he was "absolutely disgusted" with the radio ad. It's important to speak out against such actions in order to prevent a copycat Arizona bill in Ohio, he said.
"We definitely consider it to be hurtful and detrimental to our community," said Herrera. "It has racist connotations. It's clearly profiling a group of people. You have to contest it, you can't let racism go on," he said. "Even if you're doing this for fun, this is not funny. It incites those people that hate."
WTVN Program Director Mike Elliot said the station does not plan to apologize. He disagreed that the ad had racial overtones.
However after pressure from the Columbus community against the ad, one primary sponsor for the radio station, Roush Honda, has pulled one of its own ads from the station.
Gary Harkin, marketing manager for Roush Honda, said once they learned about the ad, they immediately cancelled their latest advertising investment.
"Roush Honda was not a sponsor of this promotion, and in no way finds this promotion amusing, tasteful, or appropriate," Harkin wrote in a letter.
The contest ended May 27. An unidentified person from Grove City was announced the winner.
Meanwhile hundreds have signed an online petition sponsored by the Ohio Action Circle, a statewide immigrant rights blog, condemning the ad. And 500 letters denouncing it from the Columbus community have been delivered to the station.
Activists were told they would be able to meet with Clear Channel's station manager, Brian Dytko, this week.
The Arizona law, scheduled to take effect this summer, criminalizes people who fail to carry proper legal documents and grants local law enforcement officials authority to detain anyone they suspect of being in the country illegally. Arizona's Republican Gov. Jan Brewer signed the bill into law in April.
Photo: Protesters carry signs against Arizona's controversial immigration law as they march on the Arizona State Capitol, May 29 in Phoenix. (AP/Paul Connors)