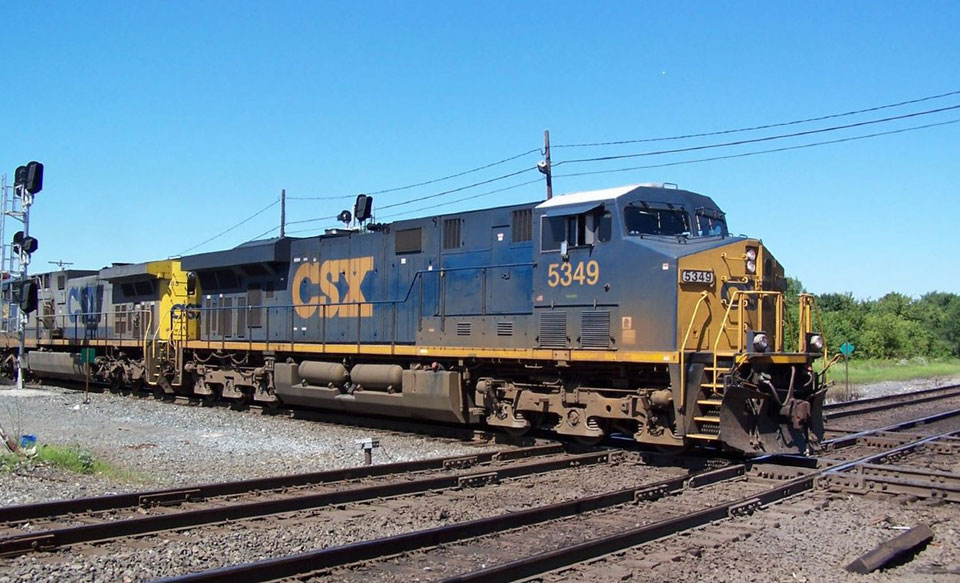 WASHINGTON—With a deadline looming when U.S. freight railroads and their workers could take the gloves off via an employer lockout or a worker strike, the nation's big freight carriers are trying to force a presidential board "settlement" on their key workers—engineers and conductors—by pressuring Congress to impose it.
Their tactic: Refusing to ship key goods and pushing those screaming customers to prod lawmakers to impose a contract that the two unions which represent half of all rail workers term inferior.
The rail workers, represented by the Brotherhood of Locomotive Engineers & Trainmen (BLE&T), a Teamsters sector, and the Smart-Transportation Division (Smart-TD) are calling out the carriers' move as, in their words, "corporate extortion."
In the middle of this: Democratic President Joe Biden, along with the country as a whole. He's strongly pro-worker and pro-union, but also wants to keep the economy going. Here's the deal, as Biden would say:
Biden wants a negotiated settlement, to keep the nation's rickety supply chain running and the economic recovery from the coronavirus-caused crash continuing.
Congress, which could step in, is another matter. The railroads are pressuring their customers by cutting off their shipments. They want customers to push lawmakers to enact a settlement. Republicans side with the railroads. House Majority Leader Steny Hoyer, D-Md., says lawmakers could step in if needed.
But Senate Majority Whip Dick Durbin, D-Ill., whose state is the nation's rail freight hub, told the Public Broadcasting System that "I don't think it's likely we'll intervene. But it depends on the two sides coming to terms." And PBS says Biden is preparing a contingency plan.
Consumers and other workers could feel the impact. Freight railroads ship everything from cars and coal to soybeans and oil. Take the railroads away and an estimated 30%-40% of U.S. commerce comes to, literally, a dead halt. So will most commuter railroads and Amtrak. Except for the Boston-Washington Northeast Corridor and Metra's tracks running south from Chicago's Loop, the freight roads own their tracks.
So if you get the idea there are a lot of moving parts and players in this battle over freight railroad workers' welfare, you're right. Start with the White House.
Biden, known as "Amtrak Joe" for his devotion to railroad workers, including those of Amtrak, and to all unionists, is working the phones trying to get both sides to settle before a federally mandated cooling-off period ends at 12:01 am on September 16. When that period ends, the workers can strike and the railroads can lock them out.
Biden Labor Secretary Marty Walsh, a Laborers Local 223 member, has been trying constantly to mediate the conflict and bring the two sides together, news reports add.
The two largest unions, the BLE&T and the Smart-TD, want a better settlement than a Biden-named Presidential Emergency Board earlier proposed. And their workers, half of all remaining 115,000 rail workers nationally, are key. You can't run a big long freight train without an engineer and a conductor—though the carriers contend you don't need the conductor.
Rail unions gave the freight railroads "a proposal we would be willing to submit to our members for ratification, but it is the rail carriers that refuse to reach an acceptable agreement," BLE&T President Dennis Pierce and Smart-TD President Jeremy Ferguson said in a joint statement on September 13.
"It was abundantly clear from our negotiations over the past few days that the railroads show no intentions of reaching an agreement…But they cannot legally lock out our members until the end of the cooling-off period. Instead, they are locking out their customers beginning on Monday (September 11)  and further harming the supply chain in an effort to provoke congressional action."
The crux of the issue is not just wages, but working conditions, notably for engineers and conductors at the big freight carriers, including Burlington Northern Santa Fe (BNSF), Norfolk Southern, CSX, and the Union Pacific.
Other than cost-of-living hikes, workers have had no raises since before the coronavirus pandemic hit. The board proposed raises of 24% over five years, retroactive to July 1, 2020, and no changes to work schedules. The unions had sought 31% over five years, with a Jan. 1, 2020, retroactive start date. The freights proposed 15%, retroactive to July 1.
Railroads also can jerk around workers' schedules, often giving workers just a day of rest between long stretches—up to two weeks straight, including weekends and holidays—on the job. When a worker is late or doesn't call in to be excused, not even for a family funeral, the railroads dock "points" from their record. Too many points down and you get fired.
In talks with the freights, the rail union coalition demanded an end to erratic scheduling, paid sick leave, and an end to the carriers' constant personnel cuts in the name of higher profits. The railroads have shed a third of their workers since 2014. The railroads didn't listen.
So Biden named the presidential board after talks went nowhere, thanks to rail carriers' intransigence, for more than two years. The board's recommendations were better than the railroads' offer, required of them by law, but not good enough, all 14 rail unions said then.
Despite the statements from Republicans and Hoyer, not all lawmakers are hostile, especially longtime pro-worker Sen., Bernie Sanders, Ind.-Vt. "The railroad industry which made $20 billion in profits last year cannot continue to deny workers paid sick leave," he tweeted. "It is unacceptable and dangerous for conductors & engineers to be on call for 14 consecutive days, 12 hours a day, and then get fired for going to a doctor."