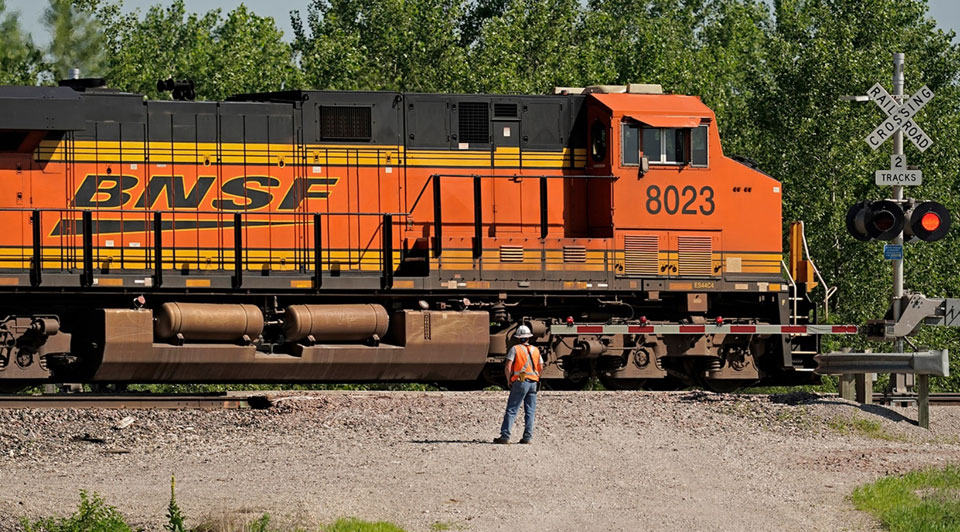 WASHINGTON—By a 57%-43% ratio in a heavy turnout, members of one of the bigger rail unions in the U.S., the Brotherhood of Maintenance of Way Employees Division/ Teamsters, rejected a tentative agreement between 13 national rail freight unions and the big Class I freight railroads.
The key issue, as in a prior rejection by Machinists District 19, was working conditions, BMWED President Tony Cardwell said. BMWED's rejection, by a 5,100-6,646 margin, sends that union and the carriers back to bargaining, just as District 19's prior rejection did.
"Railroaders are discouraged and upset with working conditions and compensation and hold their employer in low regard," he explained in an open letter to members.
"Railroaders do not feel valued. They resent the fact that management holds no regard for their quality of life, illustrated by their stubborn reluctance to provide a higher quantity of paid time off, especially for sickness.
"The result of this vote indicates that there is a lot of work to do to establish goodwill and improve the morale that has been broken by the railroads' executives and Wall Street hedge fund managers."
The rejection does not lead to automatic action, either a lockout by the big freight railroads—such as the Burlington Northern Santa Fe, the Union Pacific, CSX, and the Kansas City Southern—or a forced strike by BMWED, which the other rail unions would then honor.
Instead, a 60-day new "cooling-off" period, which rail labor law allows, took effect when the tentative agreement, brokered by Biden Administration Labor Secretary Marty Walsh, was announced on September 15. That means it will expire a week after Election Day, but Cardwell added it won't actually end until five days after Congress—which could impose a deal on the workers—reconvenes on November 14.
But if the freight railroads lock out the workers, or force them to strike, it would disrupt the nation's already creaky supply chain for key goods, from cars to coal to oil to grain, and just before the holiday shopping season starts. That's one big reason pro-worker President "Amtrak Joe" Biden got personally involved in jawboning the two sides into the tentative agreement, and why his Labor Secretary, Walsh, served as mediator.
Railroad Workers United, a grass-roots organization of workers from all rail crafts, applauded the BMWED members' vote. Its board had voted on October 5 to oppose the tentative agreement, for the same reasons that upset BMWED members—carrier refusal to budge on working conditions.
"This is the first union of any size to vote down the tentative agreement," RWU stated. "In fact, the number of workers represented by the BMWED surpasses the total number of workers represented by unions that have adopted the tentative agreement.
"With the discontent in the operating crafts at boiling point, this vote will no doubt add a boost to the ranks of the BLE&T and Smart-TD to emulate their BMWED brothers and sisters and vote NO."
The Brotherhood of Locomotive Engineers & Trainmen/Teamsters (BLE&T) and the Smart-Transportation Division (Smart-TD) are the two largest unions among the 13 that bargained with the Class I freight railroads. They're also the key ones, since—despite BNSF's stand that you could run miles-long freight trains with one or no workers at all—they represent the engineers and conductors.
BLE&T's convention in Las Vegas opened on October 10 and was scheduled to run through October 13. The tentative agreement was not on the formal agenda, as union President Dennis Pierce previously made clear the decision is up to the entire membership. That vote count is scheduled for November 17. The union has 33,000 engineers and conductors, almost 30% of the 115,000 rail workers the tentative agreement covers.
Smart-TD's 21-day voting period is scheduled to start in "mid-to-late October," a union-posted timeline says, with a count announced on November 20.
"My purpose here is not to try to talk anyone into voting one way or the other," Pierce wrote in a message to members. "Rather, as the process moves forward, the voting members must sort through all they are hearing about the tentative agreement and their options to cast a vote that is in their best interest. That has become easier said than done.
"In my conversations with members" of the BLE&T board, local divisions, and state legislative boards, "it has become increasingly clear there is more misinformation and misrepresentations circulating in social media than there is clear and factual information about the tentative agreement, how it was reached, and what our options are," he added.
"The membership voted in record numbers on this tentative agreement, exhibiting that they are paying close attention and are engaged in the process," Cardwell said. "BMWED members are concerned with the direction of their employers and the mismanagement and greed in which they have consistently implemented, and are united in their resolve to improve their working conditions."