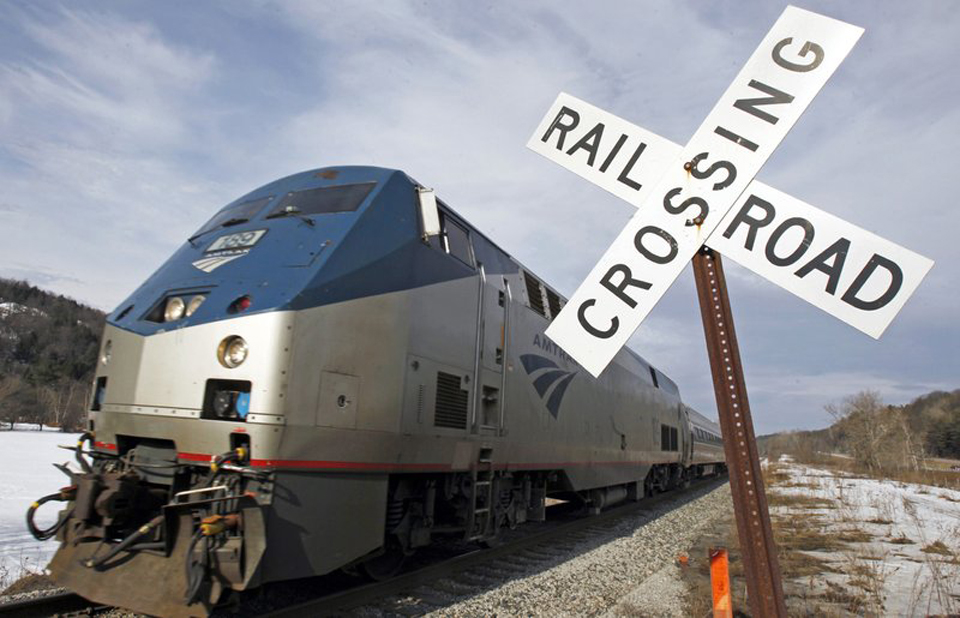 PHILADELPHIA (PAI)—America's rail passenger system, Amtrak, is outsourcing union jobs—especially call center jobs—to non-unionized workers. And the railroad's employees don't like that one bit.
So that led members of the Transportation Communications Union (a Machinists sector descended from the historic Brotherhood of Sleeping Car Porters), two federal lawmakers, and the National Association of Rail Passengers to descend on Philadelphia's 30th Street station for a mass protest in late February.
Their objective: To call out Amtrak CEO Richard Anderson and his outsourcing schemes and put on pressure to halt them. Anderson's outsourcing and hatred of unions is no surprise: He's the former CEO of notoriously anti-union Delta Airlines.
Amtrak call center jobs are being outsourced from Philadelphia, in a slow, "drip, drip, drip" of a few jobs at a time, as one speaker said. Before that, Amtrak closed its Riverside, Calif., unionized call center. Some of its 500 workers were shifted cross-country to Philly, but now those jobs are being cut, too.
It's also because those well-paying union jobs are yet another route into the middle class for people of color—and a white male from a red state is shutting them off. Delta, where Anderson worked, is headquartered in Georgia, and under his tenure, it devoured wall-to-wall-union blue-state-based Northwest Airlines.
"Amtrak has been steadily shifting services and displacing jobs under the leadership of Richard Anderson," the union said. "One of the common criticisms from the elected officials is Amtrak's contracting with third-party, non-union, low-wage outsourcers in Florida and Ohio."
"Our members are under attack from Amtrak and its CEO," union Vice President and Legislative Director Richard DeCarlo said. "We believe it is Anderson's goal to destroy Amtrak's national network by degrading the experience to the point where ridership drops. This way he can justify to Congress that they can get rid of these routes."
Various right-wingers on and off Capitol Hill, including in the GOP Trump regime, want to close down Amtrak's national network, leaving only the profitable Northeast Corridor, which would then be privatized.
"The administration believes restructuring the Amtrak system can result in better service at a lower cost, by focusing trains on better-performing routes"—the Northeast Corridor—"while providing robust intercity bus service connec­tions," Trump's budget for the fiscal year starting Oct. 1 says.
Unions, including TCU-IAM, have been part of a large and bipartisan coalition that has repeatedly beaten back such schemes to dismantle and privatize Amtrak, and kill jobs.
Their opposition hasn't stopped Anderson from eliminating other jobs, notably union jobs, by such measures as deleting dining cars.
"When I was at the (Philadelphia) call center about a year ago, it employed over 500 people," Rep. Brian Boyle, D-Pa., said. "Today that number is less than 400 and dropping."
"What Amtrak's leadership has done is remarkably cynical. Rather than take the PR hit by closing its biggest call center, like they did in Riverside, you see a drip, drip, drip of jobs being bled away to non-union call centers in Ohio and Florida. That is wrong! So we are here to stand up and say no to outsourcing and save local jobs."
Rep. Brian Fitzpatrick, R-Pa., one of the few GOP lawmakers who supports unions, saluted the Riverside workers who moved thousands of miles east after Amtrak closed their call center, a move he called appalling.
"These call center employees deserve to be treated with respect. Many of you have moved here, and I want to thank all of you for the work you do…I know customers call many times until they get connected with this call center because they know they are the best workers in the country."
Rail Passengers Association President Jim Mathews, whose group "represents over 40 million members that take trains all over the country" every year, said his members "rely on the call centers and…notice a difference when they don't talk to these folks. The Philadelphia call center provides a tremendous service to my members and the rest of the traveling public, and we want to make sure it continues to do so."