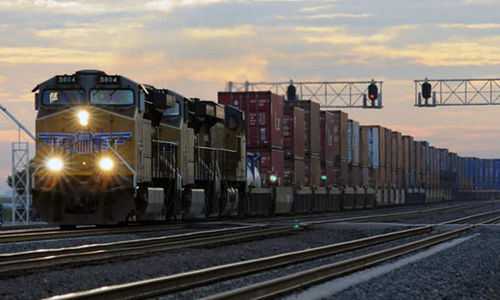 CLEVELAND – Two railroad unions – the Sheet Metal, Air, Transportation and Rail Workers' (Smart) Rail Division and the Brotherhood of Locomotive Engineers and Trainmen/ Teamsters (BLE&T)- are backing new legislation to mandate 2-member crews on all freight trains.
The measure, HR1763, was introduced April 17 by Rep. Don Young, R-Alaska, the House's longest-serving Republican and an influential lawmaker on transportation issues.
Railroad Workers United, a coalition of unions representing passenger and freight rail workers from around the nation, announced Young's bill, the unions' backing and RWU's support. The two unions are headquartered in Cleveland. The AFL-CIO Transportation Trades Department also backs the 2-person crews legislation.
Rail unions are pushing similar legislation in various states, notably in Minnesota, where a (Minnesota Democratic-Farmer-Labor Party) DFL-run state senate committee held a hearing on mandating 2-member crews there and was expected to pass it. Railroads tried to sidetrack the Minnesota bill by claiming it would conflict with federal law, Smart Minnesota transportation legislative director Philip Qualy said.
"The carriers' practice to remove more and more persons from the right-of-ways of American railroads endangers the general public," Qualy added.
Rail workers and unions contend freight trains need 2-person crews for safety reasons. They cite accidents that could have been prevented had a second crewmember been present to take action. In particular, Smart and the BLE&T cite the 2013 derailment, fire and explosion of an oil train in Lac Megantic, Quebec. That disaster killed 47 people and virtually destroyed the small town. Due to Canadian deregulatory moves, the train had only an engineer.
"BLE&T continues to oppose and condemn single-person freight operations as adverse to worker and public safety," President Dennis Pierce said. "Today, there are only two ways to end 1-person train operations: Federal laws or regulations that outlaw this dangerous practice, or collectively bargained contract language that requires two crew members on every train.
"We will continue to work to protect contractual language to defend 2-person crews, and it also is our goal to protect the safety of railroad workers and the general public by advocating for passage of HR1763."
Smart Transportation Division President John Previsich said, "The safest rail operation is a 2-person crew. With several major derailments in the last few months, most notably the oil train derailment and explosion near Charleston, W.Va., in February, lawmakers and the public must understand multi-person crews are essential to ensuring the safest rail operations possible in their communities." Earlier, his division released a survey of 2,519 adults in six congressional districts, five of them Republican, showing 82 percent support for 2-person crews.
"No one would permit an airliner to fly with just one pilot, even though it can fly itself. Trains, which cannot operate themselves, should be no different."
U.S. railroads have been lobbying the federal government for years to let them run freight trains with only an engineer, eliminating the conductor. They succeeded, in a Republican administration, in getting approval for 1-person crews just in rail yards. The major railroads, led by BNSF, have also tried to convince their unions to agree to 1-person crews in collective bargaining agreements. The unions refuse.
Young's bill, along with the state legislation in Minnesota and elsewhere, would stop that wider railroad campaign. Similar legislation drew 80 cosponsors in the last Congress, but died at the end of 2014.
Sarah Feinberg, acting administrator of the Federal Railroad Administration, told lawmakers on April 17 her agency will issue a "notice of proposed rulemaking" – the first step in writing a new federal rule – this year covering the number of members in train crews. She did not say when it would publish the notice, or how many workers FRA thinks a crew needs.
Photo: Rail unions say only having one crew member on a freight train poses a significant safety hazard. Photo courtesy of Wikimedia Commons