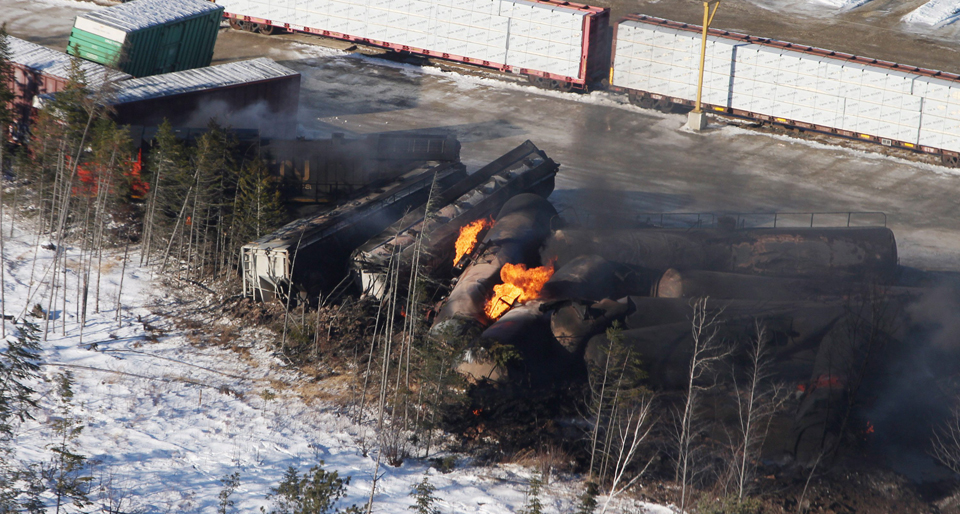 CHICAGO—Taking their campaign for rail safety to the city where it matters the most, at least 75 railroad workers and their supporters confronted rail executives on the issue during the evening rush hour in Chicago, the nation's rail hub.
Walking into the posh Union League Club in the Loop for a rail executives' conference on March 12, the honchos had to cross a demonstration by the Brotherhood of Maintenance of the Way Employees/ Teamsters dramatizing unsafe conditions in Chicago's railyards and a lousy accident record for freight railroads nationwide.
The workers also pushed the execs to abandon their plan for only one person – the engineer – aboard a miles-long freight, and the carriers' overall opposition to safety improvements, said BMWE Organizer Corey Dall, who crafted the protest.
And just to make sure Chicagoans in general knew about conditions on the roads, the unionists and their allies distributed more than 2,000 flyers to passing pedestrians highlighting rail safety problems.
Chicago has been the nation's freight rail hub for more than 150 years, and still is. Tracks crisscross the city and Chicago still has dozens of grade-level rail-road crossings, especially on the South Side. Its West Side rail yard is so large that when a miles-long freight train makes a 3-point rail turn, the locomotive often must travel all the way out to the western suburbs before the train can back up.
Freight rail safety – and the roads' attitude about it – is a nationwide problem, BMWE says. Its unionized workers maintain tracks. Dall noted the nation suffered 1,190 freight train derailments last year, causing 888 deaths, according to Federal Railroad Administration data. "This raises real concerns for Chicago. It's only a matter of time before the kind of derailment that hit Plainfield, Ill., on July 1, 2017, hits Chicago itself," Dall said before the demonstration.
The Plainfield derailment had no casualties but 20 of the 115 cars in a Canadian National southbound oil train jumped the tracks. Three leaked up to 45,000 gallons of oil, leaving local responders scrambling successfully to prevent pollution of the nearby DuPage River.
"Communities and rail workers suffer when profits are put before safety," Dall added. A BMWE chart shows profits of the nation's four big Class I freight railroads exceeded 20 percent of revenues, starting in 2015.
Corporate honchos entering the Union League Club "scowled at us" when they saw the demonstration, Dall reported. "Some passively said mean things under their breaths. But the people in surrounding stores" and on the sidewalk "were quite supportive."
"It's time to call the big railroads to account, before more lives are lost, more water supplies are ruined and more rail workers are injured. The money is there and it's time for the railroads to spend it on safety, not big payoffs to rich shareholders."