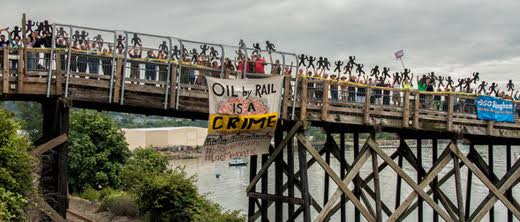 LAC-MÉGANTIC, Quebec (PAI) – Two years after an oil-laden train crashed, exploded and destroyed downtown Lac-Mégantic, Quebec-killing 47 people-rail workers and environmentalists will return there to launch a week of protests on that continuing menace.
The Lac-Mégantic commemoration on July 4 starts a continent-wide movement organized by Railroad Workers United and the Corporate Action Network uniting unionists, greens and advocates for corporate accountability not just in a memorial service to honor the dead but in demands for holding rail firms accountable for safety.
Other memorials/oil train protests will occur up and down the East Coast, in the Midwest and at several other Canadian sites from July 6-12. There were 63 demonstrations in 2014.
The demonstrators plan to make the point that such oil-laden trains are so dangerous that transporting oil across the continent by train should be severely curtailed, if not ended.
The Lac-Mégantic disaster was one of a string of accidents involving trains-often only manned by one engineer due to railroad company pressure on government regulators-laden with oil. Other oil train disasters, causing leaks, fires, explosions and evacuations, have occurred in the last few months just east of Galena, Ill., in the Dakotas and in West Virginia.
But Lac-Mégantic, on July 6, 2013, was the worst.
"Two years later, and big oil is pushing harder than ever to move more and more oil trains through North America, while oil trains keep exploding, and carbon emissions keep rising," say advocates for stopping the oil trains. Their website lists other planned local events, including protests at Union Station in Los Angeles (July 11) and Union Station in Kansas City (July 12) and a press conference in the MPCA parking lot in St. Paul, Minn. (July 7).
Ron Kaminkow, a Brotherhood of Locomotive Engineers/ Teamsters member from Reno, Nev., and General Secretary of the Railroad Workers United, is urging rank-and-file rail workers to join the events nationwide against the oil trains.
Those events "will honor their lives, and work to ensure no one else has to experience this devastation. These events are being organized by nearly as many different community activists, environmentalists and neighborhood organizations as there are different events.
"These events need you. The voices of railroad workers matter. This is a chance us to meet and talk to people that a part of the stop oil trains movement, to find common ground, and to build relationships that can become the basis of cross-movement solidarity."
That solidarity could also help rail workers in their campaign against rail firms' efforts for 1-person or even zero-person crews on freight trains and in fighting for whistleblower protections," Kaminkow adds.
"It can be a powerful thing when the rank and file from two movements get together and build common cause."
The website for the protests makes clear the trains aren't the only problem. The toolkit for protesters says "Big Oil will stop at nothing" to extract and transport crude. The toolkit not only has rail workers challenging train transport of the oil but also extraction of the oil from one key source: Tar sands underlying the Canadian province of Alberta and the two Dakotas.
"No more exploding trains. No more tar sands," those environmentalists say.
"This May, the U.S. Department of Transportation released new rail safety regulations. While an oil train erupted in flames in Galena, lobbyists for big oil met with federal regulators pressuring them to weaken these proposed rules," the protest organizers say.
"We know these rules will not protect the 25 million Americans who live in the oil train blast zone, because there is no safe way to transport extreme tar sands and Bakken crude."
Jonathan Santerre, who is coordinating the protest in Lac-Mégantic, is also asking people who cannot attend "to take a picture with crossed arms to support Lac-Mégantic people to say no to oil return in the heart of the town that was destroyed by the oil spill of the 6 July 2013, with hashtag #SolidaritéMégantic."
Photo: Stop Oil Trains Week of Action: July 6 – 12, 2015