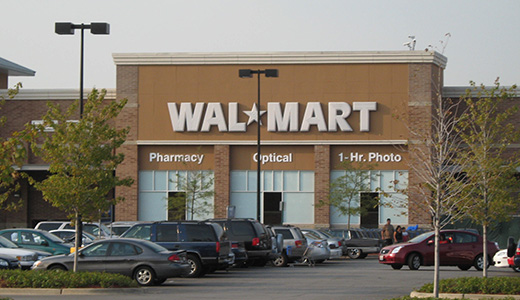 Advocates for workers and women's rights gathered this morning for a Stand with the Women of Wal-Mart rally outside the Supreme Court in Washington, as the court heard oral arguments in what could become the largest class-action civil rights suit in U.S. history.
The Supreme Court will decide whether a discrimination lawsuit filed by a group of women Wal-Mart workers, a case known as Wal-Mart v. Dukes, can proceed as a class action suit on behalf of all women currently or formerly employed by the company across the country.
The National Organization for Women points out, "The retail giant did not ask the high court to review the actual charges that Wal-Mart routinely discriminated against its women employees. Instead, the company's challenge seeks to halt the case, which represents more than 1.5 million women, before it even gets to trial."
In 2001, Betty Dukes and six other women who worked at Wal-Mart in California filed a lawsuit charging the corporation engaged in gender discrimination by paying women less than men, promoting fewer women to management positions and promoting male employees more quickly.
Dukes, who was hired in 1994 as a cashier at Wal-Mart, told CBS News legal reporter Jan Crawford she repeatedly saw less-experienced male co-workers beat her out for jobs or get more money for doing the same work.
Christine Kwapnoski, a 24-year Wal-Mart employee who is a plaintiff in the lawsuit, described on the CBS "Early Show" today how Wal-Mart dodged her interest in getting a promotion. She said, "I trained many, many men over the years that managed to get into management and you know, I asked how I was supposed to do it, and I never had a solid answer of how I was supposed to get promoted." One manager advised her to "doll up," she told reporters at the Supreme Court.
The women's lawyers said these problems stemmed from a company-wide system of discrimination against women, so they moved to make the case a class-action lawsuit involving all of Wal-Mart's current and former female employees.
A lower court has upheld certification of their lawsuit as a class-action suit three times, most recently in April 2010. But Wal-Mart wants the Supreme Court to say no. The company argues that each employee should be forced to file her complaints individually. Wal-Mart claims a group that large couldn't have enough in common to constitute a class.
"Just like the banks that were too big to fail, Wal-Mart's lawyers are claiming the company is too big to sue!" NOW President Terry O'Neill said in an email message today. "The reason there are so many women in the suit is because Wal-Mart's discrimination has been widespread and persistent."
Jocelyn Larkin, one of the lawyers for the women, told CBS, "Just one woman suing Wal-Mart cannot possibly have the resources and make the difference that having women stand together can. When the women stand together, you can see the patterns of discrimination that are holding so many of them back."
Brad Seligman, lead attorney for the women, said, "In every one of Wal-Mart's 41 regions, women get paid less than men in every single job – even though they have more seniority and they're better performers. That's what the record shows."
"Wal-Mart would like to fight these lawsuits one by one," he said. "But Wal-Mart with their $450 billion of revenue, you know, challenging an $8 an hour sales worker, that's why we need a class-action case, and you need a class-action case because that's how you get the evidence."
AFL-CIO Now Blog's James Parks writes, "If Wal-Mart succeeds in keeping these women from joining together, the already uphill battle for women to fight pay discrimination will get even worse. But if the women prevail, their case will become the largest class-action civil rights suit in the nation's history, with some 1.6 million female Wal-Mart and Sam's Club employees."
The court's ruling is expected in June.
Today's rally was sponsored by a coalition of women's, workers' and religious groups ranging from the Coalition of Labor Union Women to the U.S. Women's Chamber of Commerce.
Photo: Zol87 CC 2.0