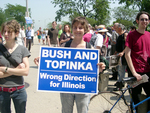 CHICAGO — About 200 people rallied outside the Hilton Hotel in this city's downtown area July 7, protesting George W. Bush's presence at a Republican fundraiser. Here is a sampling of some of their comments.
Elizabeth Ure, 22, a biology student at DePaul University from suburban Glencoe, said she wants to tell President Bush "he should get out of Iraq, stop the war on terror and tell Israel to stop attacking Palestine."
Jill Stapleton, 59, a retired social worker from Milwaukee who happened to be visiting Chicago when she saw the rally and joined the protest with her friend, said, "We're here to get rid of Bush, to bring our troops home and for women's rights."
Alan Lahn, 59, a certified public accountant, traveled with others from the North West Indiana Coalition Against the War in Iraq to participate in the action. He said, "Bush is welcome to come here, but he needs to know that people don't agree with the war."
Judy Dufficy, 52, from suburban Skokie, is a substitute teacher. She came with her daughter and her daughter's friend. Dufficy said she is scared about the November elections and is "afraid that people won't vote for a Democrat, even though the rates are low for Bush."
Regina Gniot, a 70-year-old retired teacher from nearby Berwyn, Ill., said the war is "wrong," and feels "bad about soldiers who come home walking on sticks or dead."
Christin Howard, 30, a homecare worker from the west side of Chicago and a member of the Service Employees union, said she was at the rally because "we need an increase in the minimum wage."
"We work just as hard as the next person and we deserve a living wage," she said.
Juan Torres, who lost his son in Afghanistan, spoke during the rally about the military bases in Afghanistan and how there is "no media about how many people are really dying over there."
"I will continue to fight," he told the crowd.
James Thindwa, executive director of Jobs with Justice in Chicago, said, "Workers are fighting overseas and told they are fighting for a democracy. but there is no democracy when the right to organize is not enforced." He added, "This is an administration that does not stand on the side of workers."