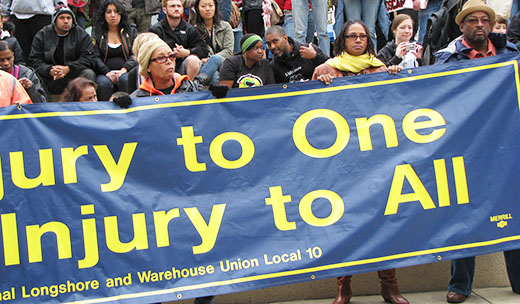 OAKLAND, Calif. – Nearly two years after his death, Oscar Grant III, the unarmed 22-year-old African American man shot in the back by a policeman while he lay face down on a train platform early New Years Day 2009, continues to play an important role in the struggle to end police brutality.
Hundreds of union and community supporters of justice for Grant rallied outside City Hall Oct. 23, to demand the maximum sentence for Grant's killer, Johannes Mehserle. The former Bay Area Rapid Transit (BART) police officer was convicted of involuntary manslaughter in Grant's death and is to be sentenced Nov. 5 in Los Angeles, where his trial took place in June. He faces a maximum sentence of 14 years in prison.
Along with signs proclaiming, "We are all Oscar Grant," placards and banners with the International Longshore and Warehouse Union's motto – "An injury to one is an injury to all" – were prominent among the crowd.
The rally was organized by ILWU Longshore Local 10, which represents workers at all Bay Area ports. The union rescheduled to Oct. 23 the monthly "stop work" meeting in its contract, shutting down the ports, including the Port of Oakland – the nation's fourth largest – for the day. With Saturday usually a busy cargo day, the local said, many workers gave up the time-and-a-half they would have been paid for the shift.
Addressing the crowd, Local 10 President Richard Mead recalled that the ILWU was founded after two of its members were killed by police who were never identified or tried. Their funeral, and the general strike that followed, "helped change this country for the better," Mead said. "It's murder, this is a call for justice, but it has to be more than that."
One concern Mead expressed is that while over half Oakland's city budget goes to fund police, more than 80 percent of Oakland police don't live in the city.
That was also a concern for members of the Black Organizing Project, which is working to build a powerful African American collective to address urgent issues facing the community.
"How can people's lives be worth anything if we can be killed with impunity?" asked BOP member Michael Johnson. Besides requiring Oakland police to live in the city, Johnson called for making police accountable through creating "a powerful community committee with powers to discipline" abusive police officers.
Johnson emphasized that while Grant's murder had "galvanized us," the organization is engaged with many broad community issues. Fellow BOP member Ifonia Gelin pointed out that BOP's issues include the need for good education, well-paying and stable jobs, quality affordable health care and affordable housing.
A moving part of the program was the participation by Oscar Grant's family, including his fiancée, Sophina Mesa, and his now six-year-old daughter, Tatiana Grant, who briefly greeted the crowd. Also addressing the rally were attorney John Burris, who represents the family in damage suits against BART, as well as Grant's uncle, Cephus Johnson, and family friend Jack Bryson, whose two sons were on the platform with Grant the night of the murder.
Among rally endorsers were the San Francisco and Alameda Labor Councils and a number of unions.
With an eye to the fringe elements that committed significant vandalism at earlier protests, speakers emphasized the importance of keeping demonstrations peaceful – which Saturday's rally certainly was.
Photo: Marilyn Bechtel