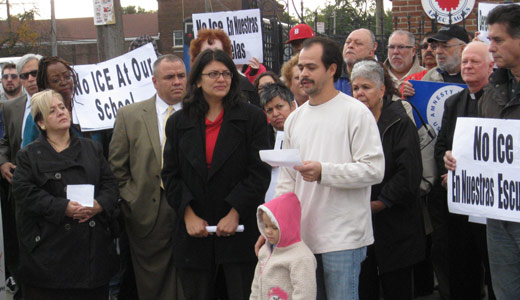 DETROIT – It has happened again in Southwest Detroit, home to Michigan's largest Latino community. One year after Immigration and Customs Enforcement (ICE) agents were roundly condemned for conducting an immigration raid at the Hope of Detroit Academy, parents were again followed from home while taking their children to school.
On Tuesday it happened twice.
Hector Orozco was snatched by ICE agents while dropping off his middle school son at the Cesar Chavez Academy. And another father was seized by ICE agents as he was taking his kids to the Manuel Reyes Vistas Nuevas, a Head Start center,
At an Alliance for Immigration Reform rally outside the Cesar Chavez Academy, Principal Juan Martinez called ICE's actions "wrong and irresponsible." He said his school takes great pride in educating and teaching right from wrong. But meanwhile, he said, it is ICE that has made another "wrong decision," breaking their promise to end raids at schools, churches and other sensitive areas.
Orozco remains in custody. The labor, faith and community leaders attending the rally called for his immediate release.
At Manuel Reyes Vistas Nuevas, the Head Start center, Jorge (he did not want to use his last name) saw "lights" in his rear-view mirror as he was nearing the center. After he pulled his car over, his son pleaded with the ICE agents to allow his father to take him to school.
Jorge was released after questioning. He told the rally he has been "devastated" over the prospect of being separated from his family. At the rally next to him was his four-year-old daughter who suffers from leukemia. His children depend on him, he said.
Marcella Wilson, Vistas Nuevas head administrator, called it shocking that ICE would target parents of such young children. Detaining families right outside the doors of a pre-school is "unacceptable" and runs counter to the school's mission of creating a safe, nurturing environment, Wilson said. Such actions "undermine our basic foundation of bringing and getting children and families engaged education," she added.
State Rep. Rashida Tlaib, who immediately responded to the school's calls for help, said a parent being detained and possibly deported and having a child go home to an empty house is un-American. "As a community member I am outraged, and as a mother, I am heartbroken," she said.
She said the local Detroit ICE office, under the direction of Rebecca Adducci, does not follow ICE's own guidelines and is either "unwilling or unable" to control its agents. She and others called for Adducci's resignation. Talib indicated she would press the Obama administration to follow through on its stated commitment not to target law-abiding immigrants.
"This tragedy is being repeated hundreds of times across the country" said Lydia Reyes, executive director of the Detroit Hispanic Development Corporation. "We are raising a generation of broken hearts, broken families," she said. "That's why we need immediate comprehensive immigration reform and legalization for our families, workers and students."
Photo: Jorge, who was seized by ICE agents as he was bringing his children to a Head Start center, speaks at the Oct.16 rally at Cesar Chavez Academy in Detroit. His four-year-old daughter is in front of him. Standing next to him is state Rep. Rashida Tlaib. John Rummel/PW