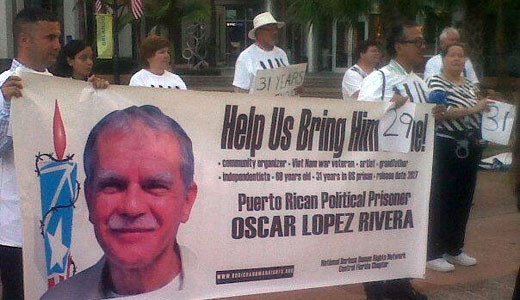 ORLANDO, Fla. – Chants of "Obama, Obama! / Bring Oscar Home!" and "What Do We Want? Freedom for Oscar! / When Do We Want It? Now!" filled the streets here as community activists here came together to say "Basta ya!" (enough is enough) and demand the release of Puerto Rican independentista Oscar Lopez Rivera. (See video below.) The May 29 march and rally at Orlando City Hall was organized by the local chapter of the National Boricua Human Rights Network.
Lopez is the longest-held political prisoner in the history of Puerto Rico. The Central Florida event was part of a month of activities around the country to build support for a presidential pardon for Lopez, who has spent 31 years in federal custody.
The NBHRN works for the decontamination of former U.S. Navy facilities on the island of Vieques, the release of all Puerto Rican political prisoners, and an end to political repression and criminalization of progressive forces in the Puerto Rican community.
Many of the protesters wore T-shirts with "Free Oscar" on the back and prison bars on the front. Some also wore handcuffs and held signs bearing a number from 1 to 31 to symbolize Lopez's incarceration.
Angel Negron, of the Orlando NBHRN, read a statement of solidarity from Lopez.
"The support I've received has been a fountain of strength that has helped me face and deal with the difficult challenges I've experienced in prison … and to remain morally and spiritually strong to continue struggling and resisting," Lopez wrote.
During those years, "many radical changes" have occurred, wrote Lopez, such as the election of left-wing governments in several Latin American nations and the successful campaign by the Puerto Rican people that forced the Navy to leave Vieques. However, he noted that independence for the island, which has been a U.S. colony since 1898, remains an elusive goal.
"Unfortunately, the most important change Puerto Ricans need has not taken place because colonialism seems to be more entrenched now than ever," he wrote.
Lopez urged his compatriots to focus on the problems they can resolve, such as obesity among people on the island and in the Puerto Rican diaspora, using the resources and means that they have available.
"Problems should not intimidate or scare us, they should produce ideas in our heads, and challenge us to find solutions," he wrote. "Finding solutions to problems gives us confidence and helps us transcend our colonized mentality. That transcendence gets us closer to our goal of achieving an independent and sovereign nation and a better and more just world…"
For some Puerto Rican activists, Lopez's struggle and sacrifice make him an inspirational figure, a source of national pride whom some compare to former South African President Nelson Mandela, who spent 27 years in prison for his resistance to that nation's apartheid regime.
Lopez "has taught me to learn more about my culture. He has taught me to learn the history of Puerto Rico," said Negron. "Every time I hear his name, I take it with so much pride."
Lopez, 69, was born in San Sebastian, Puerto Rico, and moved to Chicago when he was a teenager. In the 1960s he was drafted into the U.S. Army and served in Vietnam, where he earned a Bronze Star. After returning home, he became a community activist, working on issues of poverty, discrimination, education and police brutality in Chicago's Puerto Rican neighborhoods.
According to the NBHRN, Lopez "was arrested in 1981, accused of being a member of a clandestine force seeking independence for Puerto Rico, and sentenced to 55 years for seditious conspiracy. He was not accused or convicted of causing harm or taking a life.
"In 1988, as the result of a government-made conspiracy to escape, he was given an additional 15 years."
"From 1986 to 1998, he was held in the most super maximum security prisons in the federal prison system," says the NBHRN, "in conditions not unlike those at Guantanamo under which 'enemy combatants,' are held, conditions which the International Red Cross, among other human rights organizations, have called tantamount to torture."
Zoraida Rios-Andino, vice chair of the Central Florida chapter of the National Congress for Puerto Rican Rights, said her organization had formed to challenge the lack of Puerto Rican representation on local elected bodies and other issues facing the Borinquen community.
"I say we bring Oscar's message here to Orlando, to Orange County," said Rios-Andino. "Let's continue to fight, to struggle, to bring justice to all our Puerto Rican and Latino brothers and sisters, but mostly stay together so that Oscar finally can be free."
Other groups participating included Central Florida Jobs With Justice, the Black, Latino and Puerto Rican Alliance for Justice, and Frente Unido 436. State Rep. Darren Soto, D-Orlando, also spoke.
Lopez's only hope for freedom lies in a pardon from President Obama. His release enjoys wide support in Puerto Rico, not only from pro-independence forces, but from the Senate and House, the Bar Association, former governors, unions, religious denominations, and community activists, among other sectors. Lopez also has growing support among Puerto Rican and other Latino communities in the U.S.
At his first federal parole hearing in 2011, Lopez was denied the right to call witnesses and to have legal observers and family members present, while the government called 11 witnesses who sought to implicate Lopez in acts in which he had no involvement. His next parole hearing will not be until 2027, when he will be 84.
Letters of support (no money or printed materials) may be sent to:
Oscar Lopez Rivera #87651-024
FCI Terre Haute
PO Box 33
Terre Haute, IN 47808
Video of the May 23 march:
Video by T.J. McCarthy IV / 4D Pictures.