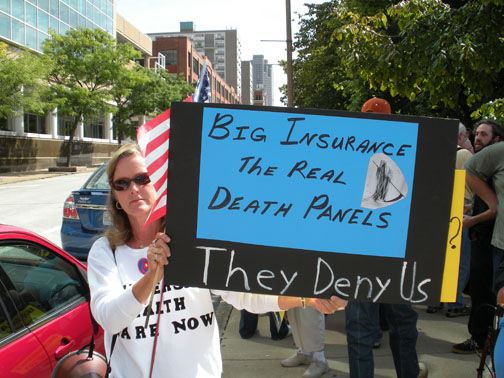 Wellpoint Inc., a Fortune 500 company, had $61 billion in revenues in 2008, while its CEO, Angela Braly, received a compensation package worth $8.7 million. In addition, Wellpoint has spent $6.9 million on federal lobbyists since January 2008.
"There is enough wealth in this country to go around, to provide health care for everybody. But that's not their priority," Albert added as the Wellpoint building loomed in the background.
Melanie Shouse, a breast cancer survivor, told the audience, "I had to take the ultimate risk with my health. I had no savings and no assets to cover my monumental health care costs."
"This Anthem card did not help one bit. They've denied my claim. They denied my chemotherapy. They are trying to defend the indefensible," she said.
Shouse, who had been told that she had a 13 percent chance of survival, said, "The efficient and effective public health care plan saved my life. Medicaid saved my life. Without it I wouldn't be alive today."
She added that 75 percent of Americans and 72 percent of doctors support a health care public option. The health care public option would drive down health care costs, force private insurers to be more competitive and stop denial of service practices based on pre-existing conditions.
According to Dr. Steve Radinsky, "the insurance company can determine whether you live or die." In fact, he said, "45,000 people die every year because they don't have health care coverage. That's one person every 12 minutes."
In Missouri "40 people die every month, while 480 die every year because they don't have health care," Radinsky added. Additionally, he charged, Wellpoint Inc. is "cherry picking. They are getting rid of the sick, while keeping the healthy."
"The health care industry is spending $640,000 a day to stop health care reform," he continued. "That's our premiums. They are using our money to defeat health care reform."
Wellpoint Inc. has a track record of questionable health care practices. In California it dropped 2,300 members after they submitted bills for medical care. Wellpoint was fined $1 million for the practice and was forced to reimburse out-of-pocket medical expenses totaling $14 million. In New York, Wellpoint was fined $1.1 million for denying claims and failing to reimburse clients for prescription drug and medical equipment costs.
Wellpoint has even used scare tactics and false information in company e-mails urging employees to contact their representatives. The e-mails tell employees a health care public option would have a "negative impact on our partners and customers … causing tens of millions of Americans to lose their private coverage."
As the rally was winding down, a small delegation of Wellpoint Inc. customers attempted to enter the office building. However, they were refused access to the very health care insurance company they pay premiums to.
tonypec @ cpusa.org
TOWN HALL May 2 – Confronting the COVID Economy: Women Fight Back