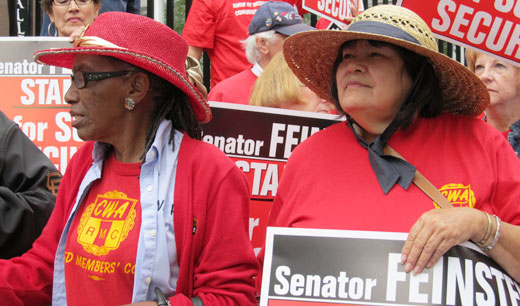 SAN FRANCISCO – They came from all over northern California – by bus, by train, by carpool – to deliver a powerful message to Senator Dianne Feinstein: Stand up and be a champion for Social Security!
As hundreds of demonstrators stood just feet from the senator's downtown office Aug. 17, California Alliance of Retired Americans (CARA) President Nan Brasmer told the crowd, "We're here today to ask Sen. Feinstein to tell us, her constituents, that she will support and champion Social Security, and fight against cuts and proposals to privatize the program by Congress, the super committee and even by the president, who keeps tossing it out on the table."
The senator has "often said she supports Social Security," Brasmer said, "but most of us are tired of the lip service, we want some real action from her. That means no means testing, no raising the retirement age, no downsizing of the program in any way."
Pointing out that Social Security, funded by workers who have paid into it all their lives, does not contribute to the deficit, Brasmer said, "Let them solve those problems with the money they're squandering on the wars!"
The rally celebrating Social Security's 76th birthday brought together participants from many unions and community organizations, across generations. Organizers said it and a companion rally in Los Angeles drew over a thousand people.
Said one college student, "The cuts being made on our parents and grandparents are being waged against us. The cuts to education and child care are cheating young people out of our dreams and our futures. Let's fight together to protect those rights and futures."
Maria Luz Torre of Parent Voices spoke of being in the "sandwich generation" – living with her mother, who receives Social Security, and raising children about to go to college. "I'm really worried," she said. "Wall Street wants more money to play with, and they're looking at Social Security." Pointing out that those who would be most affected by cuts would be people of color, young children, single parents and women, she urged Feinstein to "be our hero!"
Student and Jobs with Justice activist Eric Griffis recalled the 1930s to note that the greatest New Deal social programs, including Social Security, emerged not in the earliest years of Franklin Roosevelt's presidency, but after "a wave of actions, a wave of strikes like the Verizon strike now, all across the country. We can learn from that, that we have to fight to save and expand these programs," he said.
Asked before the program, what Social Security means to her, CARA board member Pauline Brooks said it makes up her entire income. "I'm 73 now, I started working at 14," she said. "I worked in apparel, and for non-profit organizations. They don't provide pensions."
Fellow retiree Kokoye Sande added, "Social Security is not why we're in our present economic situation. We shouldn't be penalized."
Meanwhile, a delegation had gone to meet with the senator, but returned empty-handed.
"We had worked for months to get a meeting with her," said Michael Lyon of San Francisco Gray Panthers. "And it was arranged we would finally be able to meet with her and urge her to make a statement."
But, said Lyon, when they approached the office, the group was told there was no meeting, and that perhaps someone would come downstairs to pick up the 2,000 cards collected in recent weeks.
"So this fight is going to go on throughout next year," he said. "Social Security is our right, we are not going to give up this fight!"
Photo: Marilyn Bechtel/PW