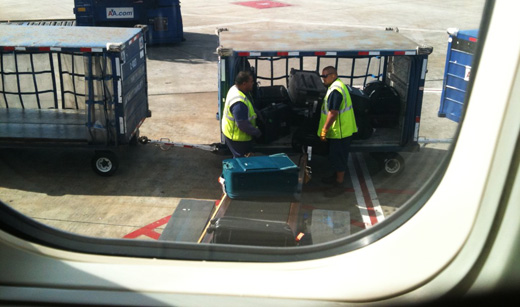 SEATAC, Wash. – Fifty-five and 15 are two numbers that Alaska Airlines airport baggage handler Socrates Bravo thinks about every work day on his pre-dawn drive on Interstate 5 to the giant Seattle-Tacoma airport here.
Bravo says 55 is the speed limit that he'll surely be ticketed for violating, while $15 is the legal minimum wage that his employer, a contractor for Alaska Airlines, violates every day with impunity.
It's about fairness as much as the money, Bravo says, "I have to follow the law, why shouldn't they?" (story continues after video)
Scores of baggage handlers employed by Menzies, a contractor for Alaska Airlines, marked Martin Luther King's birthday here this Monday with a one-day strike.
The SEIU seemed oblivious to the cold and rain as they gathered at the entrance to SeaTac Airport and briefly blocked the intersection.
The striking workforce appeared to be made up mostly of young men in their 20s and 30s reflecting the diversity of the area – Mexican, Filipino, African American, East African and more. Broad shouldered, they stood up tall and their faces glowed above the neon yellow of their safety vests, reflecting a dozen shades of determination. They were losing a day's pay, and risking their jobs, they said, to dramatize their demands that the company comply with a law passed more than two years ago requiring employers in the city of SeaTac to pay a minimum wage of $15 and provide sick pay.
Sick pay is an important issue, Bravo says, because the baggage handlers work outside in harsh weather, their backs absorbing the strains of wrangling hundreds of pounds of luggage. "If we take off even one day sick, we are punished and could be fired," he said.
The "Good Jobs Initiative" passed by a tiny margin in a ballot measure in November 2013 in this small working class town. Seatac is the work base for thousands of hotel, food service, cargo, car rental and other workers serving the airport. Alaska Airlines, SeaTac's largest carrier, was the leading donor in a corporate campaign to defeat the measure, which spent $650,000 to influence Seatac's 12,000 voters. Supporters of the measure were able to check and raise that, mostly pooling union resources with nearly $1 million and a vigorous door-to-door campaign. The measure passed with a breathtaking 77-vote margin.
Ramp agent Bravo complains that since then Alaska Airlines has spent more money to defeat the measure than it would take to pay him and his co-workers a legal wage. After a succession of appeals, the Washington State Supreme Court upheld the legality of the ordinance last August.
Halley Knigge, a spokesperson for Alaska Airlines told People's World that despite the August decision there is still an outstanding issue justifying the airline's refusal to follow the regulation. According to a press release, the court still needs to address an issue regarding the validity of some signatures which put the measure on the ballot. The Airline claims that while its focus is on the legality of the issue, it does support higher minimum wages "so long as they are reasonable …and do not single out specific industries such as aviation." Alaska goes on to state that its $12 minimum wage is "a fair and competitive wage." Alaska spokesperson Knigge said she could not say whether following resolution of the case the Airline would pay back pay to the aggrieved workers.
Alaska's press release did not include information or comment on the fairness of the pay packages of its executives, but according to website salary.com, Alaska Airlines President and CEO Bradley D. Tilden received $2,947,282 last year, 120 times the ramp agents annual wage.
The $3 an hour missing from Socrates Bravo's paycheck could make a big difference to his family, the airport worker says. His daughter, who is now a walking, talking 3-year-old, was just a babe in arms when Seatac voters passed the Good Jobs Initiative. Alaska Airlines has been pocketing over $100 of her family's income just about every week of her life.
Photo: Baggage handlers at SEATAC. | Michael Cote/Flickr via PBS.org