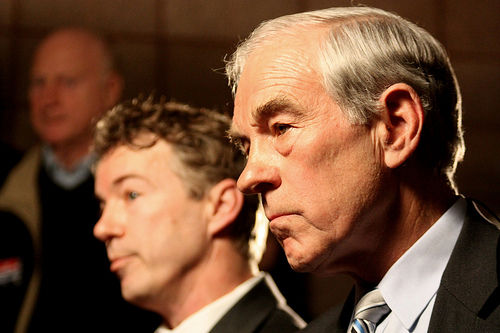 When you open Rand Paul's web page the first thing you notice is the huge fundraising logo and counter on top. When I looked this morning, Paul, the Republican U.S. Senate candidate in Kentucky, and tea party fave, had raised $3.6 million or so.
Rand Paul is the son of the most famous libertarian in the country, GOP Rep. Ron Paul of Texas. His dad ran unsuccessfully for the 2008 GOP presidential nomination.
But the "Paul" brand attracted a lot of attention throughout the country in '08. Ron Paul signs could be seen in an assortment of places, from antiwar demonstrations to the Internet gaming world.
The son, Rand, named after capitalism cheerleader Ayn Rand*, opposes all government intervention into capitalist society, except for one.
"I am 100% pro life. I believe abortion is taking the life of an innocent human being. I believe life begins at conception and it is the duty of our government to protect this life," Rand Paul says on his website.
The other things you notice on the website are the anti-Obama headlines, the constant attack on his opponent Democrat Jack Conway, Kentucky's attorney general, and the big deal Paul makes about being a doctor.
Paul is a doctor of ophthalmology – an eye doc. Although he supports the federal government storm-trooping its way between a woman and her doctor when it comes to reproductive decisions, what's good for Petra is apparently not good for Paul.
Paul, outraged at the requirement of board certification by the nongovernment professional organization, the American Board of Ophthalmology, left the group and formed his own National Board of Ophthalmology. Apparently, his board certified him and six other docs as qualified ophthalmologists, while the other board has certified 16,000.
If I were going for eye surgery, I don't think thumbing your nose at an organized medical certification process would be at the top of my list of qualifications for a surgeon.
What isn't as apparent on Rand Paul's site is his total disdain for worker rights.
Berry Craig, a professor at Western Kentucky Community and Technical College in Paducah, writes that Paul "opposes ALL workers' rights."
Craig, a member of the American Federation of Teachers, writes on the AFL-CIO Now blog that in a candidate questionnaire, "Paul indicated his opposition to workers' rights across the board."
According to Kentucky State AFL-CIO President Bill Londrigan, Craig writes, the GOP's Paul is receiving lots of support from big business and corporations for his anti-worker stance. Paul especially opposes a worker's right to organize and bargain collectively.
Corporate groups that support Paul, like the so-called Coalition to Protect Kentucky Jobs and the National Right to Work [for less] Committee, are determined to prevent passage of the Employee Free Choice Act. The EFCA seeks to restore workers' rights on the job, including the right to form a union, which have been badly eroded over the last decades.
Further highlighting Paul's class allegiances, the tea party candidate recently said President's Obama criticism of BP and the oil spill was "un-American" and that poor people in the U.S. live better than the rest of the world. (Perhaps he was suggesting everyone should stop complaining?)
According to a new poll from Public Policy Polling, Kentucky's U.S. Senate race is in a dead heat with Democrat Conway and Republican Paul each at 43 percent of the vote. According to the pollsters, Paul's recent comments on behalf of the corporate world have hurt him in the polls.
*Note from the author: Rand Paul supporters commenting on this article charge the Republican isn't named after Ayn Rand, so I added the source of what is really a minor part of this article.
For another related story, Is Rand Paul a racist?
Photo: Ron Paul and son, Rand. (Gage Skidmore/CC)