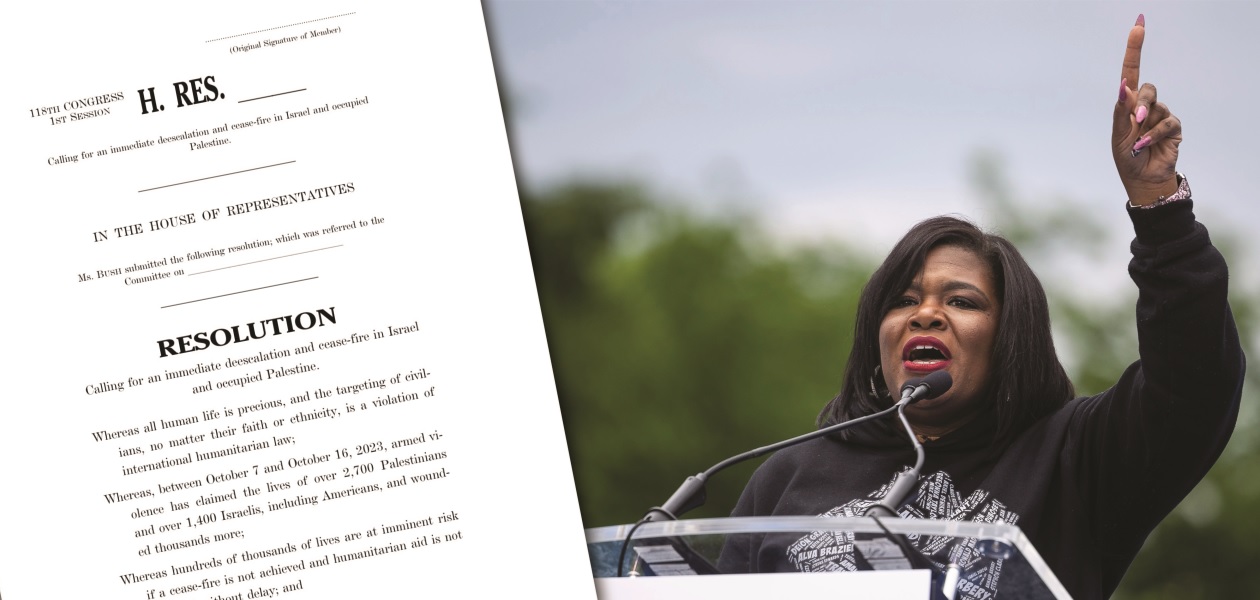 WASHINGTON—With Israel's war against Gaza threatening to escalate—and potentially expand into Hezbollah's area of southern Lebanon and Syria—a ceasefire resolution authored by Rep. Cori Bush, D-Mo., gained three more lawmakers' support and backing from grassroots Jewish and non-Jewish peace advocates.
Joining Bush and her original co-sponsors were Democratic Reps. Pramilla Jayapal (Wash.), the influential chair of the Congressional Progressive Caucus, Gregorio Casar (Texas), and Barbara Lee (Calif.), the only lawmaker to vote against Republican President George W. Bush's invasions of Afghanistan and Iraq more than 20 years ago.
They join the initial supporters of House Resolution 786: Reps. Rashida Tlaib (Mich.), Jamaal Bowman (N.Y.), Bonnie Watson Coleman (N.J.), Jesús "Chuy" García (Ill.), Jonathan Jackson (Ill.), Alexandria Ocasio-Cortez (N.Y.), Ilhan Omar (Minn.), Ayanna Pressley (Mass.), and Nydia Velázquez (N.Y.).
While the ranks of ceasefire advocates were growing on Capitol Hill, dissent was also bubbling up from other quarters in Washington.
Josh Paul, the State Department official who signs off on U.S. arms transfers to foreign countries, resigned his post in protest Wednesday, saying "provision of lethal arms to Israel" does more harm than good. "We cannot be both against the occupation and for it," he added.
Meanwhile, news emerged of widespread disillusionment among staffers within the Biden administration who disagree with the president's lockstep support of Netanyahu but feel too intimidated to speak out. In anonymous interviews with the media, a number of government employees said they fear losing their jobs if they raise any questions about Israel's military actions in Gaza.
Outside the halls of Congress and the White House, grassroots support for a ceasefire also continued to swell. The Council on American-Islamic Relations (CAIR) endorsed Bush's ceasefire resolution, as did the Working Families Party (WFP).
"As thousands of Israelis and Palestinians mourn the losses of loved ones, and as a humanitarian catastrophe unfolds, it is more urgent than ever for the parties to exercise restraint and prioritize the defense of human rights and human lives," said WFP's Director of Federal Affairs, Natalia Salgado.
"We salute Reps. Bush, [Andre] Carson, [Summer] Lee, [Delia] Ramirez, and [Rashida] Tlaib for standing up for peace," by introducing the ceasefire resolution.
The lawmakers WFP cited are all Democrats, from St. Louis (Bush), Indianapolis (Carson), Pittsburgh (Lee), Chicago (Ramirez), and Detroit (Tlaib).
The Trump faction of the Republican Party seized on the calls for a ceasefire by some Democrats and used it as a jumping-off point for a racist and Islamophobic attack. Georgia Rep. Marjorie Taylor Greene labeled Congressional supporters of a ceasefire the "Hamas Caucus."
Tweeting out an image of Reps. Bush, Omar, and Alexandria Ocasio-Cortez edited in front of a Palestinian flag, Greene wrote: "The Palestinian Lives and Israel genocide narrative is the new Black Lives Matter." She alleged that despite the Democratic representatives' call for peace, "they are Pro Hamas and against Israel."
In the Capitol and on the streets
Jewish Voice for Peace, If Not Now, and other Jewish peace groups filled the Cannon House Office Building rotunda on Oct. 18 chanting "Let Gaza live," and "If not now, when," part of a famous rabbinic saying. After several hours of protest, U.S. Capitol Police ordered them to leave. Those who did not were arrested and detained.
Outside that same building, fronting Independence Avenue with the Capitol looming in the background, a larger group of peace advocates, with a giant white-on-black "CEASEFIRE" banner behind their stage, listened to speakers plead for the Biden administration to stop its blank check support for Netanyahu's assault against Gaza and to pressure his ally for a ceasefire instead.
The most emotional speech came from Rep. Rashida Tlaib, D-Mich., who's a Palestinian-American with kin still living in the Israeli-controlled West Bank.
"You know what's so hard sometimes?" she asked, through tears. "It's watching those videos and the people telling the kids 'don't cry.' And they're shaking and someone is telling them not to cry in Arabic. They can cry. I can cry. If we're not crying, something is wrong.
"And so I'm telling you right now, 'President Biden, not all of America is with you on this one and you need to wake up and understand that we are literally watching people daily commit genocide, and we still stand by and say nothing. We will remember this but all of you need to know, I swear to Allah, you are on the right side of history.
"We're trying to save lives. What is wrong with that?"
In a joint statement, Jayapal, Gasar, and Barbara Lee—along with several other lawmakers including longtime peace advocate James McGovern of Massachusetts and Jesus "Chuy" Garcia of Chicago—also demanded a ceasefire.
"We remain outraged by the horrific terror attacks carried out by Hamas against Israeli civilians," their statement began. "We are also deeply alarmed by the rising civilian death toll in both Israel and Gaza, including nearly 1,400 Israelis and 3,000 Palestinians. This is a moment that calls for moral and strategic clarity. That is why we believe the United States must help achieve an immediate ceasefire, or at minimum, a temporary cessation of all hostilities that stops the threats to civilians in Israel and Gaza.
"Let us be clear: Our call for a ceasefire should not be mistaken as a lack of support for the protection of the people of Israel. On the contrary, it is because of our dedication to the safety of both Israelis and Palestinians that we seek a path forward without further escalating the toll of civilian dead and injured.
"A cessation of hostilities will allow for the negotiation of the immediate and safe return of all hostages, including Americans, and the delivery of essential humanitarian aid under international auspices."
The statement said that any efforts related to true security for Israel will not include "the killing of thousands more Palestinian and Israeli civilians." It declared, "There is a different path. In this devastating time, the United States must lead the way forward."
Evolving positions
In a video released early Thursday, Rep. Ayanna Pressley emphasized the immediate necessity of collective action for peace. "Vengeance should not be a foreign policy doctrine," she said. "Our shared humanity is at stake, and we must move with urgency."
Rep. Barbara Lee's position evolved in a series of tweets posted on her website, emblematic of how some lawmakers' assessments of the situation are changing as the brutality of the Israeli military's campaign becomes clearer.
Her first tweet, five days ago, read: "Israel has the right to defend itself from Hamas, but must do so within the framework of international law. I am deeply concerned about the situation in Gaza, & join 55 of my colleagues in urging the US to protect innocent civilians & ensure delivery of humanitarian assistance."
On Oct. 18, she added: "Hamas can and must be stopped and the security of Israel must be guaranteed without the killing of thousands more Palestinian and Israeli civilians. There is a different path. I am calling for the United States to help achieve an immediate ceasefire."
And, after the explosion at the Gaza hospital, which killed hundreds, Lee added: "I am outraged and deeply saddened by the loss of life caused by the horrific explosion at the al-Ahli Hospital. This was a terrible tragedy and shows the serious danger posed to innocent civilians.
"POTUS' [Biden's] announcement of humanitarian aid is the right thing to do, but more work must be done. The US must help facilitate a ceasefire and work with the global community to administer robust humanitarian assistance before more lives are lost."
Whether all this will move Biden—or Congress—is unlikely, for now. The president, who pledged continuing support for Israel in a meeting there the day before, will give a prime-time address on aid to both Israel and Ukraine on Oct. 19.
He is expected to announce billions more in military aid for Netanyahu, with some Washington insiders speculating the amount could be 100 or more times the amount of humanitarian assistance pledged for Gaza.
As of press time, the Gaza Health Ministry reports that 3,748 people have been killed in Gaza since the latest assault by Israel began. More than 12,000 have been wounded, mostly women, children, and the elderly. Another 1,300 or more are thought to be buried beneath the rubble of bombed-out apartments, houses, shelters, and hospitals.
More than 1,400 people in Israel have been killed, most in the initial Hamas attack of Oct. 7. As many as 200 others are thought to still be held hostage inside Gaza.
via Democracy Now
We hope you appreciated this article. At 

People's World

, we believe news and information should be free and accessible to all, but we need your help. Our journalism is free of corporate influence and paywalls because we are totally reader-supported. Only you, our readers and supporters, make this possible. If you enjoy reading 

People's World

 and the stories we bring you, please 

support our work by donating or becoming a monthly sustainer today

. Thank you!