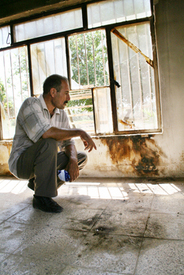 Former Army Pfc. Steven Green was arrested this month and charged with raping a 14-year-old Iraqi girl and murdering her, her parents and her 5-year-old sister on March 12 in Mahmudiyah, Iraq. A relative told Los Angeles Times reporters he had found the brutalized corpses strewn about the burnt remains of their farmhouse. Abeer, 14, had been left naked with her head smashed and burns covering much of her body. Her father's head had been smashed and her mother's arms had been broken.
According to an FBI affidavit, Green and other soldiers stationed at a nearby military checkpoint had targeted the girl for a week. They changed into civilian clothes before the attack to avoid detection.
Four active-duty soldiers have also been charged with rape and murder in the case, and another with dereliction of duty in failing to report the attack.
This brings to 19 the number of U.S. troops facing criminal charges for deliberately killing 33 Iraqi civilians in five incidents from November to May. In the most publicized case, the Nov. 19 slaughter of 24 men, women and children in Haditha, no one has been charged thus far.
"We're seeing just the tip of the iceberg on the Bush-Cheney-Rumsfeld endless war," said Barry Romo, a leader of Vietnam Veterans Against the War. The military is a reflection of our society, and so it is not unusual that crimes occur there as they do in our society, he said. But the real question is, "Did people cover up" at higher levels of the chain of command?
Romo told the World, "They claim the right to order soldiers into battle, and claim credit for victories." But when it comes to these crimes, "all of a sudden they don't know anything."
"These people did this with sergeants, captains, majors, lieutenants all around — how come it took so long" for investigations, he asked.
At the same time, said Tod Ensign, director of Citizen Soldier, by "only focusing on 'personal crimes' of a few probably deranged individuals," the Pentagon is able to draw attention away from how the military operates on the ground in Iraq — including aerial bombardments that have killed and maimed thousands of civilians.
Green, 21, from Midland, Texas, was sent back to the U.S. in April and discharged from the Army in May because of an "anti-social personality disorder" according to Army officials. That condition is defined as chronic behavior that manipulates, exploits or violates the rights of others, such as someone who repeatedly lies, fights or breaks the law.
Some commentators question whether the discharge was an effort to distance the Army from the particularly savage, cold-blooded rape and killings. Green is being tried in federal rather than military court because he is no longer in the Army.
Just two months before this incident, Col. Janis Karpinski, former commander at the Abu Ghraib prison, testified to a climate of rape with impunity within U.S. forces in Iraq. She told a human rights inquiry in January that several women soldiers had died of dehydration in the 120-degree heat because they refused to drink liquids late in the day out of fear of being assaulted or raped by male soldiers if they had to use the latrine after dark. She charged that senior officers tolerated or even excused assaults on women and had instructed doctors to cover up the cause of death in dehydration cases.
Adding to the toxic brew, the Southern Poverty Law Center charged in a report released July 7 that military recruiters, spurred by difficulties in meeting recruitment goals, have allowed thousands of neo-Nazis and other white supremacists to increasingly infiltrate the U.S. military.
Recruiters have relaxed standards aimed at keeping racist hate groups out of the armed forces, the report says. Those standards were adopted after the Oklahoma City bombing by Gulf War veteran Timothy McVeigh, and the murder of a Black couple by members of a skinhead gang in the Army 82nd Airborne Division.
"Recruiters are knowingly allowing neo-Nazis and white supremacists to join the armed forces, and commanders don't remove them from the military even after we positively identify them as extremists or gang members," the report quotes Defense Department investigator Scott Barfield as saying.
"They don't want to start making a big deal again about neo-Nazis in the military, because then parents who are already worried about their kids signing up and dying in Iraq are going to be even more reluctant about their kids enlisting if they feel they'll be exposed to gangs and white supremacists."
Barfield, who is based at Fort Lewis, said he has identified and submitted evidence on 320 extremists there in the past year. "Only two have been discharged," he said.