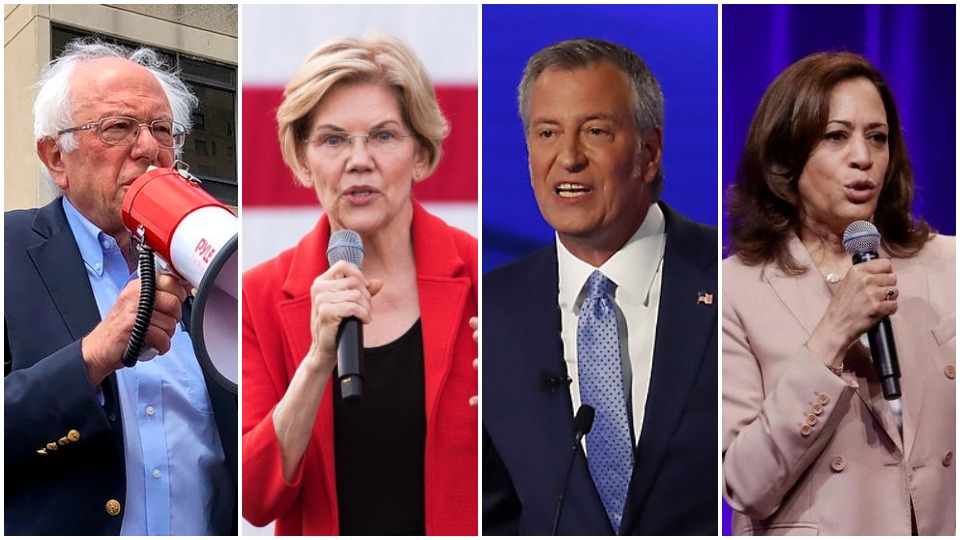 Labor Day is now past and the madcap race for the Democratic presidential nomination enters the fall, though with fewer hopefuls in the running.
That's because the Democratic National Committee, sponsor of the series of nationally televised debates between the aspirants, has imposed higher criteria for those who seek to qualify for the third round, in September.
Still, considering eight to 10 contenders leaves workers and their allies with a lot of sorting to do between now and the Iowa caucuses, the New Hampshire and South Carolina primaries, the Nevada caucuses, and then, next March 3, Super Tuesday.
Super Tuesday will be more important than ever in 2020 because most of the South—which has less clout because of its regional Republican tilt—will be joined by the biggest delegate prize of all: California. The Golden State will send one of every nine delegates to next year's convention.
With all that in mind, keep in mind some following points:
Sens. Bernie Sanders of Vermont, Elizabeth Warren of Massachusetts, and Kamala Harris of California will be on that debate stage in September. So will former Vice President Joe Biden and Mayor Pete Buttigieg of South Bend, Ind.
Those five have name recognition (Biden and Sanders), organization and popular support (Warren), a big base in the Golden State (Harris), and a nationwide network of backers from a particularly loyal pro-Democratic group (Buttigieg from the LGBTQ community) to make it. All five have the money to compete on Super Tuesday. So give them extra scrutiny. After them, it's a crapshoot.
Virtually all the candidates support strengthening workers' rights, especially the right to organize. All also support raising the minimum wage to $15 an hour. But there is one key difference.
Only four have backed workers' rights and unions in public, before the DNC's nationwide TV audiences: Sanders, Warren, Harris, and New York City Mayor Bill de Blasio. So did a former hopeful, Gov. Jay Inslee, D-Wash. The five also support strengthening the rights of all—emphasize "all"—workers.
The others, including Biden, and Buttigieg, discussed strengthening workers' rights only before union audiences. Those four and the other 15 who spoke at a special AFSCME political conference in Las Vegas on August 3 said national legislation is needed to ensure collective bargaining for state and local government workers.
For Biden, it was his second declaration of loyalty to public workers and their bargaining rights. The first was at the Fire Fighters Legislative Conference earlier in the year.
Unions are taking their time on endorsements and workers should too. IAFF is one of only two unions to pick a candidate so far; they've endorsed Biden, who has an often-voiced personal relationship with his home Fire Fighters in Delaware: They've saved his life, twice, and comforted his wife when their house burned down. He's been the lead sponsor and campaigner for Fire Fighter-related legislation ever since he entered the Senate more than 40 years ago.
The only other major union to give its nod to a candidate so far is the United Electrical Workers, who are backing Sanders. At its convention just before the Labor Day holiday, UE delegates unanimously chose to endorse the independent senator from Vermont. Though polls show a near tie between Biden and Warren right now, UE opted for Sanders, a self-proclaimed socialist and lead sponsor of Medicare for All and of his own comprehensive worker rights package—including new laws and executive orders—to boost union density in the U.S.
AFL-CIO President Richard Trumka says that as part of the fed's evaluation process, each hopeful should spend a day on the job with workers, especially union workers. Mine Workers President Cecil Roberts invited them to come down into the coal mines. As of Sept. 4, five had accepted, though Roberts said that day the mine owners may not let them in. Aside from IAFF and UE, other unions are just starting their endorsement process.
That's why 19 of the hopefuls came to one of the biggest unions, AFSCME, and a similar number showed up at the largest, the National Education Association. The other large teachers union, AFT, having learned its lesson from a too-early—and controversial—endorsement of Hillary Clinton in mid-2015, is now conducting careful and comprehensive member polling.
All the candidates oppose privatization of two big public services, so-called "charter schools" and privately-run prisons. They also oppose GOP President Donald Trump's continuing war against federal workers and against workers' rights and job protections, notably health and safety protections.
All the hopefuls denounce Trump's racism, sexism, xenophobia, encouragement of white nationalism, and Muslim hatred. They increased their criticism after an anti-immigrant Trumpite massacred 22 people, most Hispanic-named, in El Paso, Texas. Buttigieg was the bluntest, directly tying the murderer to Trump's white nationalism. The mayor calls white nationalism "domestic terrorism."
All the hopefuls also support comprehensive immigration reform. All want to keep the "Dreamers" in the U.S., though only a few mention legalizing all undocumented people already here, which the AFL-CIO and other unions favor. One is Sanders, who would also extend his Medicare for All plan to cover them, too. Former San Antonio Mayor Julián Castro wants to make crossing the U.S.-Mexico border without proper papers a civil, not criminal, case.
Sanders, former Rep. James Delaney, D-Md., and Sen. Amy Klobuchar, DFL-Minn., cite their parents, and in Klobuchar's case, her grandfather, too, as union members. Sanders and Klobuchar say they got their values from their ancestors. Delaney, a multimillionaire, declares his father, an Electrical Worker (IBEW), would not support single-payer government-run health care/Medicare for All or other progressive ideas, such as the Green New Deal, and he won't, either.
The Green New Deal, in particular, splits Democratic "progressives" from "moderates" and splits the union movement, too. North America's Building Trades Unions President Sean McGarvey is skeptical and the Mine Workers hate it. Another group of unions, led by the Steelworkers, the Amalgamated Transit Union, the Bricklayers, and National Nurses United, supports it.
Sanders and Warren campaign strongly on Medicare for All, with the Vermonter blasting the health insurers and their high premiums and co-pays and denial of care. Warren says the current U.S. medical system, like the rest of the economy, is "rigged" by and for corporate interests.
Most of the hopefuls are skeptics of so-called "free trade" treaties, including the "new NAFTA" which their common foe, President Trump, strong-armed onto Mexico and Canada. Sanders has voted against every "free trade" pact since he came to Congress as Vermont's sole U.S. representative years ago before moving over to the Senate.
Socialist Sanders fiercely blasts such "free trade" pacts as written by and for corporations. And, like workers and their allies, he declares such pacts cost the U.S. hundreds of thousands of well-paying jobs, especially union factory jobs. Warren calls the "free trade" pacts part and parcel of the "rigged economy" she pounds away against on the campaign trail. Rep. Tim Ryan, D-Ohio, adds such pacts let China "clean our clock" on trade.
One exception is Delaney. He bluntly supports the "free trade," jobs-losing, pro-corporate Trans-Pacific Partnership. Democratic President Barack Obama shelved the TPP after organized labor and Congressional Democrats made clear it wouldn't pass. Trump then formally killed it.
Finally, several of the hopefuls tell workers to judge them by their actions, not their words. "Talk is talk," said Gov. Steve Bullock, D-Mont., criticizing the past or present lawmakers. He compares that to his success in winning in a red state Trump carried by 20 percentage points and in getting progressive measures, including Medicaid expansion, through the heavily GOP legislature.
Others who push the "I get things done" point include de Blasio—who cites adding union jobs and successfully negotiating contracts with New York City unions after eight years of war under his predecessor, billionaire Michael Bloomberg—and Delaney. Two others who did so, Rep. Seth Moulton, D-Mass., a Marine combat leader in the Middle East, and Inslee, have since dropped out.
The governor touted progressive pro-worker legislation which he and legislature Democrats teamed up to enact. He also noted he's walked a picket line with "Fight for 15 and a union" marchers in front of McDonald's. The only hopeful who routinely walks picket lines? Sanders.