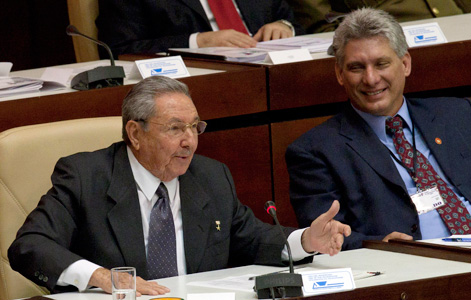 Raul Castro was elected to his second term as Cuban president February 24, but he said it would be his last.
And the 81-year-old tapped Miguel Diaz-Canel to be his top lieutenant as the National Assembly voted for the country's leadership for the next five years.
He also said that he hopes to establish two-term limits and age caps for political offices including the presidency.
As the new first vice-president of the Council of State – Cuba's cabinet – 52-year-old Mr. Diaz-Canel has risen higher than any other official who didn't directly participate in the 1959 revolution.
The president hinted at other changes to the constitution.
But he scotched any idea that the country would abandon socialism, saying he had not assumed the presidency in order to destroy Cuba's system.
"I was not chosen to be president to restore capitalism to Cuba," he said.
"I was elected to defend, maintain and continue to perfect socialism, not destroy it."
Cuba is at a moment of "historic transcendence," Mr. Castro told MPs while announcing his new number two, who replaces 81-year-old Jose Ramon Machado Ventura, a veteran of the armed struggle against former dictator Fulgencio Batista.
The president praised Mr. Ventura and another aging revolutionary for offering to leave their positions so that younger leaders could move up.
Their selflessness is "a concrete demonstration of their genuine revolutionary fiber … the essence of the founding generation of this revolution."
Mr. Castro said that Mr. Diaz-Canel's promotion "represents a definitive step in the configuration of the future leadership of the nation through the gradual and orderly transfer of key roles to new generations.
"Our greatest satisfaction is the tranquility and serene confidence we feel as we deliver to the new generations the responsibility to continue building socialism," he added.
The 612 MPs sworn in named Esteban Lazo as the first new National Assembly chief in 20 years, replacing Ricardo Alarcon who retired to work on the .
And MPs elected Mr. Ventura, comptroller general Gladys Bejerano, second vice-president Ramiro Valdes, Havana Communist Party secretary Lazara Mercedes Lopez Acea and head of Cuba's trade union Salvador Valdes Mesa the new vice-presidents of the state council.
Reposted from Morning Star
Photo: Cuba's new Vice-President Miguel Diaz-Canel, right, listens to Cuba's President Raul Castro during the closing session at the National Assembly in Havana, Cuba, Feb. 24. Ramon Espinosa/AP