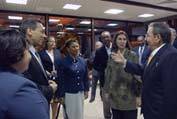 Havana, Apr 7 (Prensa Latina) Cuban President Raul Castro met with a US congressional delegation, on a visit to this country that started on April 3.
Legislators Barbara Lee, chairwoman of the US Congressional Black Caucus, Melvin Watt, Laura Richardson, Bobby Rush, Maria Funge and Emmanuel Cleaver attended the meeting.
Also on the list were Cuban Parliament President Ricardo Alarcon, the island's Communist Party Political Bureau member Pedro Saenz, Foreign Minister Bruno Rodriguez, and Cuban Interest Section Chief to the United States Jorge Bolanos.
The delegation arrived in Havana on Friday and has held meetings with Cuban leaders.
Their agenda here included visiting the Havana-based Center for Genetic Engineering and Biotechnology, paying tribute to Martin Luther King, and attending religious services on Sunday.
The group of Democrats expects to conclude its visit to Cuba on April 8th.