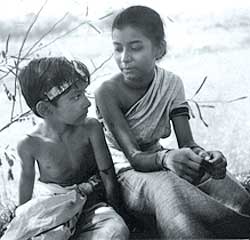 Before there was Bollywood or The Mindy Project there was Satyajit Ray, India's movie maestro. Good news for lovers of cinema: 20 years after the negatives of Ray's 1950s masterpieces were burned in a fire – the Cannes-award winning Panther Panchali (Song of the Little Road), Aparajito (The Unvanquished) and Apu Sansar (The World of Apu) – this magnificent trio has been lovingly, lavishly restored.
The new version looks stellar, as Ray's camera affectionately, meticulously follows the adventures of a sub-continental Huck Finn, the boy Apu (Subir Banerjee), growing up in a primitive village on the fringe of the jungle, moving to a city beside the River Ganges and so on. Completed 60 years before Richard Linklater's Boyhood, The Apu Trilogy pictorially pursues the same actors over the course of the years (although not so long a span as in Boyhood), focusing on a boy as he grows up.
The Trilogy is well acted, with Apu's mischievous, elderly Aunt Indira (Chunibala Devi) stealing every scene she's in, as the lamentations of being discarded in old age unfolds. The day-to-day trials and tribulations of Apu and his family are the stuff that real life in the Third World – including starvation – is made of. Their pursuit of culture and learning, despite their crushing poverty, is inspiring.
With the ring of truth, non-actors and a neo-realist style, The Apu Trilogy looks as if it is a documentary or docudrama shot by Robert Flaherty (who did, indeed, make a film on location in India, 1937's Elephant Boy, which launched the career of another Indian lad, Sabu, who is just as charming as Banerjee). Like Flaherty, Ray's eye reveals through the camera lens and genteel editing the poetry of humanity and nature, with lyrical passages featuring exquisite close ups of insects, flowers, animals, human faces, etc., linked in a mystical cosmology of creation. However, the dialogue and plot were all scripted by Ray, based on two books by Bibhutibhushan Banerjee. Ravi Shankar's sitar music enhances this optically opulent treat made soon after India's independence.
The reconstructed Apu Trilogy is simply not be missed by those who love fine filmmaking and don't consider subtitles to be off-putting but rather, invitations to explore other worlds and sensibilities. Ray's humanism and virtuoso films remind us what movies can be minus the annoying endless Tinseltown distractions of explosions, gunfire and special effects, when they focus on people interacting with one another and nature. Slap on a dab of patchouli and go see these beautiful works of art back on the big screen, where they belong.
The Apu Trilogy is being theatrically re-released nationally. It plays May 29-June 4 at Los Angeles' Landmark Nuart Theatre, 11272 Santa Monica Blvd., with separate admission per feature. For info: (310) 281-8223; www.landmarktheatres.com.
Photo: "Panther Panchali"