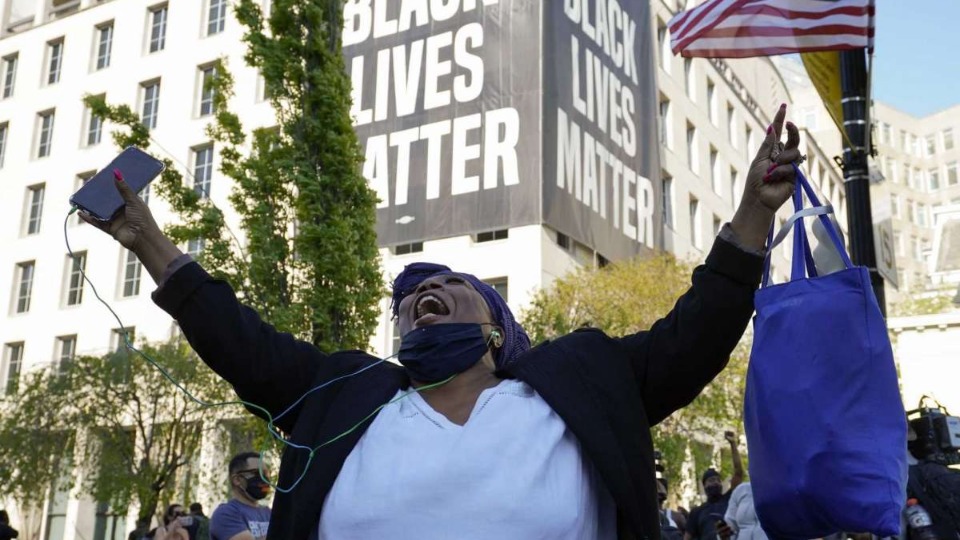 WASHINGTON—The overwhelming reaction to the Minneapolis jury's verdict finding former city police officer Derek Chauvin guilty on all charges of murder and manslaughter in kneeing George Floyd to death last year was that it was great, but only a first step towards justice.
From union leaders to Black Lives Matter to the Women's March, virtually every commenter declared the verdict still leaves in place the systemic racism in the U.S that must be rooted out. President Joe Biden and Vice President Kamala Harris, whose parents were Black and South Asian, agreed.
"We can't stop here," Biden said. "'I can't breathe.' Those were George Floyd's last words. We can't let those words die with him. We have to keep hearing those words. We must not turn away. We can't turn away."
"It is not just a Black America problem or a people of color problem. It is a problem for every American," Harris said. "It is holding our nation back from reaching our full potential. A measure of justice isn't the same as equal justice."
Biden's Justice Department suited action to the words. Attorney General Merrick Garland opened a systematic examination of the Minneapolis police, with an eye towards revealing racist attitudes and mandating changes. The prior GOP Trump regime stopped such probes, giving unstinting deference to cops. While campaigning, Trump himself encouraged cops to rough up people of color.
AFL-CIO President Richard Trumka, whose 12-million-member organization includes a small federation of police unions and other law enforcement segments in larger unions, hewed to that standard.
"While this verdict is welcome news, the work of dismantling systemic racism and white supremacy is just beginning. As members of our communities and representatives of union public safety professionals, the labor movement has a unique role to play in changing this culture of policing" with an internal commission working on the issue, added Trumka.
Other reactions were blunter. Several big groups, led by Black Lives Matter activists and the Women's March, again pointed out the racist roots of the entire policing system, and called for defunding police.
And in Minneapolis itself, a referendum to dissolve the police department and replace it with a Department of Public Safety, with money split between that role, mental health, and other social services, will appear on this November's ballot, having gotten more than the 17,000 signatures it needed.
Meanwhile, Minnesota Attorney General Keith Ellison, whose department carried out the successful prosecution of Chauvin, also said afterwards that the verdict produced accountability, but not true justice—a theme others echoed.
Should be here
"George Floyd should be here," said a blunt declaration posted at BlackLivesMatter.com. "We mourn as his family mourns and support them in finding solace and accountability through the guilty verdict—because like countless others, they have been put in a position that they did not deserve. But let's be clear. This verdict does not change what we know all too well: White supremacy still exists.
"An oppressive, racist system cannot and never will deliver justice for our people. It will never keep us safe. What we saw today was some form of accountability, not justice. Justice would mean George Floyd would be here. Justice would mean a system not rooted in white supremacy.
"It would be the end of state-sanctioned violence. It would be defunded police. It would be investments in our communities…. The day we will truly achieve justice is the day that no Black person is taken from us at the hands of police. Let us continue the work toward a world where there are no more George Floyds. No more."
First-year Rep. Cori Bush, D-Mo., the first Black Lives Matter activist elected to Congress, agreed. She became a BLM leader when the movement arose after the police murder of Mike Brown in Ferguson, Mo., a St. Louis suburb.
"This trial has been nothing short of a traumatizing, painful, and gut-wrenching reminder of how difficult it is to hold police accountable when they murder members of our community. Over the last month, we've been re-traumatized over and over again as we watched 8 minutes and 46 seconds become 9 minutes and 29 seconds," she said.
After recounting parts of the trial, and criticizing Chauvin's defense for trying to try Floyd instead, Bush pointed out that even during the trial, another Twin Cities-area cop murdered another unarmed, unresisting Black man, Daunte Wright. That murder and the others stretching back to Mike Brown, shows the systemic racism.
"We live in a country where less than 1% of police officers are convicted for murdering civilians," she continued. "The officers who murdered Breonna Taylor were not convicted. The officer who murdered Mike Brown Jr. was not convicted. The officer who murdered Stephon Clark was not convicted. The list goes on and on.
"This trial has always been about one police officer in a corrupt and violent system that continues to disproportionately target Black and brown people. We've all been forced to grapple with the question: What is justice? Because our criminal-legal system is not a just system—it's a violent and oppressive one."
A just world, Bush said, is one where Black lives matter. "These are the same demands we had on the streets of Ferguson. These are the demands we brought to Congress. And, together, we will continue working on an ambitious set of policy proposals to transform public safety and to ensure communities like St. Louis no longer live under the constant threat of police violence."
The Congressional Black Caucus, which watched the verdict as a group, also hailed it, but said justice can't stop there. The lawmakers, and others, said real reform is needed, starting with Senate passage of the George Floyd Justice In Policing Act—which, like other House-passed legislation, Senate Republicans may halt with a filibuster. That's yet another argument to kill the filibuster, one group said.
"Today will be the catalyst to turn the pain, the agony" into that action, CBC Chair Rep. Joyce Beatty, D-Ohio, predicted.
The Women's March was even blunter. Reforming the cops isn't enough, it said. Defunding police departments is needed. The march set up a "Defund the Police" portal on their website.
"Justice is out of reach without systemic change. Rooting out bad apples, even putting them in jail for murder, isn't enough," its leaders said. "Because the truth is this: Cops like Derek Chauvin, who killed George Floyd and too many people before and after him, aren't an aberration. They're a manifestation of a system functioning exactly as it was designed to.
Killed three per day
"Police have killed at least three people every single day since this trial began. More than half of those killed were Black or Latinx. No band-aid measures will bring them back; neither will hollow calls for reform. Policing in America is a system that is rotten and racist to its core. And it's a system that must be dismantled and defunded."
Replacing it? Fund social services, mental health response and treatment, and similar measures, the Women's March said. That includes getting metal detectors and armed officers out of the nation's schools, it added.
"Change must happen in our country having to do with how police are trained and when they are allowed to use deadly force in encounters with civilians. Also, there is a need for more oversight of how police are allowed to operate in their cities and communities," League of United Latin American Citizens President Domingo Garcia said.
In their reaction statements, some union leaders went beyond Trumka's words. The most comprehensive came from National Nurses United.
"We know this was just one case," said Zenei Cortez, RN, the union's co-president. "There are so many more where there was no accountability or justice: Breonna Taylor, Elijah McClain, Philando Castile, Michael Brown, Tamir Rice, Eric Garner, and so many others whose names are seared in our memories of destroyed lives, wounded families, and traumatized communities. More is clearly needed to protect public health and safety, especially for Black and Brown communities who are enduring disproportionate harm."
"As nurses, we know that racism is a public health crisis," said NNU Executive Director Bonnie Castillo, RN. "We have seen the impact of racism on the lives of communities of color during the pandemic…We have a duty to speak out to end the suffering caused by an out-of-control system of policing and to demand transformational changes in policing practices."
"We need a new mandate for public safety grounded in people's rights to participate in public life, that ensures people access to the resources and opportunities they need to live healthy and full lives," NNU co-President Deborah Burger, RN, added.
That mandate must include systemic changes in police practices, stronger de-escalation "to limit the use of lethal force," eliminating racial profiling and adding independent public oversight. It also includes ending qualified immunity for police. Current laws in many states—euphemistically called the "Public Safety Officers Bill of Rights"—now grant it. The George Floyd Act would override that immunity.
And NNU would ban "racist pseudoscience" and terminology "used to criminalize Black, Indigenous, Brown, and all people of color, and justify excessive use of force, including overuse of powerful and often-lethal sedatives." It also demanded other systemic reforms in mental health and other services to handle and defuse the conflict between cops and communities of color.
School Administrators President Ernest Logan, a Black middle school principal from New York City, put the onus on the cops to change, too.
"There is an important role for law enforcement in our communities, but it is important for those empowered to police our communities to understand they are not above the law. Law enforcement must work to rebuild trust and relationships within the communities they are charged with serving," he said.
"We have come a long way in this nation, but clearly given recent events, not far enough," said Auto Workers President Rory Gamble, the union's first-ever Black to hold that office.
"As a father and grandfather, I live every day with the idea that my family could be treated unjustly because of the color of their skin—regardless of the content of their character. Sadly, it is our reality, the reality of all families of color in America. We must as a nation heal and grow from today's outcome. We must focus on what unites us, not what divides us. We must strive to broaden our view. To see the world not just through our own eyes, but through the lenses of our brothers and sisters…. The true test will be how we move forward" from the guilty verdict.
"This is an important inflection point for police accountability and making our communities safe spaces for every human being," said Teachers (AFT) President Randi Weingarten, whose union's members teach public school students, including students of color, who are a majority.
A right to live
"Every Black person in this country has a right to live, a right to breathe and a right to be a part of their community without fear of violence and senseless attack simply for the color of their skin. The urgent matter before us is to dismantle the systemic racism that plagues us—to make the fight for anti-racism and equity a cornerstone of everything we do," said Weingarten, a New York City civics teacher.
"As we said last year after George Floyd was murdered, 'It is not enough to punish the perpetrators who have taken these Black lives," the Communications Workers said. "It is not enough to simply identify a 'few bad apples' to fire or prosecute–a course of action which our deeply flawed legal system makes difficult to pursue.
"We must also do the hard, transformational work of rooting out racism in America's consciousness and the institutions that uphold it. The lives of our Black and Brown brothers, sisters and siblings depend upon it."
Floyd's "life was stolen from him by a police officer enabled by an unjust set of systems and institutions that will continue to claim the lives of our neighbors and loved ones—until we put a stop to it," the Office and Professional Employees said.
"The labor movement is a valuable ally in the multifaceted fight against racism in all of its forms, both in the workplace and in our communities. It's incumbent upon the trade union movement to agitate, educate and organize to eradicate the systems and structures that left George Floyd–and countless others—dead at the hands of those whose duty is to serve and protect. Another Black life claimed by police brutality is one too many."
"Talking about race and policing can be controversial, but we must address this problem. This verdict underscores the need to implement better reforms against police brutality and systemic racism and ensures justice for victims. Our law enforcement should protect our safety and treat everyone with dignity and respect," Amalgamated Transit Union President John Costa said. "The ATU remains committed to working towards these reforms and fighting for racial and economic justice for all."
Like Trumka, Government Employees President Everett Kelley, a Black veteran, had to walk a fine line. His union represents federal workers—including law-enforcement members of ICE and the Border Patrol who have often been especially harsh against undocumented people, and sometimes have rounded up legal Spanish-speaking residents, too. So did AFSCME President Lee Saunders, who is also Black. His union includes 90,000 people in law enforcement.
"It's gratifying to see today that a central principle of American justice has been upheld: No one is above the law," said Kelley. "It is my fervent hope today's verdict can be a catalyst for positive change, uniting us all in the pursuit of real, systemic criminal justice and policing reforms with broad support that can help us build a future where these killings stop happening."
"Accountability for a single act of brutality does not solve the underlying crisis: Deeply entrenched, structural, systemic racism that continues to poison every American institution and every aspect of American life," said Saunders. "To address that problem, there is a lot of very difficult work ahead, work AFSCME is committed to leading."
"As a union with a rich history of fighting for civil rights, and as a union with some 90,000 members who work in law enforcement, AFSCME believes effective policing and racial justice can and must go hand in hand."