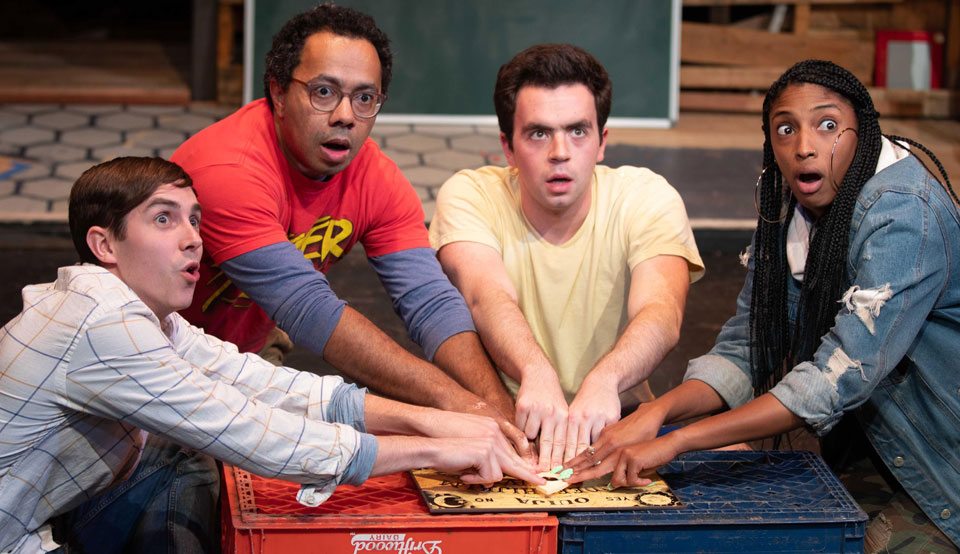 VENICE, Calif.—It is the "present day, or close to it," in an unidentified semi-rural locale in America (there are only two, count 'em, Black families in town), and a hate crime in spray paint has been committed against one of these families.
"I want to know what happened," says Carly Uhlenbeek (Jasmine St. Clair), the daughter in that family (she also characterizes both her parents, June and Dan). Around her gather her circle of friends to try and re-enact the events that unfolded. Most of the action takes place in a hideout, a kid-created space which they convert into an impromptu theatre, with props, entrances and exits, cues, lines and dialogue, sound effects and a blackboard on which they write the locale of each scene—homes, school rooms and assembly.
The six actors are all young adults playing children on the cusp of adolescence.
Rogue Machine Theatre is taking part in the National New Play Network's program of "rolling world premieres." David Jacobi's Ready Steady Yeti Go is being produced along with the Azuka Theatre in Pennsylvania and Stageworks Theatre in Tampa, Fla.
"I immediately responded strongly to this script," says director Guillermo Cienfuegos. "The comedy of the play is used to deliver a potent point. It takes place during a simpler time, in an American suburb, where the kids who are affected by the act of a hate crime are performing the play. They take the story away from the adults, and they control their own narrative. They can tell what really happened, how the adults messed it all up, perhaps even peer into the future to see what it all might mean for them when they're older."
The 7th grade characters are all about the same prepubescent age: 11 or 12. The actors are equally divided between male and female. Three of them play multiple roles. A number of cross-currents are at work. The awkward, contrarian Goon (Ryan Brophy) befriends Carly, and a youthful romance blossoms. In the meantime, the town, under the instigation of homeroom teacher Mrs. Apples (Rori Flynn, who also plays the 11-year-old Katie and Carly's Mom), organizes an ambitious "Assembly to End Racism Forever." The town is full of prying eyes, everyone wondering how this racist incident could have taken place, and who done it? The suspects are scrutinized by the comical crime-solving Wikipedia Jones (Randolph Thompson, who also plays Wikipedia's deranged father Officer Ed, and Barry, one of the kids from the other Black family in town).
Goon's twin brother is the regular boy scout Gandry (Kenney Selvey), class president and kind, gentle, helpful soul. A final role is that of Shades (Morgan Wilday), a kind of Greek chorus without much to say but who controls the boom box for the sound effects.
As the kids try to figure out not only what happened and who committed the offense but also a way forward, they are met on all sides by poor adult leadership. Mrs. Apples soon reveals her own racism as deeply embedded in everything she knows and believes about American society. The Uhlenbeek couple are a study in avoidance: He is obsessed with acquiring a fancy new snow-blower and she is focused on Carly's new braces and household expenses. The twins' mother is a piece of work herself, angrily upbraiding the one son Goon while praising Gandry to the heavens: It seems clear she has created both these little monsters, the evil one and the good one. A generalized sense of communal white guilt is conveyed by fatuous advice and ill-informed gestures of kindness.
The clueless adults appear on the outskirts of the drama as mostly broadly comic buffoons, serving mainly as vehicles that underscore the overall theme of reactivity around race.
The title Ready Steady Yeti Go refers to the catch phrase the kids utter when they're about to set up a new scene, suggesting, as the 95 to 100-minute play progresses, that with each new set-up they have the chance to rewrite, revise and correct the historical record. Playwright David Jacobi's conceit could be compared to the way, with each racist incident that occurs in America, the country has the chance to achieve understanding and resolution, but the historical loop of racism keeps on spinning. Sometimes, like now, it's barely noticed or even lamented: There were "very fine people on both sides" in Charlottesville, said our president.
So while this loop of national racial trauma keeps whirling around from one generation to the next, we see in Jacobi's characters a study in the nonlinear complexity of personality, projected back into the past, perhaps as far back as slavery times, and forward into the ongoing and the future.
In the twin brothers we see both the dichotomy and the dilemma of the white male. From the outset, Goon is painted as a walking id, an angry, impulsive, dangerous kid, the direct descendant of the slaveholder and bigot. Yet as the story develops, as we see him loving Carly, there is clearly more to this youngster than we are originally led to believe. Gandry is Goon's polar opposite. He is an outstanding citizen, a civic leader of his peers, a reformer, a liberal, a progressive who desperately wants to believe immanent good can come out of immanent evil. Yet Gandry has a terrible secret.
The audience is left guessing as to each of the lead characters' motivation, which is a plus insofar as we are tantalized to fill in our own interpretations both psychological and historical. At the same time, it would have been useful to have a bit more meat on the bone. If the kids are finally, owing to their age and also to the brief summer over which the events occur, unable to clearly articulate what lessons they will carry forward in life, that is understandable—though they do know that racist incidents will recur. But does the playwright himself have any idea? The final text of the play implies that a second or third draft may yet be written, suggesting that we may not have seen the final scene. The director himself captures that sense of irresolution in his program note to this not quite coming-of-age story:
"When I was beginning to work on this play, I tried to remember what it was like to be a kid—11 years old or younger—and I couldn't really do it. I mean, I remember the fun and reckless abandon of game play and imagination, but I found it difficult to recapture the feeling and sense memory of what it was to be that age. A time of innocence; before responsibility and fear entered my life. Before things would inevitably happen to invade the safety of that innocence and teach me some hard lessons: That unlike a game, life doesn't come with clear rules and isn't always fair. That people's actions sometimes don't make sense. That the world seems to be really invested in turning people who are different into 'the other.' That contrary to what they'd have us believe, authority figures don't know everything. And don't necessarily have our best interests at heart."
David Mauer created the funky scenic design, and Matt Richter the lighting. Christopher Moscatiello is responsible for the sound design, and Christine Cover Ferro for the costumes.
Rogue Machine says nothing about what audiences they hope to reach, but young people would get a lot out of this production—maybe more than those feckless adults.
Ready Steady Yeti Go plays through July 29 at Rogue Machine (in the Electric Lodge), 1416 Electric Ave., Venice 90291, with performances at 8 pm on Sat. and Mon., 7 pm on Sun. in June, and 3 pm on Sun. in July. There will be one added performance at 8 pm on Fri., June 14, and there will be no performance on Mon., July 8. For reservations call (855) 585-5185 or www.roguemachinetheatre.com. Special $10 performances are on June 17 and July 6: Pay $10 or more at the door; no advance sales; box office opens one hour before the show; availability is limited.