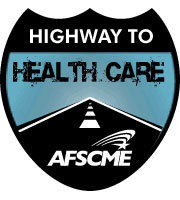 With polls showing the overwhelming majority of Americans want health care reform that covers everyone and lowers costs, progressive organizations are mobilizing to activate that real grassroots majority.
They are revving up to counter the well-funded far-right campaign, tied to the insurance industry, that is trying to kill the reform movement and wound the Obama administration.
This week, the American Federation of State, County and Municipal Employees is launching a rock-and-roll themed Highway to Health Care RV tour.
It will crisscross the country during the August congressional recess, mobilizing the public to contact members of Congress to demand real reform that guarantees quality health care for all — or as one of the tour signs reads, "Real Health Care Reform Rocks!"
The tour starts Wednesday in Bismarck, N.D., and ends Aug. 26 in Bangor, Maine. So far, 16 stops are on the schedule. In addition to North Dakota and Maine, stops are scheduled in Nebraska, Arkansas, Louisiana, Indiana, Ohio, Virginia and Delaware. Details are at: .
The tour's RV contains laptop computers, cell phones and postcards. At each of the stops participants will use those to contact their senators and representatives.
The tour includes posters and literature that pay homage to famous rock musicians, and a video that urges local residents to write and call their members of Congress.
"If you can't make one of the tour stops, it's not like getting shut out of a Springsteen show," notes AFL-CIO blogger Mike Hall. "There is still a way to join the crowd. Go to the , sign up, pick a sign and add it to the tour map and send this message to you representatives and senators:
"I've had it with the insurance industry calling the shots and putting their profits before people like me.
"The majority of Americans, including me, support the CHOICE of a public health insurance plan that COMPETES with private insurance companies to keep them honest and lower costs. Please support real health care reform NOW!"
Marco V., in El Paso, Texas, already posted his note on the site: a yellow road sign reading "I break for public option," and a message: "70% of Americans are behind this…PASS IT!!!"
From Strongsville, Ohio, Andrew G. posted his comment: "47-49 million people and counting (around 14,000 more each day) are losing their health care! WE NEED REOFRM."
Charles P. in Laramie, Wyo., put himself on the AFSCME map with this: "We all need to do what we can to fight the misinformation being foisted on the public by a coordinated 'grass roots' opposition movement, funded by the GOPs and the insurance industry."
Meanwhile, Organizing for America, Obama's grassroots organizing project, this week launched Office Visits for Health Reform.
It is sending e-mail messages to the millions of Americans who participated in the campaign to elect Obama last fall, asking them to visit their local congressional offices to back health care reform. The e-mail includes an easy sign-up tool giving the congressmember's office address, phone number and hours, along with a simple how-to guide for the visit.
"You can have a quick conversation with the local staff, tell your personal story, or even just drop off a customized flyer and say that reform matters to you," the message says.
"We can't let extremists hijack this debate, or confuse Congress about where the people stand," OFA Director Mitch Stewart writes.
To get involved:
Highway to Health Care:
Office Visits for Health Reform:
suewebb @ pww.org