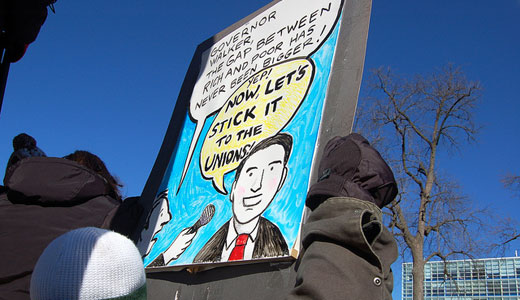 MADISON, Wis. – As Wisconsin's recall movement races towards its Jan. 17 petition deadline, progressive forces are now focusing on potential candidates who might take on Republican Gov. Scott Walker, and what they expect from a new governor. Such issues include restoration of collective bargaining rights for public workers, quality public education that serves all members of the community and fair taxation that favors workers, not corporate fat cats.
The recall Walker movement, United Wisconsin. kicked off Nov. 14, 2011 with a massive signature gathering campaign. Wisconsin state law requires 540,208 signatures, or 25 percent of the 2010 general election turnout, to trigger a recall election for the governor. Buoyed by the Ohio election victory repealing union-busting law SB5, the campaign experienced a groundswell of participation that resulted in collecting more than 300,000 signatures in the first 12 days. More than 20,000 people have participated in the signature gathering. Signatures have been collected from all 72 counties in Wisconsin.
The response is extraordinary. More than 8,000 signatures or 128 percent of Walker's 2010 vote total were collected in rural Douglas County located in the northwest corner of the state. In Eau Claire County, once known for its lumber industry, 22,365 signatures or 124 percent of Walker's 2010 vote total have been collected.
In south central Wisconsin, where support for union rights is strong, in several of the cities the signature total has exceeded over 50 percent of the 2010 vote.
Just four weeks into the campaign, United Wisconsin announced that 507,533 people had signed a recall petition. The campaign's new goal is now 720,277, nearly 200,000 more than needed.
Big money interests have run a nonstop disinformation campaign on the recall, bombarding voters with TV and radio ads full of lies and half-truths. Yet the recall movement presses on with virtually no advertising.
A recent report found that Walker's policies cost the state more than 18,000 jobs in 2011. This happened after Walker held his "jobs session" with the legislature, during which no jobs bills were even taken up.
Wisconsin's movement to recall Walker was born when the governor and his ultra-right allies in the state legislature launched a brazen attack on public employees. It continued when the governor cut $800 million from public schools and $500 million from the state's popular health care program called BadgerCare, where a great number of those affected are farmers.
Walker, on the other hand, has given corporate welfare tax breaks and sweet deals to corporations to the tune of millions. The first recall campaign last summer targeted Walker's Republican allies in the state legislature. This effort successfully removed two Republicans yet fell just one seat short of shifting the majority in the state Senate to the Democrats.
Campaign organizers say there is still a difficult road ahead to defeat Walker. Obstacles will have to be overcome, like the newly-passed voter ID law, which disproportionately affects many anti-Walker voters like students, the elderly, the poor and disabled, African American and other people of color, and the huge influx of corporate cash to defeat the recall/
Yet, they say, the recall movement has shown that it is capable of such effort.
Photo: Teresa Albano/PW