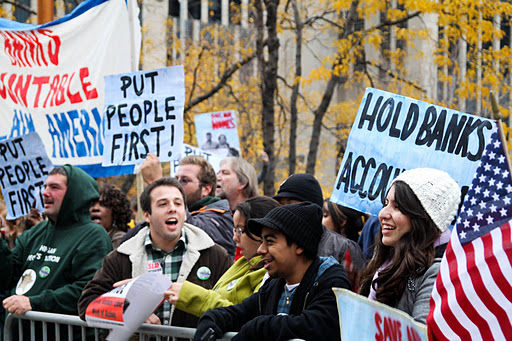 President Barack Obama sent a clear message this week when he made recess appointments naming Richard Cordray head of the new Consumer Financial Protection Agency and filling out the members of the National Labor Relations Board. It was a challenge to Republican manipulations on behalf of Big Finance and corporate plundering.
The Senate Republicans had decided to sabotage the consumer protection agency, part of the GOP-despised financial reform law, by denying it a director. The Mortgage Bankers Association, Chamber of Commerce and Republicans in lockstep denounced the appointment of Cordray and questioned the president's constitutional authority to make recess appointments.
It's a cover for financial giants to continue profiteering off the backs of millions of hard-working Americans with unregulated payday loans, subprime mortgages and credit card fees.
Most media focus has been on the Cordray appointment. Yet the NLRB appointments are also vitally important for the nation's workers and their ability to exercise their rights including to bargain collectively for pay and benefits.
The Republicans have made it their priority to attack worker rights and undermine existing labor law and protections – all to benefit their corporate backers' profit margins. After eight years of George W. Bush, where the NLRB did nothing but do Big Business's bidding, it has been a welcome relief to have this government agency actually fulfill its mission – upholding and enforcing the country's labor laws. So the Republicans sought to stop it from functioning by keeping seats vacant.
The sound and fury emanating from the likes of Senate Minority Leader Mitch McConnell, R-Ky., on Obama's recess appointments is not a new feature in American politics. The far right has a long and inglorious history of obstructionism and efforts to nullify progressive federal government action – from the 19th century moves to curb and end slavery and then to establish Reconstruction to the 20th century moves to end segregation. This obstructionism really centers around the vortex of race and class, seeking to divide and conquer our multi-racial working class.
Last year, we editorialized that in 2011 the Republican right – emboldened by their obstructionist tactics that helped lead to their 2010 electoral victories – would wage intensified class warfare. And that's what they did.
Imagine what would happen in 2013 with Republicans in control again of all levers of government.
The president's bold move reflects a similar mood among a broad section of the electorate . It's a welcome beginning for a crucial election year.
Photo: Thousands demand finance reform at a protest during the American Bankers Association meeting October 2009 in Chicago. (PW/Scott Marshall)