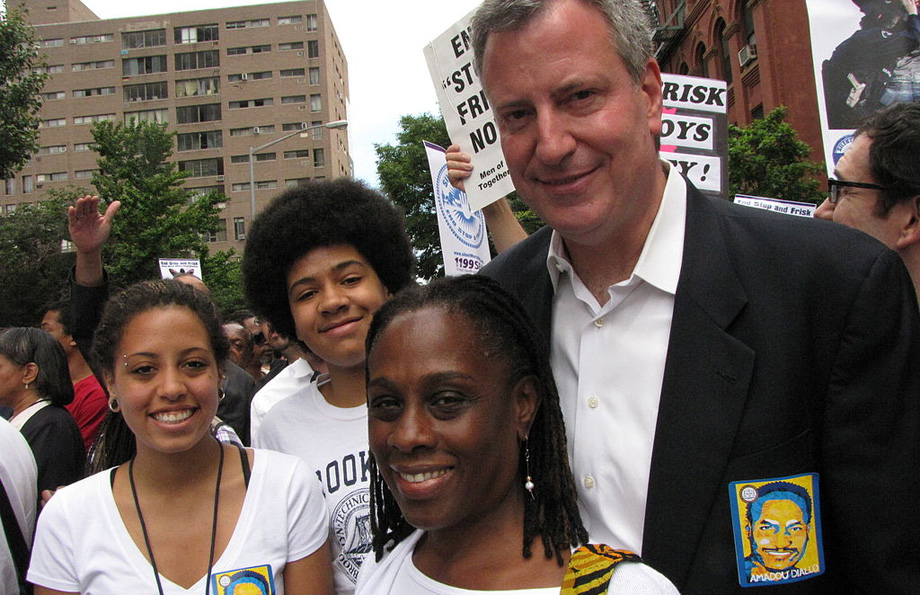 In Reclaiming Gotham: Bill de Blasio and the Movement to End America's Tale of Two Cities, veteran Latino journalist Juan Gonzalez presents a basically optimistic view—some on the left would say too optimistic—not only of New York City's recent progress, but also that of many other American cities, in addressing such social ills as income inequality, lack of affordable housing, and mass incarceration.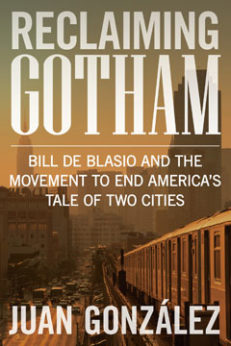 Gonzalez devotes two chapters to the resurgence that started in the 1990s of successful progressive politicians in cities mostly other than New York, like Newark's Mayor Ras Baraka, son of poet Amiri Baraka. Gonzalez describes how most of these people were able to use variations of the so-called "inside-outside" strategy of enlisting the aid of community organizations and unions while running as Democrats. In the rest of the book Gonzalez mostly focuses on Bill de Blasio's rise in New York City to become mayor, the progress it has brought, and what remains to be done in his quest to end the gap between the standard of living of extremely wealthy residents and a large and growing poor population, which de Blasio refers to as a Dickensian "Tale of Two Cities."
Gonzalez describes de Blasio's parents and upbringing. He mentions the FBI's 1950s investigations of his father and mother as suspected Communists. Although no charges were brought, a government loyalty board found that both had "a sympathetic interest in communism." Influenced mostly by his mother's radicalism and political involvement, de Blasio early on became a leader in organizing for social justice. At age 12 he led a successful effort to get his middle school administrators to give hearings to students before deciding on disciplinary measures. At NYU he cofounded a students' rights organization and led protests against tuition hikes. In 1987, as a supporter of the leftist Sandinistas in Nicaragua, he took a job with the Quixote Center in Maryland as an organizer of volunteers who collected humanitarian supplies for Nicaragua. The next year he moved back to New York and became a volunteer for the Nicaragua Solidarity Network.
In 1989 he got involved in New York City politics by volunteering in David Dinkins' successful mayoral campaign and after the election got a job as an aide to his chief of staff. There de Blasio met his future wife Chirlane McCray, with whom he is now raising their two biracial children. He gradually worked his way up to become New York City Public Advocate in 2010, using his talent at gaining support from grassroots groups like ACORN, unions like SEIU, and the Working Families Party. Gonzalez points out that "de Blasio's knack for simultaneously cultivating Democratic Party honchos, wealthy donors, and grassroots activists had become part of his political DNA."
Some of de Blasio's more notable accomplishments as mayor are as follows: He sharply reduced "stop and frisk," the practice of stopping on the street mostly young African Americans and Latinos for questioning and searches, which constituted harassment much more than crime prevention. He instituted free, universal pre-kindergarten classes. He froze rents for stabilized tenants for two years. He reduced evictions of tenants by expanding legal assistance in housing court. He completed long overdue labor contracts for the public employee unions. He extended paid sick leave to many more workers.
To explain what de Blasio and his allies are up against, Gonzalez starts all the way back in the 1920s to explain how the banks and the real estate industry used their influence at all levels of government to demolish existing housing in the central areas of the cities to move out the mostly poor people of color who lived there to make way for more expensive housing along with the schools, cultural institutions, and other amenities that were aimed basically for high income white people. That process, along with steady increases in privatization of public services and income inequality plus the use of mass incarceration, was greatly worsened by the election of Mayors Rudy Giuliani in 1993 and Mike Bloomberg in 2001.
Gonzalez writes about how not only money is used to influence politicians, but also physical intimidation of those who would stand up for the people. For example, he relates how Letitia James, then a city council member, needed a police escort to safely exit a public meeting where she criticized the Atlantic Yards project.
Gonzalez rightly points out that de Blasio reformed "stop and frisk," but says little about how he has continued the "broken windows" policing that puts lots of mostly low-income people of color in jail for minor crimes. Although the mayor has significantly reduced the frequency of people getting police records for such petty offenses, each year many thousands are still picked up on such charges.
Despite a mostly positive appraisal of de Blasio's term as mayor, Gonzalez raises the most widespread criticism of the mayor by leftists: His program to build affordable housing would provide few homes for the lowest income groups in the city. Gonzalez points out that the mayor has improved his original plans, but fails to mention that the rezoning involved will still force many out of their homes by increasing gentrification in low-income neighborhoods.
Gonzalez also describes the fundraising schemes that moved money among groups and individuals close to the mayor and prompted state and federal investigations on allegations that money was received in exchange for city contracts and other favors and for possible violations of campaign financing laws. Although in the end no charges were filed against him or those close to him, the descriptions by prosecutors of what went on tarnished de Blasio's reformer image.
All in all, despite Gonzalez' too rosy impression of the progress that has been made, his book serves as a good introduction to American urban politics, especially New York City since the 1990s. The book also leads this reviewer to conclude that if New York City now has "the most left-leaning government" in its history, it still shows at best limited progress in ending inequalities. Many more of us who live here will have to get involved in the struggle if the Tale of Two Cities is to end.
J. Johnson is an activist who lives in New York City.
Reclaiming Gotham: Bill de Blasio and the Movement to End America's Tale of Two Cities
By Juan Gonzalez
The New Press, 320 pages
Released September 5, 2017
Hardcover $10.00, Kindle $14.55
ISBN-10: 1620972093
ISBN-13: 978-1620972090