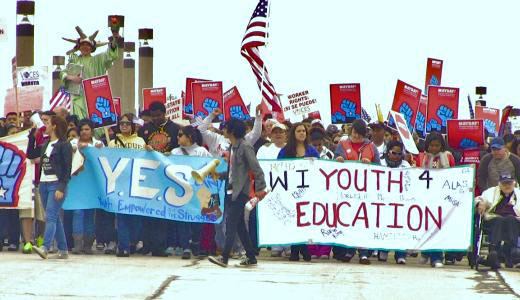 Milwaukee May Day 2011 marks another important turning point for labor. Over 25,000 people marched to a rally in Veterans Park on Milwaukee's lake side chanting. "Everywhere we go, people want to know, who we are, so we tell them, we are the workers, mighty mighty workers.." Richard Trumka, president of the AFL-CIO, channeled the energy and enthusiasm of the crowd in his speech. He amplified the slogan that emerged in the April 4th labor actions around the country, "We Are One!"
(story continues after video)
Milwaukee Mayday 2011 – A New Day from Scott Marshall on Vimeo.
Symbolic of this critical turning point is changing the traditional "we are the union" to "we are the workers." This rally in Wisconsin, like a hundred other May Day actions around the country this year, was a giant step in merging a stronger coalition of organized labor and immigrant workers. Labor repeatedly emphasized that the modern immigrants rights movement has led in the effort to reclaim May Day as the "Made in the USA" celebration it truly was and should be again.
The Milwaukee rally was festive, including food and song. It was militant in linking Gov. Scott Walker's attack on working people to the attacks on immigrants and people of color. It was unifying. It helped to build the broader coalition by addressing all workers and all victims of the economic crisis, beyond organized labor. It continued building the fighting momentum of labor and all workers to roll back the corporate and right wing attack on the people.
Image: Scott Marshall/PW