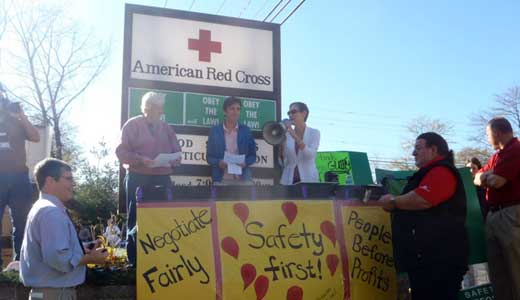 FARMINGTON, Conn. – Just days after striking workers at Red Cross received a solidarity boost on their picket line with union sisters and brothers from around the state at a Rally for Justice, they won a tentative agreement on a new collective bargaining agreement.
The 225 members of AFSCME Local 3145, who represent blood collection workers at the Connecticut Blood Services Region of the American Red Cross, launched an unfair labor practice strike on November 3, after negotiating for nearly three years without a contract.
The strike lasted nearly two weeks. Members will vote shortly on the contract which the negotiation team recommends for approval.
Surrounded by signs "Obey the Law," "Safety First," and "People before Profits," Peggy Buchanan, president of the Hartford Central Labor Council, AFL-CIO, gave unqualified support to the Red Cross workers at the rally. The rally swelled the daily picket line at Red Cross headquarters at 209 Farmington Avenue.
Local 3145 members work on blood drives and make sure the blood supply is safe and sound.
On August 29 an administrative law judge ruled that the Connecticut Blood Services Region broke the law by engaging in unfair labor practices. Union members say the company is still trying to eliminate their right to bargain over health care, along with many other punishing proposals.
"I'm not our here just to protect my benefits. I'm here with my family for respect," said Local 3145's Tashonda Thompson, a Red Cross phlebotomist. "We're the front line of the Red Cross. Without us, there's no blood for them to make their profits from."
In addition to Connecticut, National Labor Relations Board rulings were recently issued against Red Cross in Michigan, and hearings on violations are underway in New York and Pennsylvania
Across the country, Red Cross Blood workers are fighting for safe staffing levels to protect blood donors and the blood supply. They have established a Facebook page "Keep Blood Drives Safe"
For 18 years, the American Red Cross has been under a federal consent decree to improve its blood safety practices. Since 2003, the Food and Drug Administration has fined Red Cross $37 million for compliance violations frequently linked to issues such as staffing, training, and workloads. For years, Red Cross workers have been saying that they believe safety errors on the job are linked to working conditions, including understaffing, inadequate training, and workload.
Last month, an 18 page report was issued, "Labor Relations at the American Red Cross and its Impact on employee and Donor Safety," commissioned by Jobs with Justice and the National Workers' Rights Board, detailing numerous practices that have a negative effect on workers at Red Cross in 13 states
An important issue to workers in Connecticut was the cut back of the presence of nurses and trained medical personnel at blood drives. Christine Holschlag, a phlebotomist and member of the union negotiating team says she has watched the number of RN's and LPN's shrink from 30 to 12, and the number of supervisors increase.from 4 to 20 since she began working at Red Cross in 2006. "This creates a serious safety issue," she says. The Connecticut settlement is expected to strengthen sisters and brothers around the country working for Red Cross and demanding respect.
Photo: Hartford Central Labor Council President Peggy Buchanan, center, gives unqualified support to the Red Cross workers and facilitated the rally. Tom Connolly/PW