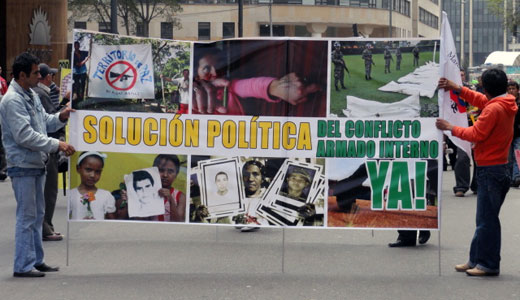 At first glance, chaos and death in Colombia seem random. The numbers are vast: 5 million people displaced from the land, 50,000 "disappeared," and 2,000 bodies found in one of many common graves there. Yet special targeting is readily apparent. Victims of choice are those fighting for social change.
The toll of labor leaders and union activists, for example, is high: 2,800 murdered between 1984 and 2011. Students, indigenous leaders, and teachers have been killed. It's clear now that Communist Party leaders are in danger.
Carlos Lozano is a member of the Colombian Communist Party's executive committee; director since 1994 of the Party's weekly newspaper, Voz, Truth of the People; and a dedicated member of Colombians for Peace. Lozano and others returned recently from a trip through Britain, Ireland, and Belgium, aimed at securing international support for peace in Colombia. He conferred with parliamentarians and high government leaders.
Lozano indicated on June 4 that he had learned "hit men" in Bogota would be sharing $200,000 for killing him. The paramilitary group "Los Urabeños" was putting up the money. Piedad Cordoba, the leader of Colombians for Peace, was named as a target also. Evidently, the message for Lozano had been sent to Ivan Cepeda, director of the MOVICE human rights group, for delivery to the Communist leader.
The death threat for Carlos Lozano comes as David Ravelo, another Communist leader, approaches the second anniversary of his incarceration following a paramilitary leader's accusation that Ravelo was involved with a 1991 murder. Ravelo, a member of the Party's central committee, and leader of the CREDHOS human rights group, is awaiting a decision from a judge who heard testimony earlier in May.
Danger hanging over Lozano comes in the wake of murders, "disappearances," and intimidation visited upon leaders of the new Marcha Patriotica movement. That coalition of social movements and leftist political groups emerged publically in mid April as 200,000 Colombians demonstrated and marched in Bogota. The Communist Party plays a leading role in Marcha Patriotica.
Colombian observers are making a grim historical association. The Patriotic Union (UP) appeared in 1985 as part of President Belisario Betancur's attempt to settle an internal war. The plan was for the Revolutionary Armed Forces of Colombia (FARC) to abandon armed struggle and enter regular politics.
The FARC did just that, laying down its arms, and partnering with the Communist Party to form the UP electoral coalition. Killings started at once. Eventually public security forces and paramilitaries would murder 5,000 UP members, including elected officials, and the FARC took up its arms once more as a consequence. Meanwhile, the Communist Party and the FARC formally split from each other in 1993, with the Communist Party beginning then and continuing since to call for a peaceful, political solution to the civil conflict.
Now, with death threats mounting against the leaders of the Marcha Patriotica, and with threats, violence and other reprisals against leaders and cadre of the Communist Party as well, many Colombians now ask whether or not the emergence of the Marcha Patriotica, and the Colombian Communist Party's leadership role in the new formation, are triggering a replay of the violent assault against the UP.
U. S. and Colombian activists for social justice are calling for responsible Colombian officials to protect Lozano and to free David Ravelo. The situation is ripe, however, for more far-reaching responses. There's the matter, for one thing, of a U.S. hand in the violence and repression.
On May 30, the International Federation for Human Rights and other groups reported on the Colombian Army's "false positive" scandal to the Hague Institute for Global Justice. They showed that the Colombian Army killed 3,345 civilians in 2002-2008, dressed bodies in FARC uniforms, and reported them as guerrilla casualties.
The purpose was to flaunt high "body counts," seen as useful for encouraging U.S. support for the Colombian military. The National Security Archives has released declassified material showing U.S. officials were aware of the false positive phenomenon and other atrocities. Critics see the $8 billion the U.S. government has provided the Colombian military and police since 2000 as signaling U.S. complicity.
Blame falls also on the capitalist system itself, with its constant drive for profits. Paramilitaries work to protect Colombian drug trafficking moguls. Many paramilitary leaders have been traffickers. Marketing of illicit drugs to northern consumers is enormously profitable for banks in Europe and the United States. A recent London Guardian report suggests paramilitaries are an important cog in this worldwide system of enrichment. Their usefulness shines through in the long-established collaboration they enjoy with the Colombian Army, which continues. On June 4, El Tiempo published an interview with a jailed former Army officer. He took that opportunity to "acknowledge the nexus of one group of army officers with bands of hired assassins and paramilitary cartels."
To function, Colombian militarization and its paramilitary arm need an acceptable public face. Consequently, Lozano and other prominent Colombian peace activists have been falsely labeled as FARC supporters, often by means of fruitless investigations. Attempting thus to link them with terrorism, the Colombian government tries to blunt natural outrage at paramilitary excesses. Too often criminal behavior gets a pass, and perpetrators' usefulness to the rich and powerful is preserved.
Photo: Plano Sur // CC 2.0