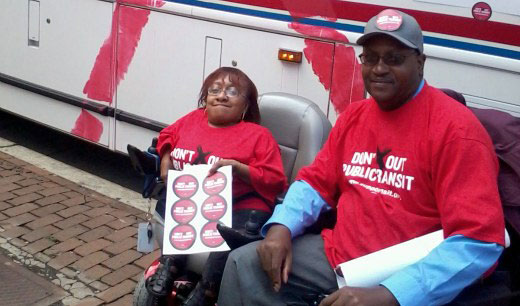 CLEVELAND – Seated in her power wheelchair in front of a bus with a large red X painted on its side, Donna Prease called for blocking massive cuts to public transit at a rally in Public Square Tuesday.
"I am here to say how important public transit is for the general public, but especially for the disabled," she said. "I wouldn't be able to work or go to medical appointments without these buses. Our chairs can't fit in cars and they are heavy."
Regional Transit Authority buses in greater Cleveland are equipped with wheelchair lifts.
William Nix, President of Amalgamated Transit Union Local 268, representing RTA drivers and other employees, said the action was one of 18 in cities across the country protesting proposed federal cuts of over 30 percent to mass transit. The cuts are contained in legislation introduced by House Transportation and Infrastructure Committee Chair John Mica, R-Fla., as part of the right-wing assault on public employees and services.
Union members, together with RTA General Manager Joe Calabrese, painted red X's on 30 percent of the system's buses to dramatize the impact of the cuts, Nix said.
Several dozen union members and supporters wore red shirts with the slogan, "Don't X Out Public Transit."
"The cuts will stop economic growth, cause unemployment and hurt community services," Nix said. "There is a temporary fix that extended funds for six months but we must make it permanent."
Ron Jackson, a disabled sheet metal worker, nodded in agreement. "I use both regular and paratransit buses almost every day," he said. "I use them to go to church, for shopping, visiting and I do volunteer work in a nursing home. I am interested in making public transit easier for everybody, especially people with disabilities. It's our only means of mobility."
Jackson, who worked in construction for 30 years before contracting multiple sclerosis, is chair of the RTA's committee on disabilities.
"Public transit lets me continue to be an active person in the community. Otherwise I couldn't do anything."
The National "Don't X Out Public Transit" Day of Action was sponsored by a coalition of unions, rider groups and the American Public Transportation Association that formed to fight the cuts. The group has a website.
Photo: Rick Nagin/PW