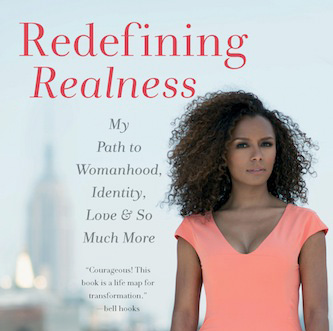 Prolific feminist scholar Bell Hooks not only praises Janet Mock's memoir Redefining Realness: My Path to Womanhood, Identity, Love, & So Much More on its cover, but also says that she read the book in a mere evening.
While I am a fast reader, it typically takes me a week or so to finish a book due to distractions and obligations. I sat down last weekend, intending to read for 30 minutes or so, and ended up devouring Redefining Realness cover-to-cover in five hours.
To call this book a memoir seems too little of a word. It is a personal narrative of racial identity, abuse, sex work, poverty, medical transition, and survival. Thus, the "and so much more" in the title is more than appropriate.
Redefining Realness is Janet Mock's story of growing up in California and Hawaii as a low-income trans girl of color. Throughout the book she richly recounts exploring and embracing both her black and Hawaiian identities. She details the painful sexual abuse that she experienced at a young age. She talks at length about her time as a teen sex worker and honor roll student. She discloses deeply personal information about her medical transition and her journey to become the woman that she always knew she was. And she does it all unapologetically.
The fearless way in which Janet explores and embraces her womanhood is perhaps my favorite thing about the book. In her new home in Hawaii and in the throes of often painful adolescence, she slowly but surely engages with her female identity in front of a large audience of her family, friends, and community.
Along the way she also recalls the development of her familial relationships, friendships, and the hurdles faced in each domain. We see a complex narrative of a geographically divided family struggling with poverty and drug abuse. We also meet a large community of trans women in Hawaii who are fiercely grappling with sex work, street harassment, and financial stability. One thing shines through these struggles – a constant theme of determination and survival.
Mock also weaves sociopolitical commentary throughout her narrative, connecting her personal experiences to the historic oppression and dehumanization that trans women have faced.
She strongly confronts and challenges the concept that trans people are merely "passing" as another gender, and rejects the notion that the lived experience of trans womanhood is somehow inauthentic. Simultaneously, she engages in a frank discussion about the privileges that "passing" as cisgendered (someone whose gender identity is the same as their socially recognized sex) has brought to her life.
Although detailing its challenges, Janet unpacks the stigma of sex work with brutal honesty, explaining how it empowered her and became a means of survival.
Miraculously, Mock takes on these complex conversations with clarity and a conversational tone that carries on throughout the book – a true testament to her talent as a writer.
Overall, I cannot say enough good things about Redefining Realness. It enlightened me, taught me, and brought me much joy – my only regret is that I finished it so quickly.
Book information:
"Redefining Realness: My Path to Womanhood, Identity, Love, & So Much More"
By Janet Mock
2014, Atria Books, hardcover, 288 pages, $24.99; e-book $12.99