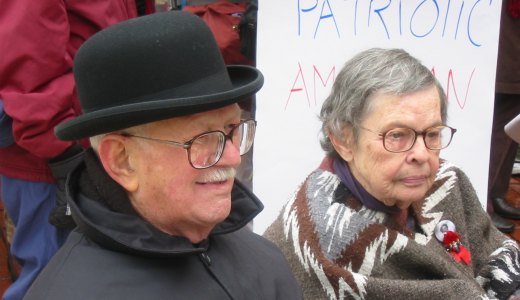 Reed Smith, vibrant community and faith leader for social justice, died two weeks ago at home shortly after his 86th birthday. Before moving to New Haven in 1991, Reed and his family lived in Waterbury, Conn., and briefly in Chicago, Ill.
Reed was a staunch supporter of the People's World and the working-class movement. Born and raised in Connecticut, he worked as an industry economist for many years, and then at faith-based community agencies in Waterbury and New Haven.
A lifelong peace and civil rights activist, he helped form the first integrated housing development in Waterbury in the 1950s. He marched with Rev. Martin Luther King, Jr. from Selma to Montgomery in 1965. During the Vietnam War he counseled draftees about conscience objection.
Reed helped found a soup kitchen in Waterbury, and continued his crusade against poverty while in New Haven as a candidate for State Representative on the Tax the Rich line. He was a founding member of the Coalition to End Child Poverty in Connecticut, assisting with economic research and advocating for a progressive tax system. As director of Interfaith Cooperative Ministries, he initiated many programs, including an interracial dialog and an annual interfaith service on Martin Luther King's birthday.
After helping staff a peace center formed at the time of the 1991 Gulf War, Reed was appointed to the City of New Haven Peace Commission where he served for over a decade. He became a stalwart contributor to the New Haven Peoples Center where he helped organize events for social justice, peace and racial equality, and became a participant with the Alliance for Retired Americans. He was famous for his delicious baked beans and brownies, and for his signature straw hat and knickers.
When she became ill, Reed devoted himself to the wellbeing of wife Marty, whom he married while in the service during WWII. He loved music, sang in choirs and played the piano. He made himself available for countless activities on behalf of workers' rights, human rights, civil rights and peace. He was widely known and loved for his perseverance, optimism, vision and generosity. He will be greatly missed by his large extended family, his comrades in the Alert Seniors Club and everyone whose lives he touched.
A memorial service organized by his family will be held on Aug. 6 at 2 p.m. at St. Paul and St James Church, 67 Olive Street, New Haven.
Photo: Reed Smith with wife Marty at 2007 rally against the Iraq war. People's World photo.