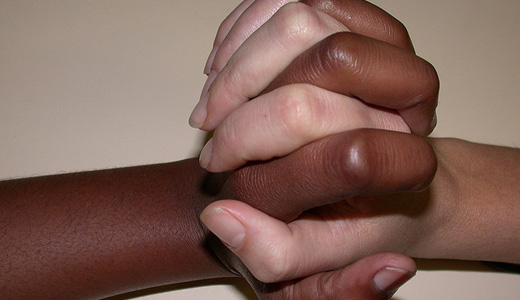 OAK PARK, Mich. – Overcoming racial overtones dominating the economic and political life of Southeast Michigan was the challenge MOSES, a faith-based social justice organization, put before the large group of clergy and lay people they had convened.
Rabbi Joseph Klein, whose Temple Emanu-El hosted last week's gathering, opened the luncheon discussion with a startling statement. Southeast Michigan, one of the most segregated areas in the country containing the country's poorest and wealthiest communities, was once considered "one community."
Today this region, where segregation leaves its devastating impact with huge disparities in jobs, education, health care and distribution of resources, is divided by seven counties and 240 communities.
Rabbi Klein asked how religion can help overcome these inequalities and how can we, as individuals, start the conversation.
Moderator Heaster Wheeler, the assistant Wayne County executive and former executive director of the Detroit NAACP, emphasized that racism is not a thing of the past but an ongoing event "woven into the fabric of the way we live and the decisions we make."
That interweaving was made startlingly clear when he described how local media advertised Detroit's annual and huge July 4th fireworks celebration.
To build the event, Wheeler said TV stations promised viewers in the Metropolitan area a "safe experience" if they came to the city. Stations emphasized the evening's 6 p.m. curfew for those 16 and under (unless accompanied by parent or guardian) and started showing some of the 284 young people arrested, most young and black, on the six o'clock news.
Some in the media were determined to say, "Come down to our fireworks because it's going to be safe."
"But what did you say to black people?" he asked. "We pushed awfully close to violating the spirit, hearts and minds of young black boys."
So began the lunchtime conversation on how to end those "violations."
Many sound ideas were offered and they ranged from the need for jobs (Detroit has lost two-thirds of its manufacturing facilities), the inequality in school funding, the importance of seeing regional common interests and much, much more.
That last point, understanding our common interests, was emphasized by Ponsella Hardaway, MOSES's executive director, who underscored how communities who opt out of regional transportation are not thinking about the long term consequences and how next the generation will be able to survive.
"We are people of faith and we need to push the values we have," Hardaway said.
Others noted problems with gentrification. While Detroit has lost population, efforts to stem that loss too often focus on gentrification instead of "appreciating" Detroit's long time residents.
As an example Wheeler noted how we celebrate entrepreneurs like Dan Gilbert and Peter Karmanos (businessmen renovating buildings and expanding hospitals in downtown Detroit) but if given the chance, there are "many Peter Karmanos and Dan Gilberts in every neighborhood."
Participants felt the next "conversation" scheduled for August, must be more specific and action oriented. To achieve diversity and overcome inequalities, deliberate actions are required, participants said, but the conversation is a necessary and worthwhile step.
Photo: (Frerieke/CC)