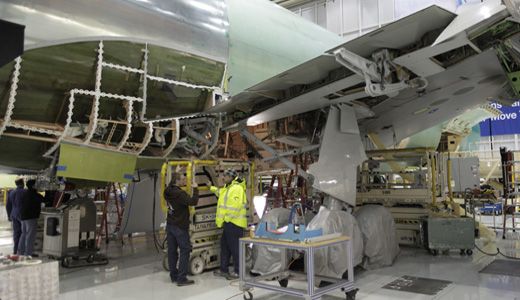 SEATTLE (PAI) – Boeing's decision to locate its second assembly line for its new model "Dreamliner" super-jumbo passenger plane in non-union South Carolina, and not in its unionized plants in the Pacific Northwest, breaks labor law, the National Labor Relations Board's top enforcement official declared on April 20.
The charge by NLRB Acting General Counsel Lafe Solomon that Boeing committed "unfair labor practices" in the case cheered the Machinists and particularly its Seattle-area District 751, which represents the 25,000 Boeing workers there. The company grumbled and is expected to appeal Solomon's decision to the full board.
"Boeing's decision to build a 787 assembly line in South Carolina sent a message that Boeing workers would suffer financial harm for exercising their collective bargaining rights," said IAM Vice President Rich Michalski, the District 751 president. "Federal labor law is clear: It's illegal to threaten or penalize workers who engage in concerted activity."
Michalski also noted IAM sought to negotiate an 11-year contract to cover both Dreamliner assembly lines as long as they stayed put, but Boeing rejected that offer.
Solomon said, in so many words, that Boeing broke the law by sending the Dreamliner production to South Carolina because of the possibility of future strikes by the Machinists at airplane and parts plants in Seattle, Everett, Wash., and Portland, Ore. Those messages were designed to intimidate the union and the workers, he said.
Solomon demanded, as a remedy, that Boeing bring the Dreamliner's second assembly line and the sourcing back to the plants in the Pacific Northwest.
Boeing "made coercive statements to its employees that it would remove or had removed work from the (bargaining) unit" – District 751 – "because employees had struck and (Boeing) threatened or impliedly threatened the unit would lose additional work in the event of future strikes," the NLRB said. NLRB counted five such public statements by Boeing brass.
Leading the parade was Boeing CEO James McNerney on Oct. 21, 2009.
"In a quarterly earnings conference call that was posted on Boeing's intranet website for all employees and reported in the Seattle Post Intelligencer Aerospace News and quoted in the Seattle Times," McNerney "made an extended statement regarding 'diversifying Boeing's labor pool and labor relationship,' and moving the 787 Dreamliner work to South Carolina due to 'strikes happening every three to four years in Puget Sound,'" NLRB reported.
The statements and the move of production and sourcing for the Dreamliner to the non-union plant in right-to-work North Charleston, S.C., was "because the unit employees assisted and/or supported the union by engaging in the protected, concerted activity of lawful strikes and to discourage these and/or other employees from engaging in these or other union and/or protected, concerted activities," NLRB said.
All this is "inherently destructive of the rights guaranteed employees" by labor law, Solomon's statement added. An NLRB administrative law judge in Seattle will hold a formal hearing – in essence a trial – on June 14 on Solomon's charge against Boeing.
Photo: Workers assembling the fuselage of a Boeing 767 in Everett, Wash., Feb. 25. (Ted S. Warren/AP)