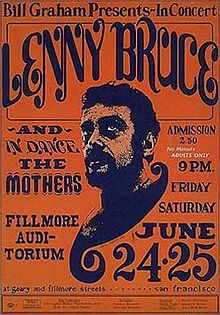 Leonard Alfred Schneider, better known by his stage name Lenny Bruce, was born 90 years ago on Oct. 13, 1925, in Mineola, N.Y. He was a stand-up comedian, social critic, satirist, and screenwriter, renowned for his open, freestyle form of comedy which integrated satire, politics, religion, sex, and vulgarity. His 1964 conviction in an obscenity trial was followed by a posthumous pardon, the first in New York State history, by then-Governor George Pataki in 2003. He paved the way for future outspoken counterculture-era comedians, and his trial is seen as a landmark for freedom of speech in the United States.
Lenny had a difficult childhood with divorced parents. He lived with various relatives for a decade, but was strongly influenced by his mother Sally Marr, a stage performer.
He joined the Navy at the age of 16 in 1942, and saw active duty during World War II. He fought in North Africa and Italy, and was discharged in 1945. He settled in New York City, hoping to establish himself as a comedian. He met Joe Ancis,who had a profound influence on his approach to comedy. According to Bruce's biographer, Albert Goldman, Ancis' humor involved stream-of-consciousness sexual fantasies, references to jazz, and stories of Jewish domesticity. By 1947 the budding comic was appearing as Lenny Bruce.
In his early years he wrote several screenplays for films in which he appeared with his wife Honey Harlow and his mother, and released four albums of original material on Berkeley-based Fantasy Records, with rants, comic routines, and satirical interviews on the themes that made him famous: jazz, moral philosophy, politics, patriotism, religion, law, race, abortion, drugs, the Ku Klux Klan, and Jewishness.
Branded a "sick comic" – though it was the sickness of modern society that he was railing about – Lenny was essentially blacklisted from television, but he got booked at ever more prestigious venues. On February 3, 1961, in the midst of a severe blizzard, he gave a transcendent performance at Carnegie Hall, recorded and later released as a three-disc set, "The Carnegie Hall Concert."
On October 4, 1961, Bruce was arrested for obscenity at the Jazz Workshop in San Francisco. Although the jury acquitted him, other law enforcement agencies began monitoring his appearances, resulting in frequent arrests under charges of obscenity, and also for drug possession.
An obscenity arrest in 1963 in Los Angeles stretched the definitions of obscenity to absurd lengths. The arresting officer was a young deputy named Sherman Block, who would later become County Sheriff. The specification this time was that the comedian had used the word "schmuck," an insulting, but commonly used Yiddish term for penis.
Over the next few years, and numerous trials, Bruce received positive testimony and petitions of support from – among other artists, writers and educators – Woody Allen, Bob Dylan, Jules Feiffer, Allen Ginsberg, Norman Mailer, William Styron, James Baldwin, Dorothy Kilgallen and Herbert Gans. Club owners and presenters were often charged as well, for sponsoring "obscene" performances, and gigs started drying up.
Bruce was known for relating the details of his encounters with the police and his court battles. His rants and tirades against fascism and complaints that he was being denied his right to freedom of speech gradually started changing public perception, and eventually the law, about what words and ideas can be broached publicly.Bruce's autobiography, serialized in Playboy in 1964-65, was later published as the book "How to Talk Dirty and Influence People." He also contributed a number of articles to Paul Krassner's satirical magazine The Realist.
His last performance took place on June 25, 1966, at The Fillmore Auditorium in San Francisco, on a bill with Frank Zappa and The Mothers of Invention.On August 3, 1966, Bruce was found dead in the bathroom of his Hollywood Hills home at 8825 W. Hollywood Blvd. He died of an acute overdose of morphine. His remains were interred in Eden Memorial Park Cemetery in Mission Hills, Calif. Dick Schaap eulogized Bruce in Playboy with the memorable line: "One last four-letter word for Lenny: Dead. At forty. That's obscene."
In a short time after Bruce's death, he became a folk hero for free speech. Numerous books, articles, films and stage productions have focused on his short but eventful life. He is recognized as a prophetic truth-teller for what he revealed about the contradictions and hypocrisies in American society. The subjects he talked about only a few years later would be the common currency of late night talk show hosts and their famous guests, not to mention what can be said now on Cable.
In the words of Ralph J. Gleason, "This is who Lenny Bruce was: a wise, gentle, brilliant man who, like all the martyrs of history, took upon himself the weight of our mistakes and our greed and our selfishness. But Lenny was an unwilling martyr. He didn't keep his mouth shut. He kept crying out that it was a lie and that it didn't have to be that way at all. And when it finally got to be too much for even his strength to battle, he split."
In closing, four short epigrams from Lenny Bruce:
"Every day people are straying away from the church and going back to God."
"The liberals can understand everything but people who don't understand them."
"In the halls of justice, the only justice is in the halls."
"There are never enough 'I love you's."
Adapted from Ralph J. Gleason, "Lenny Bruce Live At The Curran Theater," Fantasy Records; Wikipedia, and other sources.
Photo: Poster for Lenny Bruce's last series performances, which took place at The Fillmore in San Francisco on June 24 and 25, 1966. | Wikipedia (CC)